A Guide to Fun & Creative Preschool Craft Activities: Hands-On Learning All Year Long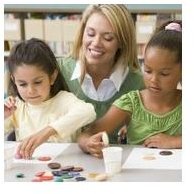 Crafts for All Seasons
Some of the best and easiest go-to craft ideas for preschool classrooms involve inspiration from the changing seasons. Winter,
Spring, Summer or Fall, teach your preschoolers to appreciate the nature in their own backyards by using natural materials in your craft projects. Many of these crafts can be extended to include science or math elements, as well as provide all the fine motor practice involved in creating preschool arts and crafts projects. Browse through these ideas and get inspired by the changing seasons.
Animals All Around
Maybe you are studying different regions of the globe such as deserts, mountains and rainforests. Or perhaps you are studying groups of animals such as pets, ocean dwellers or animals of the savannah. Either way, there are a plethora of animal crafts that are appropriate and fun for preschoolers to make. Give these ideas a try and bring the animal kingdom to life in your preschool classroom.
Piggyback Crafts for Favorite Children's Stories
Many children's books provide wonderfully rich themes for preschool teachers to use as a classroom curriculum. Along with many other classroom ideas, these books provide teachers with plenty of arts and crafts opportunities. Enhance author studies by adding some great craft activities to your daily lesson plans. Some of children's most beloved stories and characters can come alive in a well-planned and executed craft project. Browse through these great ideas and bring those stories to life!
Recyclables and Found Materials
Do you have a recycling container in your preschool classroom? Well, you should! Not only will you be helping your area landfill, but recyclables make great craft materials! Toilet paper tubes, cardboard boxes, paper scraps and other recyclables are perfect for creating 3-D sculptures, buildings and countless other crafty projects. Let your preschoolers loose with tape and glue sticks and see what they can come up with! Here are some recyclable art ideas that are perfect for a preschool classroom.
Holiday Hoopla
Just as popular as thematic planning through the seasons, holidays are always a good reason to plan craft projects. Whether you are planning to create crafts to give as gifts, or simply want to help celebrate a particular holiday with a fun craft project, there are plenty of innovative ideas to choose from. In addition to helping decorate a classroom, making holiday crafts with preschoolers can help teachers explain and introduce important concepts about diversity, different cultures and customs around the world. Try some of these great projects to help celebrate the holidays in your preschool classroom.
From aardvarks to zebras, or Valentine's Day to Thanksgiving, crafts are a very important part of the preschool curriculum. Crafts offer hands on learning fun, which is essential to the development of motor skills. They can be used as standalone activities or supplements to your daily curriculum. No matter what your lesson plan, a craft can drive it home. Use this handy and helpful guide over and over again to help you plan lessons that celebrate your weekly theme. Visit Bright Hub Education for even more ideas according to grade level. Happy crafting!