Dreidel Crafts
Try some of these crafts that use the basic symbols of Hanukkah – dreidels and menorahs – in a unique way.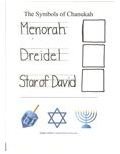 A dreidel is surprisingly easy to outline, and it can be used in many Hanukkah crafts for preschool kids. For an easy craft, cut dreidels out of white cardstock, let the kids decorate them, and attach magnets to the backs to create Hanukkah refrigerator magnets. For a more exciting look, let students dip some real dreidels into paint and spin them across a cardstock dreidel to create some neat designs.
Edible Menorah Crafts
There are some great ways to make edible menorah crafts that your preschool kids will love. You can make ten identical cupcakes, frost them, and line eight of them up in a row. Then stack the last two, and place them at the middle or the end of the row as the shamash. Light a candle on top of each one to make a realistic menorah!
Alternatively, you can line up marshmallows in a similar manner and press pretzel sticks into them to act as candles. Better yet, "glue" them to a cardboard base with frosting to create an original edible Hanukkah menorah.
Other Menorah Crafts
Let them decorate a piece of wood with paint, glitter, and other art supplies. Then give them ten bolts. Line eight up in a row with a small space between them, and stack the last two bolts at one end or in the middle. This menorah is perfect for preschoolers who will actually light, because most generic Hanukkah candles will fit perfectly into the bolts.
To make a model of a menorah to hang on a classroom bulletin board, you can use toilet paper rolls and a paper towel roll. Just let the kids decorate each of the rolls and then staple them to the bulletin board to form a menorah. Make some red flames from construction paper and add them to the top of each candle.
If you make this with your preschool child, or if he brings one of these crafts home from school, be certain to display this Hanukah symbol prominently around the house, and refer to it often over the course of the holiday. Your preschoolers will be proud of their creations!
This post is part of the series: Hanukkah for Preschoolers
If you're trying to impart the spirit of Hanukkah to your preschoolers, this series can help! Includes crafts, games, activities, lesson plans, and songs perfect for Hanukkah for preschoolers.