Personalized Question Books as a Preschool Father's Day Classroom Craft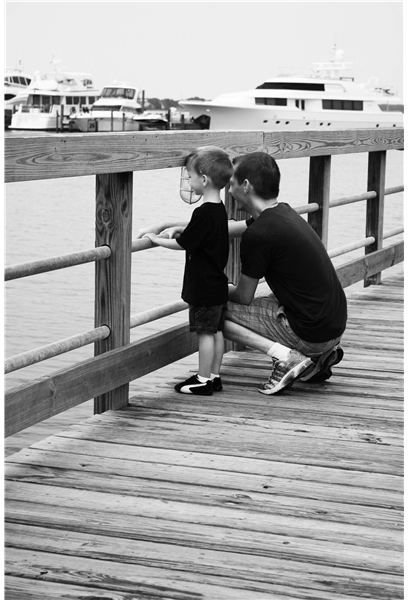 Father's Day Gifts
Mother's Day is over and it's not quite time to get ready for the Fourth of July. Where do preschooler's minds wander? To Dad, of course! Father's Day honors dads everywhere with their own special day on the third Sunday in June. Why not celebrate the fathers and grandfathers in your preschoolers' lives with personalized gifts made just for them by the children?
Create custom books of questions for preschoolers to answer about their dads and grandfathers. Allow the children to personalize the books with pictures, drawings and other artwork. Present these special works of art to the fathers at a breakfast or lunch celebration in their honor.
Questions To Ask
Before creating these special books, you will need to come up with a list of questions to ask your preschoolers about their fathers or grandfathers. Get your pen and paper ready, because sometimes these very candid answers may surprise you! A few questions you may ask your preschool class:
What does your Daddy do at his job?
What is your favorite thing to do with your Dad?
If you could buy one thing for your Daddy, what would it be?
What is your Dad's favorite food?
What is the best thing about your Dad?
Be sure to write down the answers the children gave you word for word. You will need these later when you are creating the books for children to illustrate and color.
Creating the Books
Give yourself plenty of time to create these Father's Day books for your class. The first step is to decide upon a design. You may choose to make a traditional book shape with a construction paper cover or you could be very creative and make something unique. Try creating a book in the shape of a necktie, a golf ball or a fish. If you have the resources, produce laminated booklets that will stand up to many page turns and bedtime readings.
Once you have decided upon a design, it is time to create the pages. Write one of the questions at the top of the first page and make enough copies so that each child will have one. Then, write each child's answer on the bottom of the question page and staple it into the book. Write the remaining questions and answers on the subsequent pages.
Add one last page to each booklet labeled "My Family," and leave it blank for children to illustrate later. Once you have created a book for each child in the class, allow the children to illustrate the pages with your help. You may need to remind the children of their answers if some time has passed since you asked the questions. Give children crayons, markers, old magazines, scissors and glue sticks in order to illustrate and color their personalized books.
It's All in the Presentation
Moms aren't the only ones who will appreciate a celebration in their honor. Throw a Father's Day snack party one afternoon in your classroom. Provide dad-friendly snacks, such as cheese cubes and pretzel sticks (put together to look like golf clubs), ants on a log, or "golf ball" mini meatballs. Have children present the personalized booklets to their fathers for guaranteed smiles and laughter for the rest of the afternoon!
References