10 Uses for Recycled Plastic Lids in the Preschool Classroom: Projects & Ideas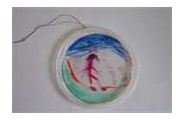 Craft with 'Green' Materials
Have you heard the phrase, "one man's trash is another man's treasure?" Most of us are probably aware of the benefits of recycling and how it helps our environment. We need to 'go green' as we run out of landfill space and if we recycle, we can diminish the amount of trash going to these places. Now is the time to use these repurposed plastic lids from containers in the kitchen. With some creativity children can create a treasure from throwaway trash.
10 Uses for Plastic Lids in the Classroom
1. Use a plastic lid (from a coffee can, peanut can, potato chip can) for a paint palette. These are quite useful to mix paints and blend colors. They are reusable as the paints wash off easily with soap and water.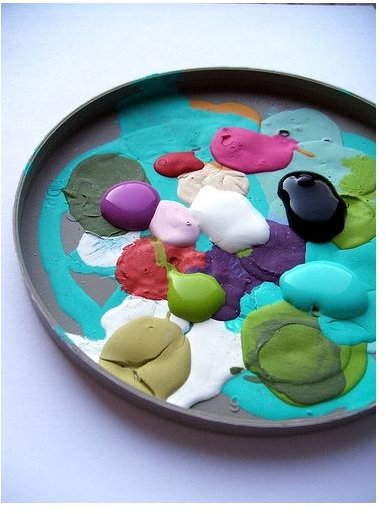 2. Small colored lids can be transformed into cute pencil toppers. Invite the children to cut shapes, animals, or flowers from a plastic lid. Punch a hole in the center with a hole puncher and push the shape onto a pencil.
3. Make a sun catcher with a plastic lid. Draw a picture or design and color this with colorful markers. Punch a hole at the top and add a ribbon for a hanger. Display this in a window and let the sun shine through.
4. Make a simple bird feeder using a plastic lid. Punch three holes near the rim, spaced evenly. Tie a piece of twine through each hole and then knot them together at the top. The children can place these on a tree branch at school or take them home for their yards. Fill with birdseed or dried bread crumbs to feed the birds.
5. Use a plastic lid to make a picture frame. Have the children bring in a small photo from home. Frame the photo with a frame made from construction paper. Scrapbooking scissors make nice decorative edges. Glue the photo to the paper frame and then onto the plastic lid. Punch a hole at the top and thread with ribbon to use as a hanger.
6. Book markers can be made from plastic lids. Cut an arrow shape from a large lid leaving the bottom rim on. Decorate this arrow as you wish with markers or stickers. If you place this arrow bookmark in your book pointing down, the rim will keep the marker from sliding down inside the page. This makes a nice gift for the children to make for their parents.
7. Holiday ornaments can easily be made with plastic lids. Have the children cut a holiday picture from old cards, gift wrap, magazines or they can draw their own on paper. Glue the cutout shape onto a circle of aluminum foil. Cut to fit the foil circle inside the lid. Glue in place. Punch a hole at the top and use ribbon or metallic string for a hanger.
8. Children can make a bouquet of flowers for a gift or to decorate the classroom. Cut the center circle from colorful small plastic lids. Cut them into flower shapes, such as tulips, daisies, mums, etc. Tape a straw to the back of each flower for a stem. Leaves can be cut from green lids or construction paper and taped to the stems.
9. Make a mobile for the classroom. Begin by cutting out the center of a large plastic lid. Invite the children to cut shapes from the inner plastic piece. Punch a small hole in the top of each shape. Thread fishing wire or yarn through each shape and tie these to the circle lid rim. Attach three strings equally spaced and knot these at the top to hang the mobile.
10. Make a spiral decoration. Take a plastic lid and draw a spiral with a marker. Invite the children to cut on the line with safety scissors. Punch a hole in one end and attach a hanger, such as an opened paper clip. Hang these around the room and let them spiral down.
These are just a few ideas - I'm sure you and the children may think of others to add to this list. Creating art from recycled materials is very inexpensive and fun for the children to do in school, during an after-school program or at home with parents.
Photo credit:
Pallete by blockpartypress https://www.flickr.com/photos/blockpartypress/2210303946/