5 Preschool Christmas Crafts Teaching Shapes & Colors: 3D Christmas Tree, Paper Chains, CD Ornaments and More!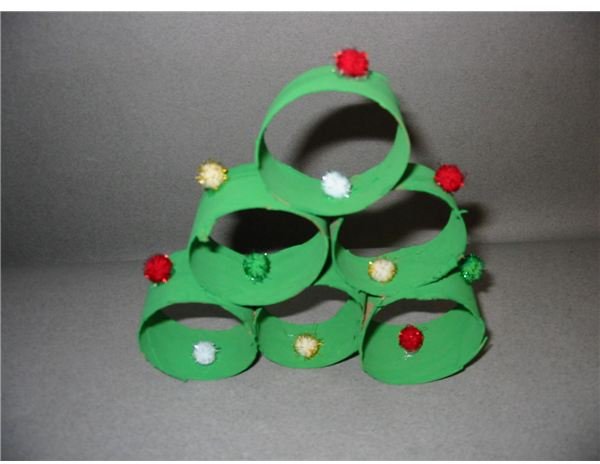 For Parents, Teachers, and Caregivers
Children learn by touching, exploring and talking about new and interesting things, including the many shapes and colors in our world. There are many teachable moments throughout the holidays to point out shapes and colors, from the gifts wrapped in square or rectangle boxes, to ornament shapes on the Christmas tree, to the roundness of snowballs on the lawn. The list of possibilities is endless.
During these holiday months, take advantage of the many activities related to shapes and colors in the decorations, foods, and cultural objects used to observe Christmas. Here are a few preschool crafts for Christmas to try.
Paper Chains (Circles)
Using the colors of Christmas (red and green), make paper chains together as a craft. Cut 1-inch-wide strips of construction paper making loops as long as you wish.The strips can be decorated with crayons, markers, and stickers prior to looping. Glue one strip into a circle and then thread another strip through the circle overlapping the ends and glue it again. Talk about these circle shapes and continue this process until the chain is as long as the child wishes.
To bring a little math into the project, instruct the children to design a pattern such as making two red loops followed by one green one. Consider easier or more difficult patterns according to the child's age and skill level.
3-D Christmas Tree (Circles)
This dimensional tree is made with paper towel tubes that are cut into 1-inch rings. Glue the rings together to form a tree shape (three on the bottom, two above, ending with one on top). Paint the structure with green poster paint and decorate the tree with pom-pons, sequins, stickers, and such. These trees can stand up or be tied with a ribbon from the top circle to hang in the classroom.
Rectangle Tree
Make an abstract Christmas tree using rectangle shapes. Cut rectangles in various lengths from green construction paper. Arrange these lengths from shortest to longest and glue these to a strip of red ribbon. Make sure the ribbon is at least an inch wide and longer than the amount of strips you are using. This is a great time to discuss the concepts of short and long. Invite the children to decorate the strips as they wish using art materials such as paper shapes, stickers, crayons and markers. These trees can be placed on a bulletin board or hung as mobiles.
Gift Wrap Collage (Geometric Shapes)
This activity incorporates colors as well as shapes. Cut Christmas gift wrapping paper into triangles. Cut pieces of ribbon into rectangles and provide circle stickers (found in office supply stores). Try to stay in the red and green color theme. Place all these materials in front of the children and let them creatively glue them together on a sheet of construction paper to create a Christmas collage. Older children with developed cutting skills may wish to cut the shapes using safety scissors. Each collage is unique and makes a colorful display.
CD Ornaments (Circles)
Make use of old CDs or ones that come in the mail with this Christmas craft. Glue a piece of felt onto the surface of the CD. Then provide other scraps of felt, fabric, and paper that can be cut into geometric shapes and glued onto the disk. Embellish this artwork with sequins that can be glued on or use stickers. Poke a hole through the center and string a pretty ribbon to hang this ornament.
A variation is to glue a picture of the child in the center of the CD and place a magnet on the back. This makes a nice gift to send home to the families.
So whether you are cutting, pasting, painting or such, making preschool crafts for Christmas teaches the children about holiday decorating and builds their fine motor skills as well.
Sources:
Personal experience from the author
Photo from Tania Cowling, all rights reserved