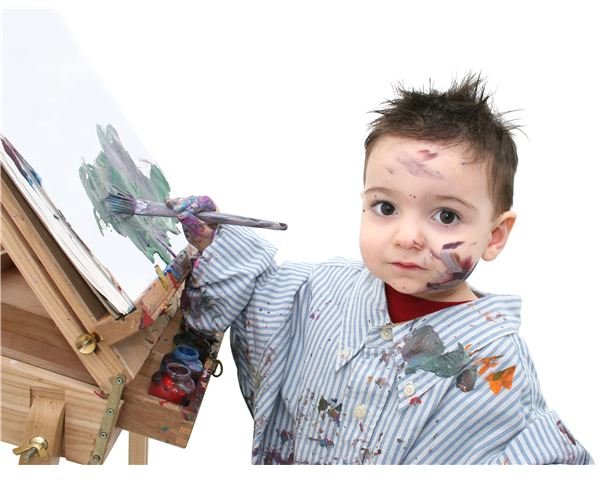 Many art projects require the teacher to do more of the artwork than the students. These summer art ideas can be used in the classroom or at home, where the students will love to make and use them with very little help from you.
Beach Stage
Help children make a beach stage they can use in their play by giving them pieces of tagboard with a line drawn down the middle, some bowls of glue and some craft sticks, cups of sand and small squares of blue tissue paper.
Show students how to use the craft sticks to smear the glue over the paper on one side of the line. They can then dump the sand onto the glue and pour off the excess sand to make a "beach."
Encourage them to cover the paper on the other side of the line with glue and stick crumpled pieces of blue tissue paper on it to represent the ocean.
After their art projects dry, students can use it in their pretend play with small dolls or action figures. Preschool kids will love taking their characters on a summer trip to the beach.
Make a Sun
If you are a preschool teacher, you can make a large sunshine with your class and then use it in a special sun dance!
Cut a large, yellow sun out of tagboard, draw a smile on it and show it to your class. Make sure they know that the sun sends out rays of light and heat that warm the Earth, and explain that you will be making those rays together as a class.
Hand out long strands of ribbon to students, as well as bowls of glue and some craft sticks. They can dip the craft sticks into the glue, spread it on one edge of the sun and then stick the end of a ribbon into the gluey area.
Make sure that the ribbons circle the sun and allow plenty of time for the sun to dry before beginning the dance.
When it is ready, bring out the sun and show students how to hold onto one ribbon and dance around in a circle. Put on some music, and watch your class perform a "sun dance" – similar to a Maypole dance.
Ice Painting
There is nothing quite like some cool ice on a hot summer day.
Tint water with food coloring and then freeze several ice cube trays worth. Provide some fun painting utensils, such as brushes, plastic forks and spoons, toothbrushes and basting brushes.
Go outside and give each child a piece of paper and a couple of ice cubes in different colors with which to paint. As the ice melts, beautiful colors will appear on the paper.
These preschool summer art projects will help kids enjoy the fun parts of the summer season.