An Apple, Bus and Leaf Preschool Craft for September: Don't Forget Grandparents Day Too!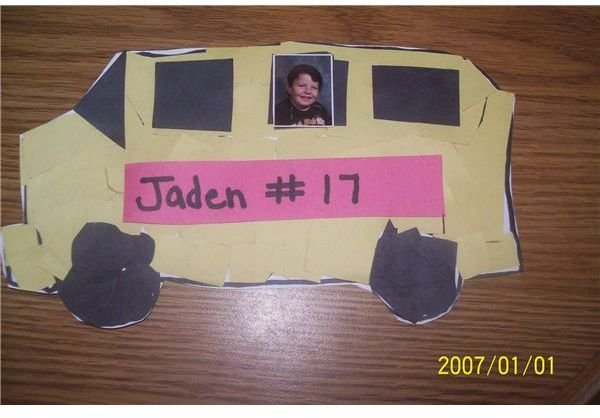 Beginning of the Year Crafts
September crafts will help children feel at ease while learning what bus to get on after school, and can also be used to teach bus safety rules, apple and leaf units. A bus collage, apple magnet and an unique fall scene using fruity pebbles are crafts that are sure to appeal to preschoolers.
Bus Collage Magnet and Song
Children will feel relieved after making this bus collage magnet that will help bus riders memorize their bus number and help the instructor teach bus safety rules. Students will use the collage technique of gluing paper on paper to make this cool bus magnet.
Materials:
Yellow and black construction paper
Scissors
Glue
Small school photo of each child
Magnet
Heavy white paper
Bus Template
Red construction paper strip with child's bus number (or favorite number for non-bus riders) and name
What to do:
The teacher will print out a small bus template on heavy white paper and give one to each student. Before class, cut small squares from the yellow paper and small circles and large squares (windows) from the black construction paper. Children will glue the yellow shapes on the bus and black shapes on the wheels. Remind students to overlap and cover all the white areas. Glue the large black squares to the bus for windows and paste the child's photo on one of the windows. Give the child their red construction paper strip with their bus number and name and have them glue on the side of the bus and the magnet on the back.
During circle time, children can sing this song and hold their buses in the air. For students with two-syllable numbers just say the number, one syllable numbers like 10 put "number" in front of it. Tell non-bus riders that they can pretend to ride their bus number. Continue until all student's names have been used in the song.
Send them home for parents to put on the refrigerator.
Bus Number Song (Wheels on the Bus)
Jaden rides bus 17, 17, 17
Jaden rides bus 17 to get him safely home.
Emily rides bus number 10, number 10, number 10,
Emily rides bus number 10 to get her safely home.
Autumn Leaves are Falling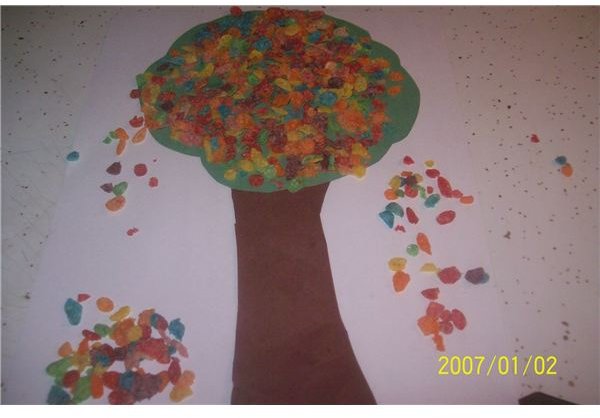 This pretty autumn leaf craft will go great with any fall lesson plan and after the craft kids will love snacking on the left over fruity pebbles.
Materials:
Fruity Pebbles Cereal
White paper
Tree cut from brown and green construction paper
Glue
Create:
Give each student Fruity Pebbles cereal, a piece of white paper and a brown tree and green tree top. Students will glue the bottom and top of the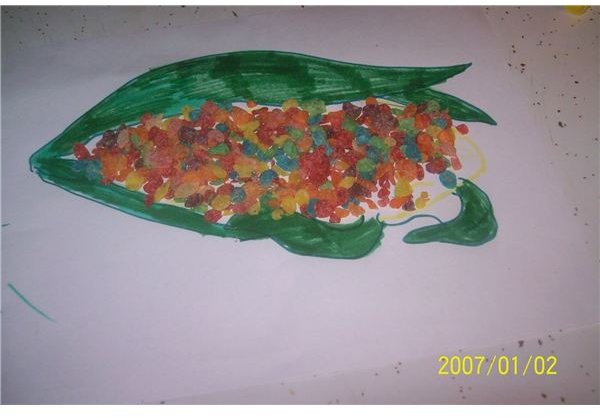 tree to the white paper and spread glue on the green tree and sprinkle with the cereal. Encourage children to make the leaves fall out of the trees by placing Fruity Pebbles all around the tree and on the ground. Display the pictures around the room or use them in a fall bulletin board.
Indian Corn
Fruity Pebbles can also be used to make Indian Corn. Print out an ear of corn, color the leaves green and glue Fruity Pebbles in the center.
Apple Fabric Magnet
This gorgeous apple craft magnet would make a great gift for the teacher, a parent, or grandma and grandpa for Grandparent's Day.
Materials:
Cardboard or heavy paper

Fabric or material

A small photo of each child

Glue

Magnet

Glitter

Sequins

Stickers

Ribbon
How to make:
The teacher will cut apples from heavy paper and from different colors of material. Let the students takes turns selecting their color of material. Give each child an apple, their chosen fabric, sequins, stickers and ribbon. Children will glue the material on the apple and decorate it with sequins, ribbon and stickers. The teacher will write the child's name with glue and let the child sprinkle glitter over their name. Glue the photo on the apple and place a magnet on the back. The magnets could be used on an apple tree that is displayed on a bulletin board in the classroom or given away as gifts. Grandparent's Day is in September and these magnets would make terrific gifts.
Painted Leaf Collage
After teaching a lesson on photosynthesis have children create a painted leaf collage.
What You Need: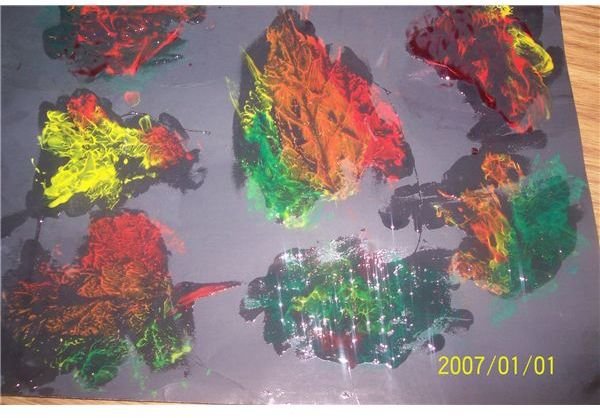 Tape
Red, Yellow, Orange and Green Paint
Paintbrush
Black card stock paper
Corn Syrup
Newspaper
Create:
Tape real green leaves on a piece of newspaper to prevent them from moving around. The children will paint the leaves different colors; instruct students to use more than one color on each leaf. A single leaf should be painted with two or three color sections. Once all the paint is on the leaves the teacher will take a piece of black card stock paper and help the children place it on top of the leaves and press down hard. The color and veins in the leaves will transfer onto the black paper making a beautiful leaf collage. Let the paint dry. Paint a thin layer of corn syrup over the leaves to make them shine. Display around the classroom.
There are so many wonderful craft ideas that are appealing to children and can be used to reinforce important lessons. No matter which preschool craft for September learning you decide to use it is sure to be simply magnificent.
References
All crafts, song and photos, courtesy of Lisa King, all rights reserved.