Help Your Grade School Students Celebrate National Grandparents Day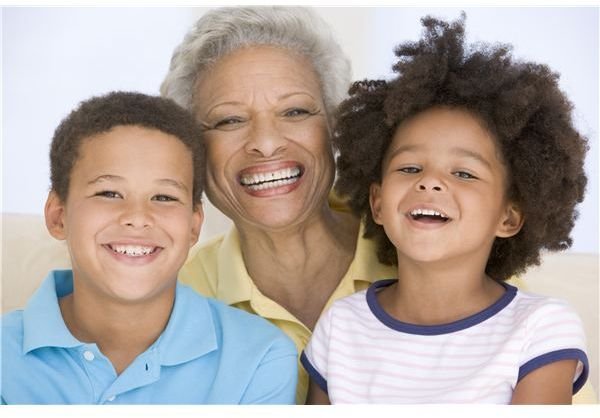 A Brief History
According to the official website for National Grandparents Day, the movement began as a way to have a special day set aside for
honoring grandparents. The effort began in 1970 by a West Virginia housewife named Marian Lucille Herndon McQuade, and in 1973 West Virginia Governor Arch Moore legitimized the honorary day with a proclamation. At about the same time, senators from the state introduced a Grandparents Day resolution in to the United States Senate.
In 1978, the United States Congress finally passed the appropriate legislation and President Jimmy Carter signed a proclamation declaring the first Sunday after Labor Day as National Grandparents Day. This month was chosen as a representation of the "autumn years" of life. The homepage of the National Grandparents Day site states that the purpose of this day is to:
Honor grandparents
Give grandparents and opportunity to show love for their grandchildren
Help children "become aware of the strength, information and guidance older people can offer"
Whether it is in September or a month later in the year, having a special day set aside to honor the grandparents of the children in your classroom - or even just special senior citizens - provides a wonderful learning opportunity. Below are some activities you can use to create Grandparents Day lesson plans for whichever elementary grade level you teach.
Literature Connections
There are a wide range of books written which explore not only the relationships between children and their grandparents, but also books which provide a springboard for discussing what life was like for the older generation when they were once young. Spend time sharing these books as read-alouds or simply have them on hand for your students to read on their own. Here are a few suggestions to get you started:
Grandpa's Little One, by Billy Crystal
Hello, Goodbye Window, by Norton Juster
Little Bear's Visit, by Else Holmelund Minarik
Just Grandma and Me, by Mercer Mayer
When I Was Young in the Mountains, by Cynthia Rylant
Heidi, by Johanna Spyri
Nana Upstairs, Nana Downstairs, by Tomie dePaola
Abuela, by Arthur Dorros
Now One Foot, Now the Other, by Tomie dePaola
When I Am Old With Your, by Angela Johnson
Annie and the Old One, by Patricia Miles Martin
The Raft, by Jim Lamarche
Song and Dance Man, by Karen Ackerman
Social Studies
Create a "Grandparents Day Interview," which can be completed whether grandparents live close by or far away. Students who no longer have any living grandparents may wish to instead interview a relative, neighbor or close family friend who is of an advanced age. Then, set aside a special time for your students to share the answers they found most interesting. Here are some sample questions to use with your National Grandparents Day lesson plans:
When were you born, and where?
What were hospitals back then?
Where did you live while you were growing up?
What was your favorite toy as a child? What were some other popular toys of the time?
Did your family have a car? A TV? A computer? A dishwasher? A microwave?
Did you have to do any chores? What were they?
What types of things did you and your family do for entertainment?
Did you go to school?
How did you get to school each morning?
What do you remember about your teachers, your classroom, or the subjects you learned?
What types of games did you play outside at recess?
How is our school building and our daily activities different from yours when you were young?
What is one major event in history which occurred while you were young and still stands out today?
Writing
Using the information collected in the "Grandparents Day Interview," encourage students to write and illustrate a book about their grandparents. For the last section of the book, have students share the following:
What makes their grandparent special
What activities they like to do with their grandparent
A favorite memory of their grandparent
What they will do when they are a grandparent - just like their grandparent did for them
Science and Math Ideas
Here are several fun activities which incorporate science and math into your National Grandparents Day lesson plans:
Using the "Grandparents Day Interview" detailed above, create a graph showing the different responses to the various questions. For instance, work together as a class to create a graph depicting the different ways their grandparents got to school each day. Sample answers might be: by bike, by walking, by bus, by car. After you have listed all of the possible responses, create a bar graph to show how many grandparents walked, or took a bus, and so forth.
Spend some time creating a time line of the various scientific discoveries or inventions which have occurred over the last 40-80 years. For younger students, you may wish to have a list already prepared. For older students, have them conduct their own research by giving them a decade to search. For the actual time line, you may want to have the birth year of the oldest grandparent at the beginning of the time line, and the current year at the end. Chronicle various inventions and discoveries, such as:
The modern color television (1940)
The Slinky (1943)
Microwave ovens (1946)
Cake mix (1949)
Solar cells (1954)
Hand held calculators (1967)
Post-it-notes (1974)
Cell phones (1979)
Roller blades (1979)
CD-ROM (1984)
High-definition TV (1989)
DVDs (1995)
Scientists measure the fastest wind speed ever be recorded on earth at 318 mph (1999)
iPod (2001)
Another twist on this same activity would be to have each student ask their grandparent (or a family friend) to recall one or two significant inventions or discoveries during their lifetime. You can then require the students to research the year of invention and then spend time as a class putting the inventions/discoveries into the correct chronological order.
3. Let your students spend some time calculating the difference between their grandparent's age and their own age, or approximately how many days their grandparent has been alive. For students who no longer have a living grandparent or special family friend, allow them to calculate using the ages of their parents, or pair them with another student who has two living grandparents and they can each focus on one.
Music and the Arts
Music and art activities can also be used to support the grandparents theme:
Have your students create a "family tree," starting with their grandparents and working their way down to themselves. Encourage students to incorporate family photos! These can be displayed in the classroom or hallway for a short period of time and then presented to grandparents as gifts or as a part of a classroom celebration that grandparents are invited to attend.
Play music from various eras in the classroom while your students work.
Challenge students to enter the National Grandparents Day Songfest Contest. You may even wish to pair with your school's music teacher to create a classroom entry.
Create a Celebration of Your Own
As a culmination to your National Grandparents Day lesson plans, consider hosting grandparents and special adults in your classroom. Ask families to donate baked goods made with special family recipes. Students can share the books they have written about their grandparents, as well as the time line, songs, and crafts they created. Before parting, students can present their grandparents with the family tree as a memento of the time spent together that day.
As an alternate activity, you may wish to consider spending time at a local nursing home or senior center visiting with grandparents who are shut-ins. If a visit is not possible, have students create cards or letters wishing these very special people a "Happy National Grandparents Day!"
Whatever you do to celebrate National Grandparents Day, you are sure to create long-lasting family memories for years to come.
Resources
For more information about National Grandparents Day, or for additional Grandparents Day lesson plans, visit the official National Grandparents Day website.