A Collection of Preschool Community Lessons and Themes for the Teacher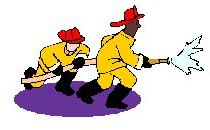 Preschoolers are impacted daily by their community, whether they wave to the mailman or search for distant sirens. They interact with
teachers, bakers and chefs on a regular basis, not realizing what special gifts they receive from each individual. Full units are devoted to these everyday and extraordinary helpers to show preschoolers who lives in their neighborhoods. Lessons in math, literacy, science and movement combine happily with hidden lessons in togetherness, helping one another and understanding how working together impacts everyone.
This collection of community lessons and themes includes coloring pages, crafts and activities to show children both inside and outside the classroom that when everyone works together, the community is happier. Use this guide to find a lesson plan which fits into your classroom's curriculum.
Lesson Plans for General Community Information
A community is an all-inclusive group of people who live, work and play near each other. Preschoolers receive a sense of community and how through these general knowledge lessons and units, which include recycling efforts and differences between different neighborhoods. Learning that one is a part of a larger neighborhood or community is essential to establishing a person's responsibility for stewardship within his community. Even in preschool, students are not too young for exposure to these interesting concepts.
Specific Community Helpers
Communities have a variety of helpers who entertain, assist and maintain the people they serve. Find a list of the lesser known community helpers, such as zookeepers, and construction workers, and more well known helpers, such as ambulance workers and police officers, here. Don't forget to include teachers, who have a prime importance in cementing a youngster's sense of pride in the community. Lessons and classroom ideas to help preschoolers understand the services of each are included in these links.
Postal Worker Lessons and Units
The postal service is well known in communities; preschoolers recognize the Saturday morning post delivery person. Get preschoolers excited about the services of the post office with mock packages, mailboxes and a trip to the local post office to have a tour and talk to the postmaster.
Fire Fighter Themes
The fire engine roars by, and all the preschoolers run to the window to see. Feed their curiosity during a unit on community.
Holiday & Religious Themes
Holidays such as Martin Luther King, Jr. Day and Memorial Day celebrate specific community heroes and protectors. Discuss what each hero does and how Dr. King contributed to our modern day sense of community.
There is a sense of community, taught by Jesus Christ himself, found in the Bible in the Book of Psalms. A colloquial or Sunday school will find a preschool art project useful during a community unit using the word of Jesus. Below we have a link to an article that in itself contains almost 3 dozen ideas for your young learners.
These lessons and themes help teachers instruct preschoolers in the habits, jobs and actions of those around them. Ask the students who they know in the neighborhood that helps them, and use their ideas to build lessons. Use the suggestions of the students to create the plans or use helpers not mentioned by the students to show that there are many more community helpers than they realize. Take field trips when possible, get parents involved when you can, and have fun!
References