Postal Worker Community Helper Lesson Plan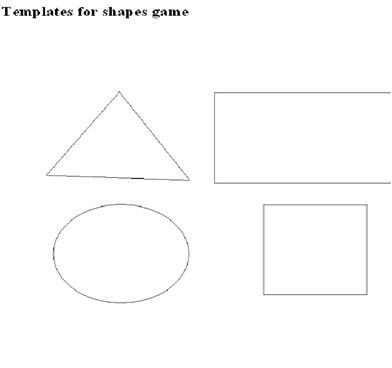 The Postal Worker
1. Introduction.
Speak to children about what a postal worker is and what they do. Teach the students about how they bring the mail and packages even when it is raining or snowing! Go over the postal worker's uniform and how they either carry a mailbag or perhaps have a rolling bag for the mail.
2. Read a book.
Millie Waits for the Mail by Alexander Steffensmeier
A Day with a Mail Carrier by Jan Kottke
Delivering Your Mail by Ann Owen
Mail for Husher Town by Mary Louise Cuneo and Pam Paparone
Marcus and the Mail by Joanne D. Meier and Cecilia
3. Coloring.
Have children color a picture of a postal worker and teach the child that the word Postal Worker starts with the letter P. There are coloring pages found here.
4. Crafts.
Choose a postal worker craft to do with the children.
5. Fun Shapes Game!
Use four big yellow envelopes to create "mailboxes". Cut out shapes from the templates provided. You will need one shape for each "mailbox". You will also need to cut shapes out for the children (make sure each child has one of each shape!) Tape a triangle on one "mailbox", a square on another "mailbox", a circle on another "mailbox", and a rectangle on another "mailbox". Now each child will get a plain white envelope with their name on it and four different shapes in it. Each child gets a turn playing mailman and delivers the shapes to the correct "mailbox". Use different colors and next time around tell the children to mail to the correct color "mailboxes". Templates are below.
6. Fun with colors & counting.
Have children complete the worksheet provided.
7. Song time, Finger play & Dramatic play
Do You Know The Mailman?- Post Office- Mail Carrier Song- Five Little Letters- (finger play)
8. Making a book.
Finish up the lesson by having the children look through magazines to find anything postal worker, mail, post office related. Allow them to cut and paste these pictures onto the Postal Worker Picture Page. By the end of the unit the children will have various collages of community helpers/workers that they can make into a book.
Worksheets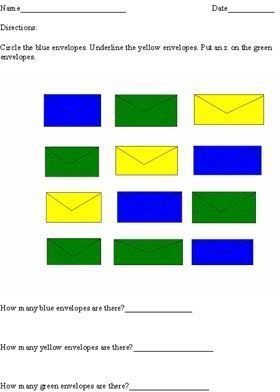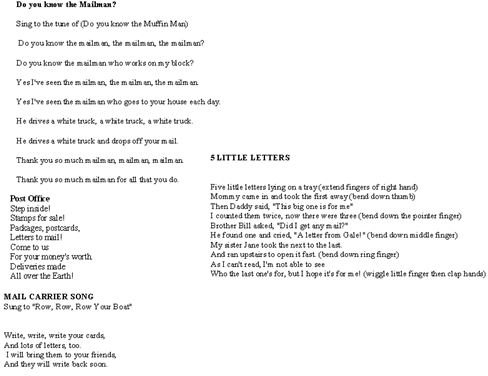 This post is part of the series: Community Helpers Lesson Plans: Units of Study for Labor Day
These series of lessons involve teaching students about Community Helpers such as Teachers, Doctors, Pilots, and Bakers! Plenty of educational material provided for free including alphabet worksheets, math worksheets, crafts, and recipe ideas!