Getting Started
Speak to children about what a nurse is and what a doctor is and what they do. Teach the students about how they help you when you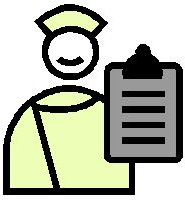 are sick. Teach children about the different "tools" they use during procedures. Teach children about the different kinds of doctors such as dentists or pediatricians.
Kid-friendly resource from KidsHealth.org: What does a nurse do?
Kid-friendly resource from KidsHealth.org: What does a doctor do at a doctor visit?
Books to Read
Here's a list of useful books to introduce the topic.
Ness the Nurse by Nick Sharratt
My Daddy is a Nurse by Mark Wandro
Nurse Nancy (Little Golden Books) by Kathryn Jackson and Corinne Malvern
I Want to Be a Nurse by Dan Liebman
A Day in the Life of a Nurse by Connie Fluet
Corduroy Goes to the Doctor by Don Freeman and Lisa McCue
Doctor Maisy by Lucy Cousins
My friend the Doctor by Joanna Cole and Maxie Chambliss
I Want to Be a Doctor by Dan Liebman
What to Expect When You Go to the Doctor by Heidi Murkoff and Heidi E. Murkoff
Coloring
Have the child color the picture of the letter N and teach the child that the word Nurse starts with the letter N. Then color the picture of the letter D and teach the child that the word Doctor starts with the letter D. Coloring pages can be found below. Below links contain nurse and doctor coloring pages:
Crafts
Choose a nurse or doctor craft to do with the children. Several crafts can be found in the links below:
Cooking With Kids
Teach the children what you may eat if you are in the hospital as a patient. Many of the different foods a nurse may serve you are fruits, vegetables, soups and of course JELL-O!
Try out some of the easy Jell-O recipes provided in the link below!
Songs and Games
The below links can give you some ideas to liven up circle time by singing nurse and doctor songs.
Another great idea is to set up your own clinic in the classroom. Have students roleplay being doctors and nurses. Bring in a small stethoscope and scale and have the kids try to guess what ails their patients.
Making a Book
Finish up the lesson by having the children look through magazines to find anything doctor, nurse, health related. Allow them to cut and paste these pictures onto the Nurse & Doctor Picture Page. By the end of the unit the children will have various collages of community helpers/workers that they can make into a book
This post is part of the series: Community Helpers Lesson Plans: Units of Study for Labor Day
These series of lessons involve teaching students about Community Helpers such as Teachers, Doctors, Pilots, and Bakers! Plenty of educational material provided for free including alphabet worksheets, math worksheets, crafts, and recipe ideas!