A Middle School Lesson Plan on the Farmer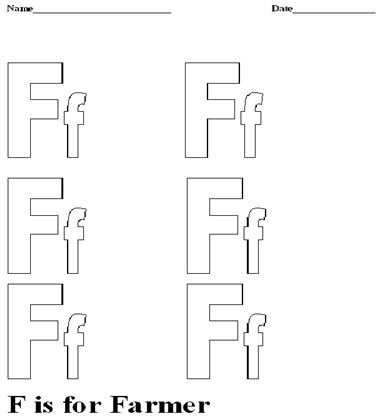 The Farmer
1. Introduction
Speak to children about what a farmer is and what they do. Teach the students about how the farmer takes care of the land, how we use the food they grow, what kind of animals are on the farm, etc.
Some questions to ask children: -What does a farmer wear?
-What kinds of animals are on a farm?
-What sounds do these animals make?
-What do we get from animals (milk, eggs, etc)
-Have you ever visited a farm?
-Have we ever seen a farm on television or in the movies?
2. Book Selection
Apple Farm Annie by Monica Wellington
The Farmer in the Dell by Pam Adams
Farmer Will by Jane Cowen-Fletcher
Farmer Duck by Martin Waddell and Helen Oxenbury
This is the Farmer by Nancy Tafuri
3. Coloring
Have child color picture of the letter F and teach the child that the word farmer starts with the letter F. Coloring page can be found below. This will help with phonological awareness as well as motor skills.
4. Cooking with Kids
Students will have fun making the recipe below which is for scrambled eggs. As you go through the recipe have fun with math such as asking, How Many eggs?
5. Fun with Numbers
Have child complete number worksheet below. This section of the lesson will help students work on their mathematical skills.
6. Song Time, Fingerplay & Dramatic Play
Five Little Pigs (fingerplay)- below
Baa Baa, Black sheep- below
7. Making a Book
Finish up the lesson by having the children look through magazines to find anything farm related. Allow them to cut and paste these pictures onto farmer pictures page below. By the end of the unit the children will have various collages of community helpers/workers that they can make into a book.
More Ideas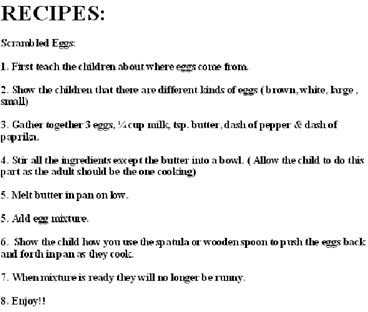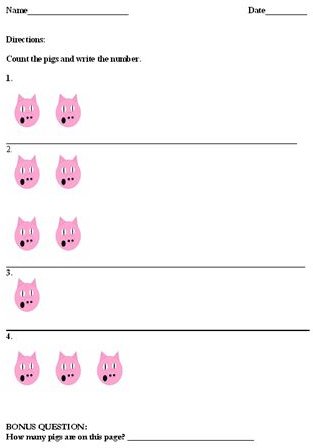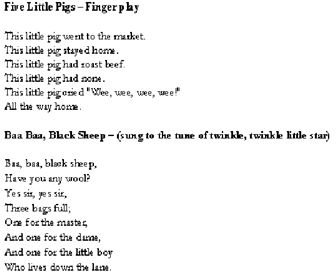 This post is part of the series: Community Helpers Lesson Plans: Units of Study for Labor Day
These series of lessons involve teaching students about Community Helpers such as Teachers, Doctors, Pilots, and Bakers! Plenty of educational material provided for free including alphabet worksheets, math worksheets, crafts, and recipe ideas!