Labor Day & Community Helpers Lesson Plans: The Firefighter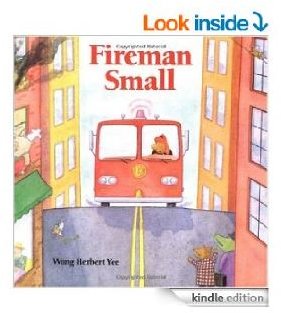 The Firefighter
1. Introduction
Teach the children about everything the firefighter does and how he helps the community. Be sure to teach the children to never be
afraid of firefighters and how to dial 9-1-1 in case of emergencies. Speak about how firefighters are jobs not only for men but for women too!
KidsHealth.org. How to Use 911
Ben's Guide to US Government: Your Neighborhood: The Fire Fighter
Bureau of Labor Statistics: All About Firemen Click on "What Fire Fighters Do" to learn more about their jobs, what they wear, how they get ready for fire, etc.
2. Read a book.
Fireman Small to the Rescue by Wong Herbert Yee
Penny's First Aid Drill by Rob Lee
Mose the Fireman by Eric Metaxas and Everett Peck
Fireman Jim by Roger Bester
Freddie, Fireman Mike by SD Gross
StoryPlace.org contains preschool & elementary stories, online activities, reading lists & printable activities. Choose the firefighter theme to hear: Time to Fight a Fire.
This theme includes:
What should Fran wear online activity
Dottie Dalmatian printable activity
Firefighters reading list
3. Coloring.
Have child color picture of a firefighter and teach the child that the word Firefighter starts with the letter F. Coloring page can be found in the links below.
4. Crafts.
The best firefighter craft do to during this lesson would be to map out what you should do in case of a fire (in the class/house, etc.) Here is a link which gives great tips on what to do in a fire, how to prevent a fire, etc.
SafeKids.org offers a page that can help you create a fire escape plan:
DLTK-Kids offers a craft to make a fireman.
5. Cooking with Kids
Everyone knows that firefighters love to cook. Since the spend most of their time in the firehouses, they treat the firehouse as their second home…and usually this means they have most of their meals there. Firehouse-Cooking.com is a great website where you can find genuine firefighter recipes.
6. Worksheets.
HomeschoolCreations.com offers some wonderful firefighter worksheet downloads.
7. Song time, Finger play & Dramatic play & more crafts
I really enjoy Alphabet-Soup.net and find it filled with wonderful rhymes, finger plays and crafts for children. The children can make fireman finger puppets as well as sing songs about fire safety and firefighters. You can also access another great website with additional finger plays and dramatic plays related to firefighters & safety.
8. Making a book.
Finish up the lesson by having the children look through magazines to find anything firefighter related. Allow them to cut and paste these pictures onto Firefighter Pictures page below. By the end of the unit the children will have various collages of community helpers/workers that they can make into a book.
This post is part of the series: Community Helpers Lesson Plans: Units of Study for Labor Day
These series of lessons involve teaching students about Community Helpers such as Teachers, Doctors, Pilots, and Bakers! Plenty of educational material provided for free including alphabet worksheets, math worksheets, crafts, and recipe ideas!