Labor Day & Community Helpers Lesson Plans: The Astronaut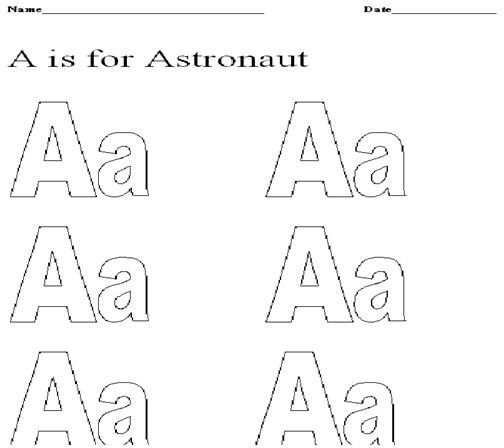 The Astronaut
1. Introduction.
Speak to children about what an astronaut is and what they do. Teach the students about how the astronauts live in space, what they eat, why they go into space, how to become an astronaut, etc. Some detailed information for the teacher can be found at:
NASA's website: Find an abundance of information about astronauts.
It would be good to also go over the nine planets with the children at this point and go over what is in outer space…the moon, stars, etc.
Kid Zone: Find kid-friendly facts about planets.
2. Book Selection:
I Want to Be an Astronaut by Byron Barton
What's Out There? by Lynn Wilson
Me and My Place in Space by Joan Sweeney
Roaring Rockets by Tony Mitton
3. Letters
Have child color picture of the letter A and teach the child that the word Astronaut starts with the letter A. Coloring page can be found below.
Coloring pages of an astronaut can be found in below links:
https://www.first-school.ws/theme/cp_comhelpers.htm
https://images.google.com/images?q=astronaut+coloring+page&hl=en&rls=com.microsoft:en-US&um=1&sa=X&oi=images&ct=title
4. Crafts.
Choose an astronaut craft to do with the children. Several crafts can be found in the links below:
https://www.makingfriends.com/friends/f_you.htm use child's picture to make him/her an astronaut
https://www.dltk-kids.com/crafts/space/mspacesuit.html spacesuit craft
https://www.dltk-kids.com/crafts/space/mastronaut.htm toilet paper astronaut craft
5. Cooking with kids.
Below you will find an easy and fun recipe for astronaut pudding.
(https://www.theideabox.com/Astronaut_pudding.html)
Another fun idea is to order actual freeze dried astronaut ice cream.
(https://www.goestores.com/catalog.aspx?Merchant=alltherightstuffinc&DeptID=119453)
6. Fun with numbers.
Have children learn about numbers using the matching worksheets provided.
7. Song time, Finger play & Dramatic play
Astronaut Song
Climb Aboard the Spaceship
Can You Count the Stars (Finger Play)
It's A Blast (Dramatic Play)
8. Making a book.
Finish up the lesson by having the children look through magazines to find anything space, astronomy, astronaut related. Allow them to cut and paste these pictures onto page Astronaut & Space Pictures Page below. By the end of the unit the children will have various collages of community helpers/workers that they can make into a book.
Worksheets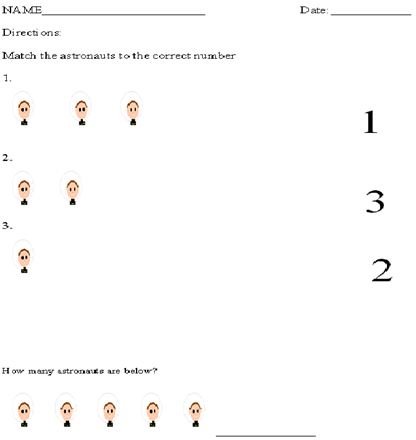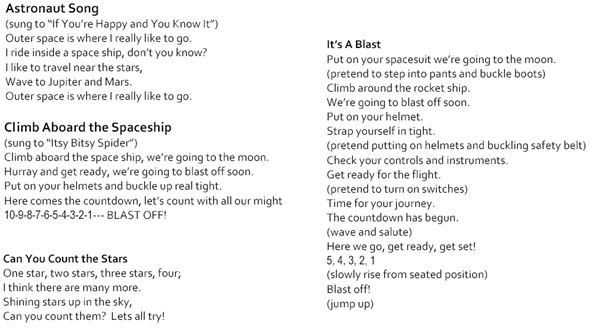 This post is part of the series: Community Helpers Lesson Plans: Units of Study for Labor Day
These series of lessons involve teaching students about Community Helpers such as Teachers, Doctors, Pilots, and Bakers! Plenty of educational material provided for free including alphabet worksheets, math worksheets, crafts, and recipe ideas!