Cross-Curriculum Memorial Day Theme for Preschool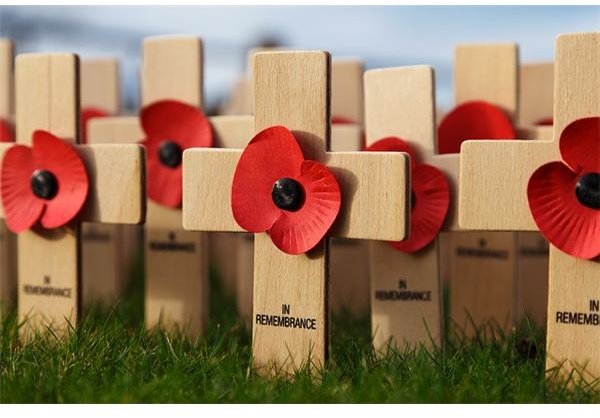 Originally named Decoration Day, the first Memorial Day was held on May 30, 1868 and continues to be observed annually on the last Monday in May. This holiday is often a time for family gatherings, picnics, parades and sporting events, in addition to honoring fallen soldiers. This Memorial Day theme offers activities for teaching preschoolers about this holiday across the preschool curriculum.
Social Studies
Memorial Day is a great time to introduce social studies lessons into the preschool classroom. Some suggested ideas for teaching young children about this holiday include:
Inviting a veteran or active service person such as a parent or grandparent into the classroom
Attend a local Memorial Day parade
Visit a local armed services monument or museum
Pass out poppies to the community to commemorate the holiday
Preschoolers do not need to learn about the horrors of war, but should learn about the men and women whose job is to protect the United States of America.
Reading
Reading aloud to preschoolers is a fun activity that helps develop language skills and instill a love of reading in young children. The following holiday books are recommended:
Memorial Day (Pebble Books) by Frost and Helen (2000)
Memorial Day (First Step Nonfiction) by Robin Nelson (2002)
Memorial Day (Rookie Read-about Holidays) by Jacqueline S. Cotton (2002)
Let's Get Ready for Memorial Day (Welcome Books: Celebrations) by Lloyd G. Douglas (2003)
Memorial Day (Holidays and Festivals) by Rebecca Rissman (2010)
After reading each book aloud to the class, talk about the stories and ask questions such as "What did you learn about Memorial Day?"
Music
Preschoolers love singing songs. Because studies have found a positive link between musical education at an early age and spatial awareness, capitalize on this love of music by introducing one or more of the following Memorial Day songs into the preschool classroom.
"The Star Spangled Banner"
"Stars and Stripes Forever"
"When Johnny Comes Marching Home Again"
"Battle Hymn of the Republic"
"Yankee Doodle"
After learning a song, talk about its significance for Memorial Day.
Art
Making a patriotic craft is an easy way to engage preschoolers in learning about Memorial Day. Some suggested crafts include:
Make flags from red, white, and blue construction paper
Color flag printables
Paint terracotta pots with red, white, and blue paint
Create patriotic mobiles with red, white, and blue yarn and paper
Design a patriotic bracelet or necklace with red, white, and blue pony beads
Make a patriotic windsock by painting an empty oatmeal container and attaching streamers
While making any Memorial Day craft, be sure to explain to the preschoolers the significance of the colors red, white, and blue.
Snack Time
To make a delicious Memorial Day snack, first prepare the following ingredients:
White sheet cake
Cool whip
Sliced strawberries
Blueberries
Prepare the cake according to the directions on the box and leave it in the cake pan. Spread cool whip over the cooled cake. Arrange the blueberries in the upper left corner of the cake to create the blue area of the American flag. Line up the sliced strawberries over the rest of the cake to create the red and white stripes of the American flag. Cut and serve! As with any food in the preschool classroom, check with parents for any food allergies or other dietary restrictions.
References