Grade Level Summer Reading Book Lists for High School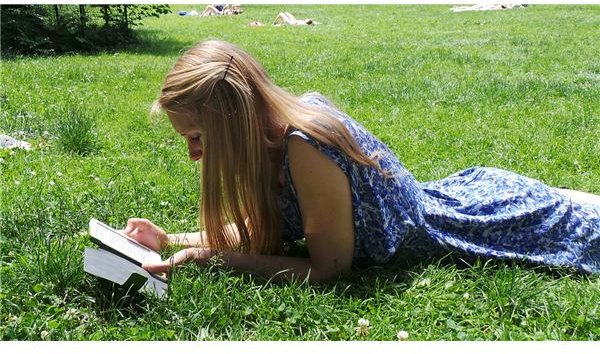 Your school has decided to have a summer reading program and the time has come to choose the titles for each grade level. When it comes to summer reading, you first have to determine how many books you are going to require students to read during the summer. If your students are new to the idea of summer reading, one title per student might be the best way to go. Eventually, as your program develops, you can increase it to two titles per student per summer. However, that does not mean that each ninth grader has to read the same book.
Motivating Readers
One possible way to encourage reading is to give choices about what to read, even over the summer. An easy way to assess is by giving an objective test with a payoff that motivates students to want to read and succeed.
In September, students will take an objective test on the book they read. If they pass the objective test, they will earn five points. Those five points can be added to the first marking period average of THE STUDENTS CHOICE! The grades they receive on the summer reading test will count as a grade for their English classes. The five points can be applied to the first marking period average in ANY class. Five points is a great deal of points. It is the difference between a 60 percent and a 65 percent score. That is the difference between passing and failing. It is also the difference between an 85 percent and a 90 percent grade. That is the difference between being an A and a B. as with so many other things in life, the choice is left up to the individual student.
If the thought of developing an assessment for each book offered seems too intimidating for your English teachers, please refer to my other article, "How to Assess Summer Reading" for some ways to cope with multiple titles on each grade level.
The more choices you give, the more likely students are to find a book that they actually want to read over the summer. With more options, students may begin to view themselves as adult readers, ready to choose what they want to study and base their choice around their own personal interests.
Sample Lists by Grade
Here are some suggestions by grade level for possible books that you can offer.
9th Grade
"The Secret Life of Bees" by Sue Monk Kidd
"A Time to Kill" by John Grisham
"The Old Man and the Sea" by Ernest Hemingway
"Here on Earth" by Alice Hoffman
10th Grade
"Boy's Life" by Robert McCammon
"Plain Truth" by Jodi Picoult
"Lisey's Story" by Stephen King
"And Still We Rise" by Miles Corwin
11th Grade
"The Thirteenth Tale" by Diane Setterfield
"The Jane Austen Book Club" by Karen Joy Fowler
"Angels and Demons" by Dan Brown
"The Kite Runner" by Khaled Hosseini
12th Grade (General English)
"Nineteen Minutes" by Jodi Picoult
"Bag of Bones" by Stephen King
"The Great Santini" by Pat Conroy
"On the Road" by Jack Kerouac
12th Grade (AP English)
"Gone With the Wind" by Margaret Mitchell
"The Witching Hour" by Anne Rice
This post is part of the series: Developing a Successful Summer Reading Program
This three-part series will help you create an effective summer reading program, including choosing the basis of your plan, selecting books and assessing completed assignments in the fall.