Tips on Developing a Summer Reading Program for Middle & High School Students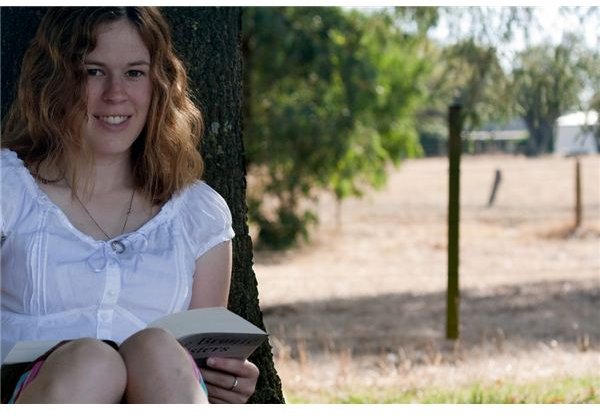 Meant to spark students' interest in reading and prepare them for the upcoming school year, summer reading assignments often fall flat. Teachers assign a book and a corresponding paper or project for students to complete, which are collected and graded at the start of the new school year. One can only begin to imagine how many hits websites such as Sparknotes.com receive each summer as students scurry to finish their summer reading in that last week of August before school begins again.
One way to have a successful summer reading experience is to develop a comprehensive program that requires students to not only read and answer, but also to analyze, observe and discuss what they have read. Only when they are fully engaged in a summer reading experience will students truly develop an appreciation, if not a love, for reading.
Choose Popular Titles
There are several ways to develop and implement a summer reading program on the middle and high school level. The summer months may not be the best time to assign classics such as "A Tale of Two Cities," "Crime and Punishment" or some other weighty tome that barely captures your interest, let alone a child's. Many adults reach for the ever popular "beach books" during the summer, so one possible way to develop your program is to base your selections around popular teen reads.
Why not have a "Twilight" summer, with each grade level reading one of the well-liked books in this series and writing reviews on the book they read? When you all return to school, you can enjoy a Twilight day with vocabulary games, movie showings and acting out favorite scenes, encouraging students to be active readers.
The idea of "teen reads" works well with "The Hunger Games" series as well. "Harry Potter" books are great for grades 7 through 12. Just think of the fun you can have.
Assign an Author Study
Another approach is an author study. Again, summer is not the time to attempt to study Charles Dickens, T.S. Eliot or William Shakespeare. Try an accessible author such as Stephen King, John Grisham, Nicholas Sparks or John Green. Their books are interesting, have impressive vocabulary and most importantly, are fun to read. Once school convenes in September, have an author study day with book group type discussions based around the author study. You may be surprised by the number of students who seek out more books by an author once they have read one.
Pick Something Lighter
A fun and creative approach to summer reading is to "water it down." Have a children's literature summer and require each grade level to read four or five books. The trick? Make them kids classic favorites, such as the "Ramona" series by Beverly Cleary, "Little House on the Prairie" by Laura Ingalls Wilder, "Coraline" by Neil Gaiman or another popular children's author. For assessment, have them write a paper and create a presentation on why certain children's books teach young students a love of reading.
There are many different and creative ways to encourage students to read. The trick is to avoid tedious, difficult or boring books and head toward the fun reads. It makes for a much more successful project for teachers and students.
References
This post is part of the series: Developing a Successful Summer Reading Program
This three-part series will help you create an effective summer reading program, including choosing the basis of your plan, selecting books and assessing completed assignments in the fall.