Use This Comprehensive Guide for Ideas on Preschool Fingerplays, Songs and Poems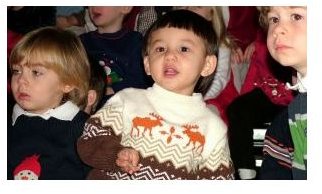 Songs
In addition to teaching sensory and auditory discrimination, singing songs is just plain fun! While it may be hard to encourage a timid preschooler to join in games or other activities, most are eager to sing and to sway in time to the music or clap their hands or stomp their feet.
Because singing and music are such enjoyable activities, they are excellent vehicles to use for teaching and reinforcing social skills. Use songs to teach concepts such as letter and number recognition or louder and softer.
Since more of their five senses are engaged when new material is introduced in conjunction with music, they internalize the information faster and retain it far longer than when teaching takes place through the traditional lecture method. In the articles listed below, you will find a wide range of songs to complement themes, topics and subjects across the preschool curriculum:
Poems
Just like the songs and fingerplays, poems have rhythmic patterns that appeal to and engage the senses of preschoolers. Funny poems tickle their fancy and make them laugh, while more serious poems may help them reflect on or express feelings that are new or unfamiliar to them.
Extending lessons that include poems is easily done by providing paper and art media and encouraging the children to draw pictures that illustrate their ideas and understanding of the poem. Use these illustrations to decorate the classroom and then send them home for the parents to enjoy.
In addition, you can provide students with a variety of musical instruments or rhythm sticks and invite them to shake, play or tap these in time to the meter of the poem. As with the songs and the fingerplays, you are only limited by your own creativity and innovation. These poems can be used just the way they are or changed to suit a particular theme or unit.
Fingerplays
Fingerplays are one of the best ways to encourage and exercise hand-eye coordination and gross and fine motor skills. You'll find lots of clever and familiar and not-so-familiar but oh so unique fingerplays in the articles listed here. In addition to laying the foundation for prereading, prewriting and literacy skills, your little learners will be getting lots of practice in following oral directions and using their own verbal skills.
A neat way to extend these exercises once the students are familiar with the words and comfortable with the motions is to ask them to suggest other actions or different words to use in the fingerplay. Teachers could allow one child to be the leader and encourage the others to echo back and imitate any motions made by the leader. Whether you decide to use these teaching resources as presented here or modify them to suit your needs, keep in mind that having fun is more important than insisting that the class memorize these word-for-word.
We Want Your Feedback!
These resources should get you started singing and learning with your studens. Are there any other poems or songs you like to use in your classroom?
References