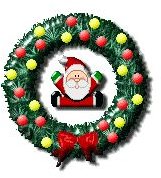 Finger plays are easy poetry for young children. They not only accentuate rhyme but use coordinating hand movements as well. After a few repetitions, the young children in your care will grasp the concept and verse. A good way to develop small muscles and vocabulary is through preschool finger plays. Christmas is the perfect time to present fun rhymes that enhance language skills and bring the holiday spirit to your classroom.
All About Santa
St. Nick is a symbol of Christmas as a jolly soul and presenter of gifts. The name "Santa" comes from a drawn-out pronunciation of the name "St. Nicholas." Some children may find it interesting to practice saying "St. Nicholas" until it sounds like "Santa Claus." You can tell them about the legends of Santa as he travels around the world on Christmas Eve and visits children in other countries.
As the children await his arrival, teach them finger plays about Santa.
I See Santa
I've seen a Santa jolly and fat, (hold arms out in front of tummy)
He strokes his beard this way and that, (pretend to stroke beard)
He puts his pack into his sleigh (pretend to put packages in sleigh)
Then off he goes – up, up, and away. (swing arms upward)
Who Is It?
Who laughs this way – "Ho, ho, ho?" (hold arms out in front of tummy)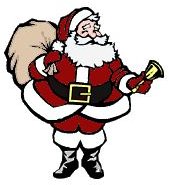 Who drives a sleigh through sleet and snow? (pretend to drive sleigh)
Whose hair is white, whose suit is red? (touch hair, then shirt)
Who wears a red hat on his head? (touch top of head)
Who brings such fun for girls and boys? (tilt head to one side)
Yes, it's Santa with the toys! (laugh like Santa)
Standing in a row (stand up tall)
When Santa comes
They bow like so (take a bow)
Then they fly to the left (put out left arm)
Then they fly to the right (put out right arm)
Sleep all night. (pretend to sleep)
Christmas Trees and Candy Canes
Little Green Christmas Tree
My Christmas tree glistens bright (form triangle)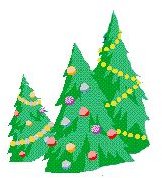 With shiny balls and twinkling lights. (open and close fingers)
At the very top is an angel in flight, (circle over head)
Greeting people on a wintry night. (shiver)
My Candy Cane Friend
I have a friend named Candy Cane. (point to self and then form a candy cane with fingers)

We go dancing down Sugerplum Lane, (dance with fingers)
While we're doing the peppermint twist, (twist hips)
We blow each other a candy kiss. (blow a friend a kiss)
Additional Resources
Liven the holiday spirit in your classroom with these preschool finger plays. Christmas is a time to use these verses during circle time or to enlighten family and friends during a classroom pageant.
References
1001 Rhymes & Fingerplays for Working With Young Children compiled by The Totline Staff [Totline Publications]
Channels to Children: Early Childhood Activity Guide for Holidays and Seasons by Carol Beckman, Roberta Simmons, Nancy Thomas (rhymes are a culmination from many authors)
Clip Art Credit: http://www.christmas-graphics-plus.com/