Seven Preschool Mouse Activities to Squeal About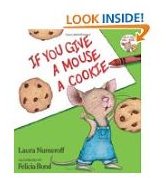 Benefits of Learning
Each of these preschool mouse activities will help students develop skills such as small motor skills (controlling a computer mouse), language and socialization skills (singing songs and fingerplays), hand-eye coordination (creating mouse crafts). Learning how to manipulate objects to create something will also strengthen their fine motor skills. All of these activities will encourage them to develop their imagination and help your preschoolers develop the confidence they need to become life-long learners.
Give a Mouse a Cookie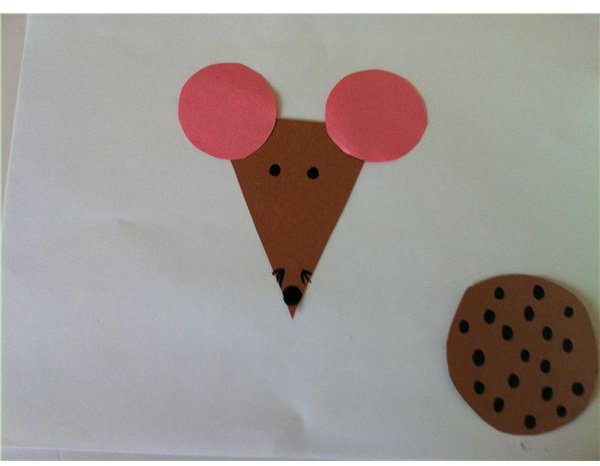 If You Give a Mouse A Cookie by Laura Numeroff is a beloved children's book about a mouse who makes a lot of demands to a little boy, and if you give the mouse a cookie he will want everything in the house. This book is a wonderful way to teach preschoolers about mice, and they will learn sequencing, cause and effect and how to make predictions in the process.
A cute extension activity to do after reading the story has your students making a craft of the delightful mouse and his cookie. To begin, give students three circles and one large triangle to trace and cut out. Next, provide them with a blank sheet of paper and have them glue the triangle to the paper (mouse's head), then the two circles (mouse's ears), and the other circle for the cookie. Then have them add details with a marker for the eyes, nose, whiskers and chocolate chips on the cookie. You can hang the completed projects in the classroom for all to see.
Create a Mouse Mask
Here is a cute idea for creating a mouse mask. Hand out two small pink circles and one medium size brown triangle for students to trace and cut out. Then have them glue the shapes onto a paper plate and decorate. They can add the eyes, nose, whiskers, or anything to make it unique. Then with a hole punch, create two small holes on each side of the plate and thread a string through them so the students can wear their masterpieces.
Three Blind Mice Fingerplay
Everyone knows the story of the three blind mice. The nursery rhyme is a learning staple, so why not teach students the story in a fingerplay? Teach students this delightful rhyme while using their fingers.
Three blind mice, three blind mice (cover your eyes)
See how they run, see how they run (take pointer finger and move it up and down)
They all ran after the farmer's wife
Who cut off their tails with a carving knife
Did you ever see such a thing in your life?
As three blind mice (cover your eyes)
Computer Mouse Craft
Preschool is the age when children are starting to learn how to use a computer mouse. This is the perfect project for preschoolers to learn how to manipulate a computer mouse and turn it into a mouse craft. First, you have to gather up enough old computer mice for each child. A great place to find a computer mouse would be to ask your local computer store if they have any that you can recycle for your students. Next gather up art supplies for the students to decorate their mouse. Use items such as, cotton balls, yarn, silly eyes, markers, old cloths, glitter, glue etc. Then have students go to town and create a memorable computer mouse of their own.
Mickey Mouse Online Game
Every preschooler has heard of, or seen, Mickey Mouse. There are numerous fun, educational online games for preschoolers at Disney.go.com. Students will learn about matching, colors, numbers, letters and much more.
Morris the Mouse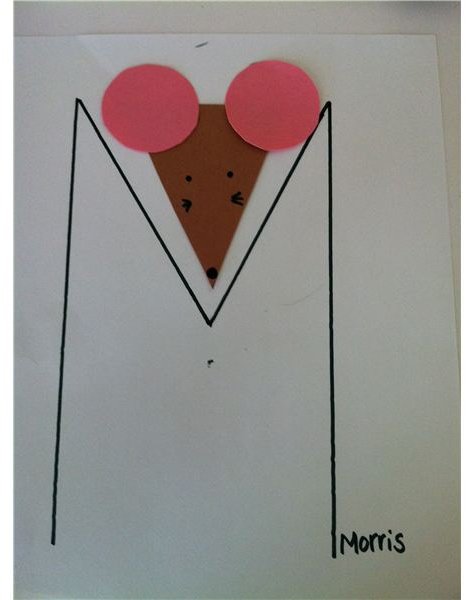 Have students create a character called Morris the Mouse out of the letter M. Give each student a sheet of paper with a huge letter M on it. Also give them two circles (used for ears) and one triangle (used for head). Have students glue these shapes on the letter M to create Morris the Mouse. Provide additional art supplies for the students to decorate as they like.
Five Hungry Mice
Here is a new spin on the five Hungry Mice. I provided the first two verses so you will get the gist of the rhyme.
Five Hungry Mice
Five hungry mice came out to eat
Looking for a simple treat
Then one fat cat came out to eat
and saw the mice, oh what a treat
So four hungry mice came scampering back
Four hungry mice came out to eat
looking for a simple treat
Then one fat cat came out to eat
and saw the mice, oh what a treat
So three hungry mice came scampering…
Your students will squeal with delight for these simple preschool mouse activities. Give them a try, and let me know what you think in the comment section–and share your own ideas as well!
References
All ideas and activities were created by Janelle Cox from her experience in the classroom.