Four Summer Crafts for Toddlers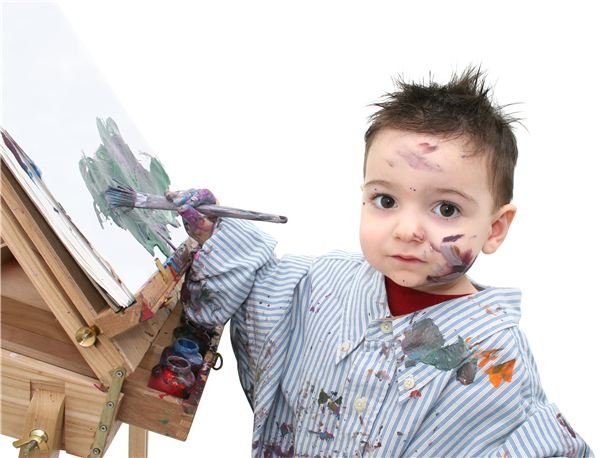 Ice Cube Watercolors
One unique craft that any infant with basic hand-eye coordination can manage involves colored ice cubes. Simply squeeze several drops of food coloring into a different compartment of an ice cube tray, cover it with water, and freeze. Then encourage infants to play with these ice cubes on a piece of paper. As the ice cube melts, it will make interesting and colorful designs that the infants will enjoy. All young children will love this creative activity. Even better, the ice cube will cool off the infant on a hot summer day, so try this activity outdoors if possible.
Summer Mural
If you have infants and toddlers of different ages, you might want to try painting a summer mural with them. To do this, draw some outlines of simple summer objects (e.g., a rainbow, flowers, a sun) on a large piece of white paper, and then squeeze large globs of paint onto the center of the paper. Apply a border of glue around the edge of the paper and cover the entire paper with an old shower curtain or a thick plastic tablecloth. When the glue dries, you can encourage the various infants and toddlers to crawl, pound, or roll onto the covered paint to spread it around the paper. (You may want to have the infants start, and the toddlers take over afterwards.) When the children leave, cut around the border and carefully remove the plastic to reveal a multicolored summer mural. Allow the mural to dry completely before displaying it.
Summer Sunflowers
Make some edible finger paint for infants and toddlers by mixing light corn syrup with some yellow food coloring. (Make sure that infants have already had corn without showing signs of allergies before letting them use this finger paint.) Provide children with cutouts of sunflowers, and encourage them to paint the sunflowers with the finger paint. Before the paint dries, give them sunflower seeds to stick to the center of the flower – or anywhere they'd like! Make sure to supervise infants carefully during this craft so that the sunflower seeds do not become a choking hazard.
Build a Beach
Draw a squiggly line down the center of a piece of paper and apply glue to one half of the paper. Crush up graham crackers until they have a sand-like consistency, and give them to infants and toddlers to sprinkle on the glue. (Note: They might just try to eat them instead!) When that side dries, put glue on the other side of the paper and show toddlers how to crumple up squares of blue tissue paper and stick them to the glue. Infants will need you to crumple up the squares for them, but sticking them to the glue will help them practice hand-eye coordination. Voila! You now have a fun beach with sand and water for toy animals and people to play on.
This post is part of the series: Exciting Toddler Crafts for Daycare
Bored with the same old craft activities for toddlers? Take a look at some of these toddler crafts for some creative ideas.