Tiny Crafts: Baby/Toddler Crafts for Your Little One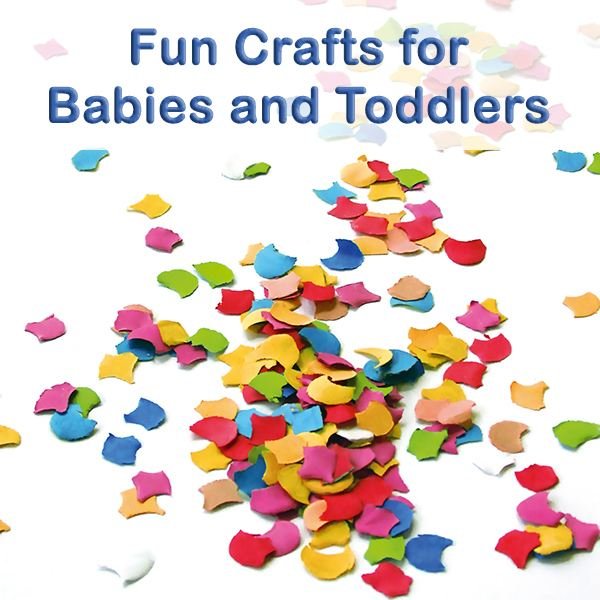 Tape Bracelets
Many baby/toddler crafts seem to be done mostly by the caretaker rather than by the child. These crafts are different, and play towards infant and toddler strong points so that each child can contribute to the final product. For example, kids are often entranced by the stickiness of tape. Wrap a piece of tape around their non-dominant wrists so that the sticky side faces outward. Then give them small shapes made of craft foam or paper and show them how to stick the shapes onto their tape bracelets. Kids will love wearing these for days afterwards, since they made them all by themselves!
Tissue Paper Suncatchers
This is one fun craft that any baby or toddler who can grasp and let go of objects can make. Take a piece of clear contact paper and lay it sticky-side up on a table, Use masking tape on each edge to secure the contact paper to the table. Then give your baby or toddler small squares of tissue paper and let him pick them up and place them on the contact paper so that they stick. Older toddlers may enjoy using patterns to make their suncatchers "pretty." When they finish, cover their work with a second piece of clear contact paper, sticky-side down, and cut around the edge, leaving a small border of sticky material. Punch a hole through the top of the suncatcher and thread a piece of yarn through it so that you can hang it from a window hook.
Pudding Finger Paint
Using regular finger paint for infants and young toddlers is asking for trouble. Even if the paint is non-toxic, you still don't want babies swallowing it by the finger-full! That's why the best fingerpaint for a baby or toddler is pudding finger paint, made from vanilla pudding mixed with food coloring. Even the youngest kids who have some level of hand-eye coordination will enjoy dipping their hands in the paint and smearing it on paper or any other paintable surface.
Note: Pudding should not be given to infants unless the infant has eaten it before and is not allergic to any of the ingredients in it. See this article for some more fun edible art recipes.
Colored Salt
You can color salt by simply adding food coloring to a bowl of salt and mixing it well. If you put the colored salt into salt shakers, a baby or toddler can easily shake out pieces of salt. To make a craft with this colored salt, simply draw a picture or design using child-safe glue or homemade paste that can be safely ingested. Then let the kids sprinkle the salt onto the glue and help them shake the excess salt off the paper. They will love looking at the craft that results!
These baby/toddler crafts are great opportunities to encourage children's creativity and artistic abilities. Try them out, and send them home to the proud parents!
This post is part of the series: Exciting Toddler Crafts for Daycare
Bored with the same old craft activities for toddlers? Take a look at some of these toddler crafts for some creative ideas.