Create Free Classroom Websites and Student Blogs With Weebly for Education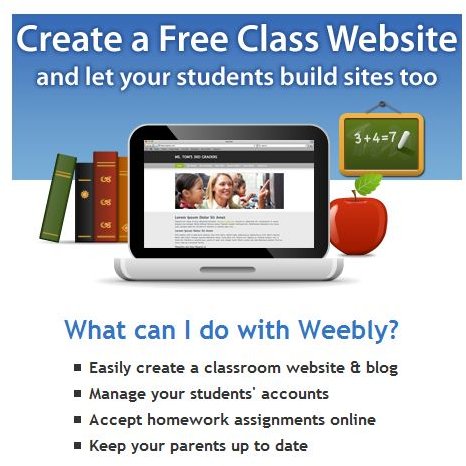 Why Weebly?
So, why should you choose Weebly for Education to build classroom websites and student blogs? Well, there are several very good reasons why Weebly websites are great for educational use.
Firstly, they are free, and that is always a plus for educators.
Secondly, Weebly does not place ads on your website like some other website creators do. Ads are distracting for adults, and often misleading for children.
Lastly, Weebly allows you free domain hosting. So, if you already own a website address, or you decide to buy one from someone like GoDaddy.com, you can use it at no extra cost. Again, this is not often a free service with other website providers.
Getting Started
To begin creating your website, you need to create an account. This is as simple as providing Weebly with a username, password and email address. Next, you accept the terms or service, click 'Sign up', fill in the captcha, and you are ready to go.
The next screen starts a wizard that asks for your name, school name, district and country, but if you want to skip that step for now, you can. When you are done with that screen, you get the choice to set up a class, or create a website. So, let's create that website!
Creating Classroom Websites
Clicking 'Create a website' results in your first big decision - what you want to call your website. This can be changed later, so you don't have to be too creative at this stage. Next, you need to choose what your website address will be. The standard format is myclass.weebly.com, but you can register your own domain here too.
Once you have chosen your site address, (something that can also be changed later), you are taken straight to a your new homepage. It looks a little bare right now, but there are some helpful directions from Weebly that appear on your screen to take you through the basics of adding a paragraph, changing your website design theme, and making new pages for your site.
Clicking the orange 'Publish' button in the top right of your screen will make your website live and ready for all the world to see.
Weebly Website Screenshots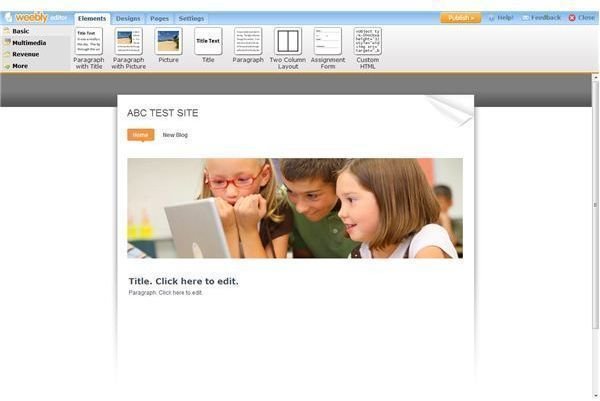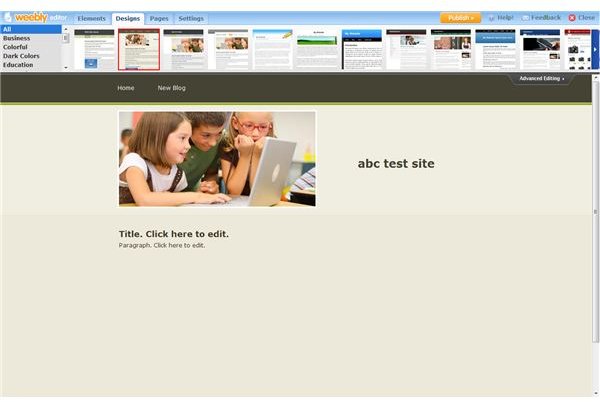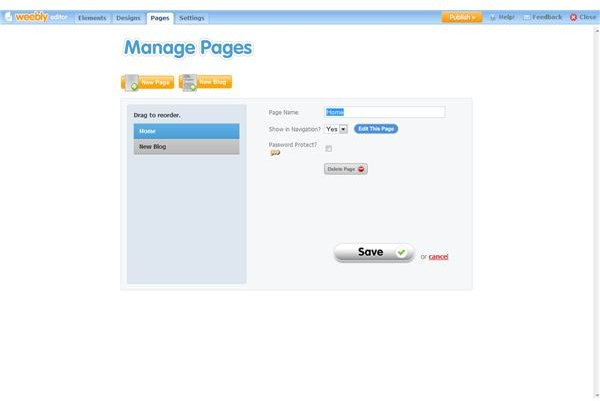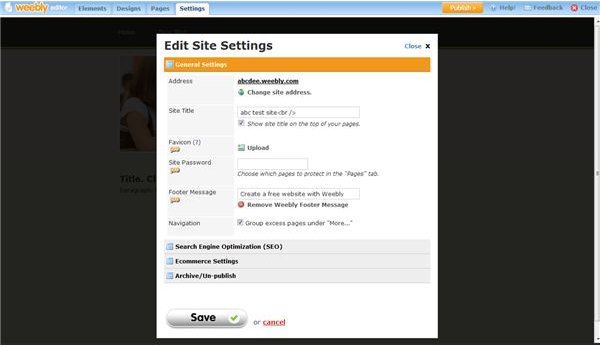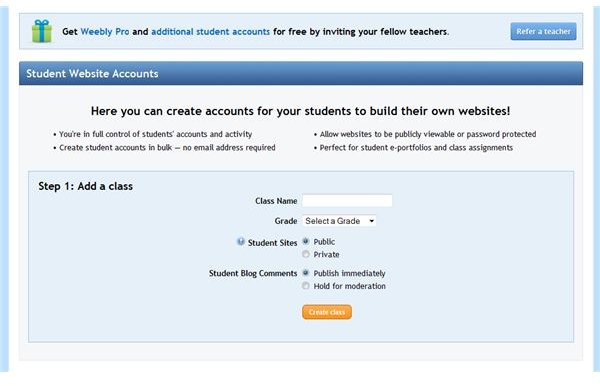 Creating Student Blogs
When you are done editing your class website, click red close icon in the top right hand corner. This will take you back to a dashboard display where you now have the option to set up a class. Once you set up a class, you will have the option up to 40 to create student blogs. So, insert your class name and grade level. After that, you need to choose whether your student websites will be public or private. Public means anyone can see them, private means that they will be password protected and hidden from even the safest search engines. If you select private, you will be prompted for a class password. This can be changed whenever necessary.
The last decision you need to make is whether or not you want to moderate comments on student websites. If you choose not to, anything that is posted on a student blog is instantly published. If you choose to moderate, you can choose which comments to approve or deny before they are live because they will first be sent to your email address for moderation.
You can add students individually, or in larger groups if you put them in a spreadsheet. Creating student blogs with Weebly would be a great classroom project, or an exciting way to build an online portfolio for your students. However, it is a condition of service that you obtain parental permission with websites for students under the age of 13. This is particularly worth remembering if you create elementary student blogs.
Make Learning Fun!
By creating classroom websites and student blogs you can bring education and learning into the homes of all your students, and it is not nearly as time consuming as you might think. Weebly websites are fun, free, and easy enough for everyone to use! They are a great way to give students ownership of their learning and an awesome way to collate information for school projects. So, why not give it a try?
References
Screenshots of Weebly for Education created by the author.
This post is part of the series: Technology Tools for Teachers
The articles in this series reveal some of the best technology tools for teachers that are used in the classroom today.