The Top Ten Search Engines for Students to Use at School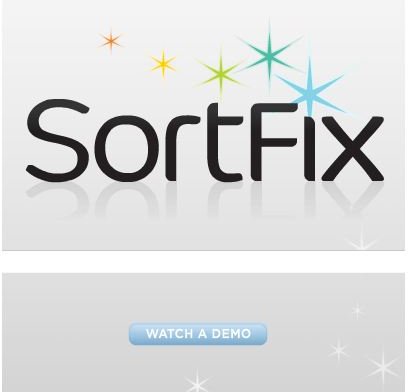 Student Friendly Search Engines
Finding a good search engine that you can rely on to use with your students is an essential task of any teacher today. While Google, Bing and Yahoo dominate adult search engine choices, they are not always the best pick for students. The sites in this top ten list are either specifically geared toward K-12 students, or have great educational applications for the classroom. Some you will know of, but some will likely be new. So, take a browse through some of the best search engines for students and see which one will best fit the needs of your class.
1. Sortfix
Sortfix, (www.sortfix.com), is one of the more useful search engines for students because it provides relevant, streamlined search results. It does this by analyzing the keywords in the search results, and giving the searcher the ability to focus on, or remove, certain keywords. To do this, all you do is drag a combination of words from the 'power words' box to the 'add to search' box, or the 'remove' box. Then search again and you will see your total number of results drop to a more manageable and focused selection. If you are unsure what one of the power words mean, drag it to the 'dictionary' box and get a definition. You can choose to see Google's search results, or those from Bing, Twitter and YouTube. Overall, this is a great way to search if you are not completely sure what information you want to find, or if you are tired of finding irrelevant results in your searches. Basically it is equivalent to an advanced search on Google, but it is visually appealing, and much more user-friendly for younger users.
2. Fact Monster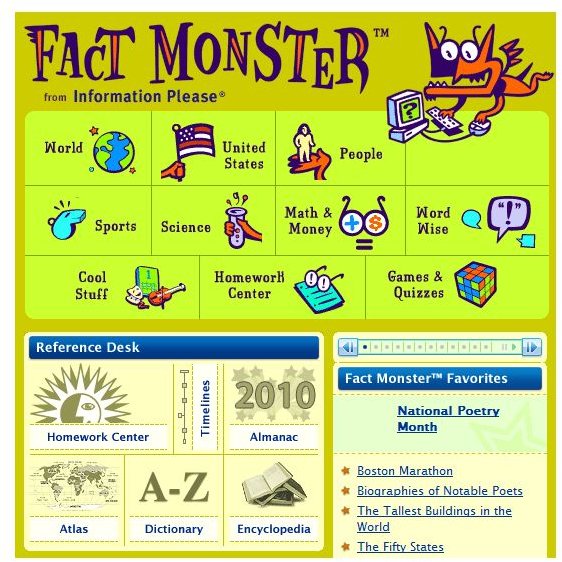 Homework help is always on hand with Fact Monster, (www.factmonster.com). It is an almanac, dictionary, thesaurus and encyclopedia all rolled into one. The results are always focused, to the point, and age appropriate for elementary and middle school students. The reference desk has an atlas and time line feature, while the homework center is designed to give you all the help you need to complete those pressing assignments. Games, quizzes, analogies, spelling tests and more mean that this is one full featured search engine for kids. More information about Fact Monster can be found in this article.
3. Middlespot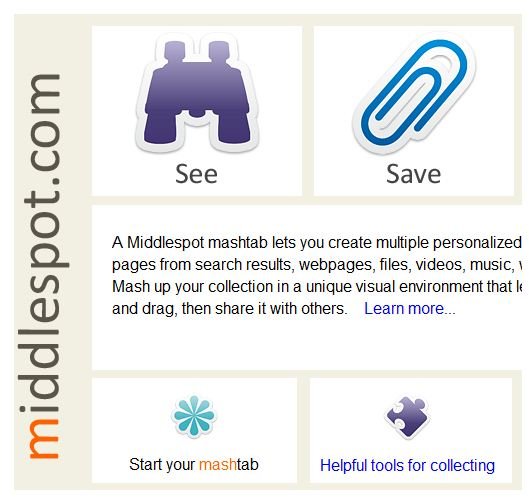 Middlespot is a site that has very few rivals. This visual search engine, (https://middlespot.com), returns your search results as a series of thumbnail images. These pictures are live screenshots of the websites in your search results. You can zoom in on them by scrolling or sliding the zoom bar at the top of the page, or read the text summary for each on the left hand side of the screen. Best of all, you can save your results as 'mashtabs'. This lets you save the most relevant results as a page that you can share with others, pan, zoom, re-size, group or rearrange links as you feel makes most sense to you. This is a great way to save search results for future use, and would be useful for ongoing projects. Used properly, this could easily be one of the best search engines for students to use at school, and a great asset for visual learners.
4. Ask Kids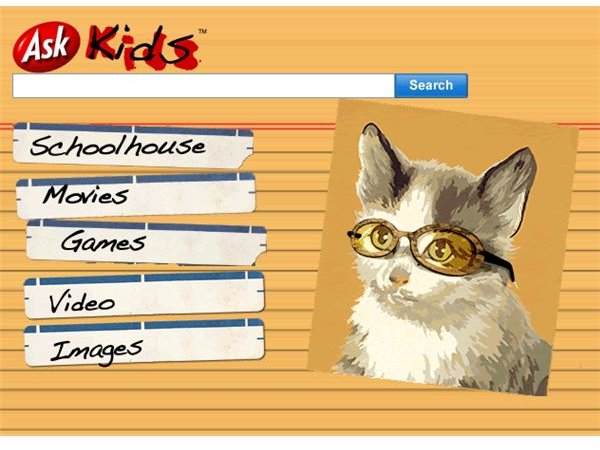 Jeeves may be gone, but his legacy lives on. Ask Kids, (www.askkids.com), is a great site for students to safely find the information they need from the web. As well as being a useful and reliable safe search engine, Ask Kids also has a useful image and video search function that allows students to find school appropriate images or videos that may be useful to their information search. The Schoolhouse section even has a list of educational websites that are a great resource for students and teachers. These can be sorted by category, or subject, and include some of the best educational websites for kids. The Ask Kids site is simple, but effective, and most of the time that is exactly what you need.
5. Google…of course!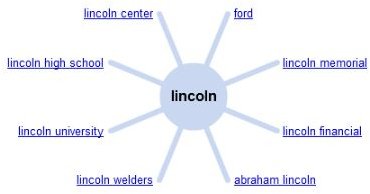 It would be remiss of me not to include Google in a list of the top search engines for education, as it clearly has a lot to offer students and educators alike. However, you may not know all that this popular search giant has to offer. The wonder wheel function, for instance, can be accessed from the side bar. Click 'show options' and then 'wonder wheel' and you can have your search results displayed as an interactive mindmap. Click one of the stems and you get a further set of search results that are more focused than your original return. As you do this, the search result summaries update on the right hand side of the screen to provide you with the updated results. You should also check out the time line feature. Searching for a person, or historical event, the time line can sort your results chronologically. You can select individual decades, or years, to further hone the focus of your search. The time line feature is accessed in the same way as the wonder wheel. Both are great features for education.
6. Safe Search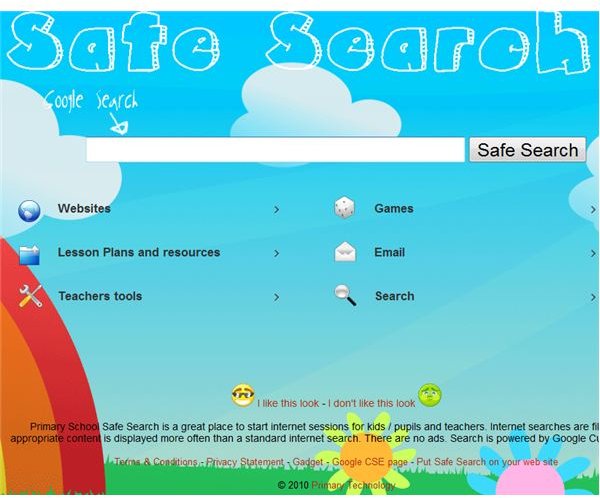 The Primary School ICT Safe Search site, (https://primaryschoolict.com), is a UK based search engine. It is based on a custom Google search engine. This means that safe search is a default setting, and that there are no adverts of any kind displayed alongside student search results. The front page has some links to student friendly sites, while teachers can copy the HTML code to embed it as a search engine on their classroom websites. The Primary School ICT Safe Search website does not have many unique hooks or tricks, but it does what it sets out to do well, and is a great homepage for school computers.
7. Quintura Kids
Quintura, (https://quinturakids.com), is another great search engine for visual learners, and works in a similar way to sortfix.com. Enter your search terms in the search box and press the search button. The cloud above is then filled with words that you may generate from a class brainstorming session. All the terms are related to your initial keyword search, and can be used to further hone your results. Click on one of the words in the cloud and it is added to your initial search. The results below the cloud are then updated to include the additional search terms. To deselect a word from the cloud, simply click it again. The results you get are based on what you would get from searching kids.yahoo.com, so you can be confident that it is one of the safest search engines for education.
8. KidsClick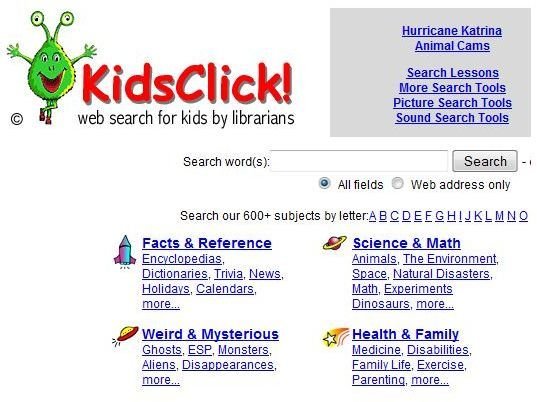 Created by the Association of Library Services to Children, KidsClick!, (www.kidsclick.org), is another of the more useful search engines for education users. The homepage is clearly split up into educational categories that you can browse through, but most users will likely dive straight in and use the search bar at the top of the page. The results you get are usually very focused and may not return more than 7 or 8 results. However, they do provide useful extras like reading levels for the articles it returns, and a subject to help you know whether it is relevant to the information you are seeking. The advanced search functions let you search by reading levels, and by whether or not the website has a large picture content or not. A full review of KidsClick! can be read online here.
9. Yahoo Kids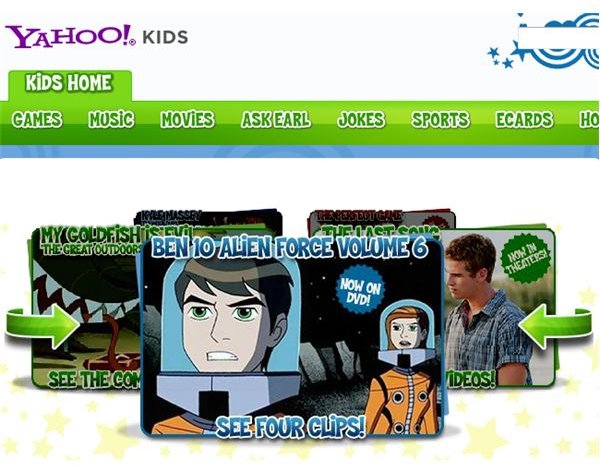 Yahooligans is a well established player in the arena of student friendly search engines. For me, the homepage is a little too distracting, so head over to kids.yahoo.com/learn where there are less games, videos, and music links. The search box at the top of the page is less than obvious, but always returns some well filtered, relevant results. The results are categorized, so that the student can find the best sites for their needs, and not have to deal with millions of unsorted pages. However, uncategorized safe search results are also returned at the bottom of the page for a more open approach. Yahooligans is a great site for elementary kids, but is best used supervised in an educational setting in order to make sure that students are on task and not straying onto the music, video, and games links that are littered around the site.
10. Wolfram Alpha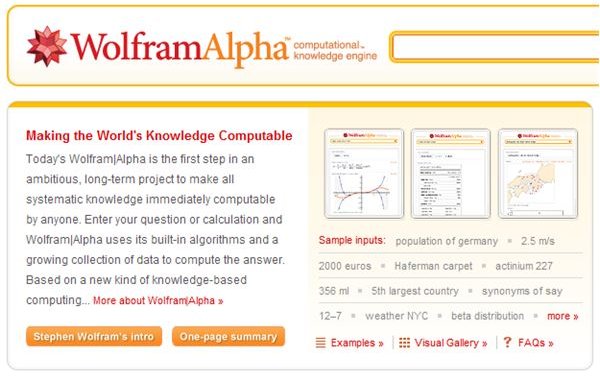 Wolfram Alpha, (www.wolframalpha.com), may be one of the most powerful search tools on this list. Created by Stephen Wolfram, this technological marvel is capable of calculating things that it would take a hundred or more individual websites to do. It uses a complex set of algorithms to answer questions or calculations that you input into the search box. Type in a city and you will be greeted with maps and more demographics than you will ever need. Enter equations, dates, math formulas, or just about anything else, and you will be amazed at the results that are returned. You can find everything from the nutritional value of an apple, to the real time position of the International Space Station as it orbits Earth. An Apple app is available so that you can also add it to any iPod Touch devices you may use in your classroom. It is best used with older students, but Wolfram Alpha truly deserves to be toward the very top of your bookmarks of search engines for education. A detailed review of Wolfram Alpha can be found in this article.
Search Engines for Education
You need the right tool for the right job, and the same can be true with search engines. Students need powerful, easy to use sites that deliver relevant results to what they are looking for. The ones on this list were chosen because they are all capable of delivering just that. Over time, you will doubtless develop your own favorites, but these sites have developed a reputation for quality and deserve to be considered the best search engines for education users.