Your Guide to Elementary Read-Alouds: Plans and Activities For Elementary Students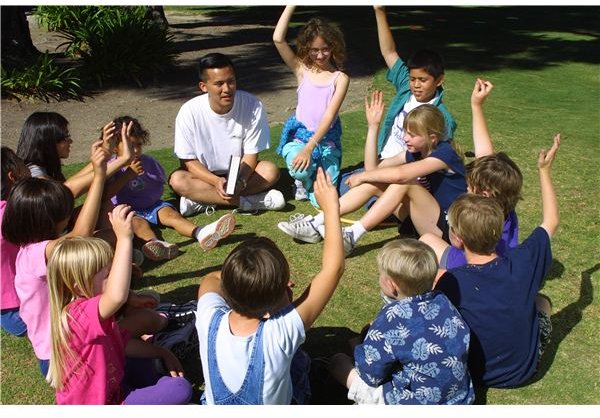 What Is a Read-Aloud and Why Should I Use One?
A "read-aloud" in the educational setting may be defined as a planned oral reading. Teachers use read-alouds to not only entertain,
but to also develop background knowledge, model reading strategies, improve comprehension, and help students learn the skill of critical thinking. While some read-alouds are selected based on interest, others are chosen because they present an opportunity for the teacher to address a particular skill, because they are related to a topic of study, or because they provide background information necessary for learning.
There are a variety of reasons why you should read out loud to your students, but perhaps the most compelling is that read-alouds increase a child's understanding of the world around them, thereby improving a student's chance of successful learning. Not only are they exposed to a wider variety of vocabulary through an oral reading, they are able to then use what they glean from that vocabulary to better comprehend lessons, readings, images and more - all while making real-world connections to what they know or have learned.
According to ReadingRockets.com, "Research has demonstrated that the most effective read-alouds are those where children are actively involved asking and answering questions and making predictions, rather than passively listening." For this reason, you will find more than just titles listed in our guide to selections for elementary read aloud. Plans and activities are also included, to encourage this active participation.
Picture Books to Consider
When we consider read-alouds, it often invokes an image of teacher holding a book with students sitting eagerly at her feet. For this reason, picture books typically come to mind. Captivating images and easy-to-understand text help to further increase comprehension and engage the reader in the learning process. Furthermore, the wide variety of both fiction and non-fiction materials makes finding a good book to read an easier task! While this list is by no means exhaustive of what may be found here at Bright Hub Education, it is meant to provide a good start!
Chapter Books for Read Aloud
Chapter books also make for wonderful read-alouds! A good target is to read a chapter a day. If this is not feasible, a goal of 15 minutes a day is generally suggested. For older readers, or for those younger readers in need of a challenge, encourage students to follow along using their own copy of the text. This is also a great way to provide in-class adaptions for students of all ages and ability levels who prefer visual learning to auditory learning. There are benefits as well as disadvantages to letting students "read ahead," so be sure to clearly state your expectations before beginning the readings.
Suggestions by Grade Level
Need even more suggestions? Here are lesson plans and activities for a variety of stories organized by grade level. Keep in mind, however, that you are not bound by listed ages. These are merely suggested levels for books. Children are able to enjoy books which are typically considered above and below their grade level, so take the time to check out all of the recommendations!
Do you have a favorite elementary read aloud? Plans and activities are always appreciated here at Bright Hub Education. If so, be sure to visit the comments section below. We want to hear from you!
References