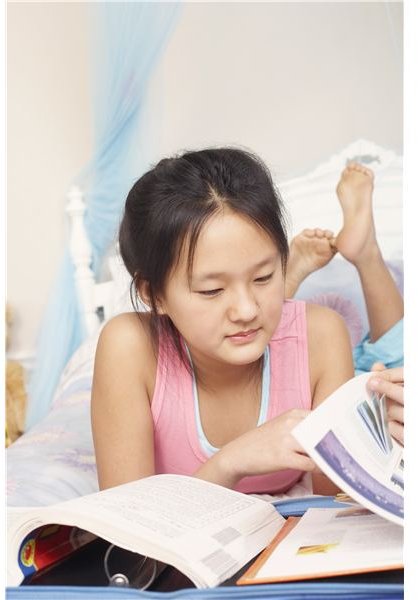 Now is your chance to develop enthusiastic readers! When compiling your list of third grade read-aloud books take this opportunity to add a book series or standalone books to your repertoire. Also add to your list some special books that will meet objectives across your curriculum. Complete with recommended books, short summaries and an activity to include in your plans, we provide ideas for social studies, science and language arts.
Begin With a Book Series
Reading the first book of a series aloud to your students will surely motivate them to read more of the series.
Popular book series for third graders include:
American Girls Collection
Boxcar Children
The Magic Tree House
The Adventures of the Bailey School Kids
Cam Jansen Mysteries
The Jigsaw Jones Mysteries
A to Z Mysteries
Ramona
Judy Moody
Flatfoot Fox
Encyclopedia Brown
Boxcar Children by Gertrude Chandler Warner is the tale of four siblings who run away from home to escape being separated when their parents die in an accident. The children find a boxcar in the woods that will make a perfect home. Their kindness to one another and inventiveness for survival is inspiring.
Activity: Make a list of the ways the children showed that they cared for each other.
Magic Tree House: Dinosaurs Before Dark by Mary Pope Osborne
This series is great to use with science and social studies objectives. The two young children, Jack and Annie, find a magic tree house, which takes them to other places and time periods. In each book, facts are included about the book's topics. Your students will have many choices and a wonderful website to complement the series.
Activity: Draw your favorite dinosaur and list facts about it: size, what they eat, etc.
Beezus and Ramona by Beverly Cleary
For an absolutely charming comedy choose one of the Ramona books. Also introduce your students to the wonderful author Beverly Cleary who has written some amazing read aloud choices. In this book, Ramona is in Kindergarten and is a real pain to her older sister. What happens when Ramona invites her whole class to her birthday party without telling her parents?
Activity: Pretend you are Ramona! Use a friendly letter format to write an apology letter for something you have done.
Encyclopedia Brown, Boy Detective by Donald Sobol
Leroy "Encyclopedia" Brown is a boy with a brain full of trivia. With all of this information he makes a superior detective and he solves crimes around the town. There are ten crimes to solve in this first book with answers in the back. This will spark the interest of your amateur detectives.
Activity: Write your own short mystery to solve. Provide clues within the story and see if the class can solve the crime.
Add Some Stand Alone Books
Stand alone books are not part of a series. Use them as third grade read aloud books to enhance lessons across the curriculum or just for fun to demonstrate the joy of reading.
Chocolate Fever by Robert Kimmel Smith
Henry loves chocolate to the point of being extreme. When he gets chocolate fever and runs away the trouble begins. This book is humorous and can be used for several creative writing activities.
Activity: Writing an essay: What foods are you hooked on? What could result from overeating food? How will you cure it?
Be a Perfect Person by Stephen Manes
Sometimes you just need a fun book to read aloud. Here is one of them. Although it does have a lesson to be learned: being perfect is boring!
Milo is always in trouble. When a book hits him in the head in the library he thinks the book is meant for him. He follows the doctor's orders to become perfect in just three days.
Activity: Chose of essays: 1. Why I want to be perfect. 2. What lesson did Milo learn?
The Courage of Sarah Noble by Alice Dalgliesh
Sarah is an eight-year-old girl who travels with her father through the Connecticut wilderness to build a new home. Students will hear the fears and the hardships of this young girl as she tries to be brave. This is a wonderful read aloud for social studies.
Activity: Use a simple graphic organizer to compare and contrast a child's life today with Sarah's life.
The Half-a-Moon Inn by Paul Fleischman
For a dark adventure, read aloud this book to fit the bill. The main character is a mute boy who has lost his mother in a blizzard and is kidnapped by the owner of a local inn who dabbles in evil magic.
Activity: The main character cannot speak. Imagine that you have lost one of your faculties (eyesight, hearing, touch, speech, walking) and write about how you would deal with it.
The Dinosaurs of Waterhouse Hawkins by Barbara Kerley
Here is a nonfiction book about Waterhouse Hawkins who, in 1856, was asked to build a dinosaur park in England and later in New York City.
Activity: Use clay to build a small version of your favorite dinosaur. Place it in a diorama with scenery.
A Day's Work by Eve Bunting
When his non- English speaking grandfather needs a job, a young Mexican-American boy helps him. The boy's lie gets them in trouble.
Activity: Write a paragraph about a relative that you have tried to help.
The Legend of the Indian Paintbrush by Tomie dePaola
Whether you are studying American Indians or if you just love books by dePaola this book has an important lesson for children. Not everyone is suited to do the same thing. People have different talents.
Activity: Write about your talents and how you will use them.
Adding these great books and activities will expand your third grade read aloud book list. The books are selected for quality and age appropriateness. Many authors on the list have websites online to supplement your extension activities, too.
Resources
References
Trelease, Jim. The Read-Aloud Handbook 2006-2007 Edition. Penguin Books, 2006.
Maricopa County, AZ Library System
amazon.com