A Chair for My Mother Read-Aloud Activities and Lesson Ideas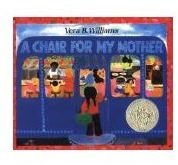 About the Book
In brief, the book A Chair for My Mother, by Vera B. Williams, is a story about a family collectively saving money for a new chair after a
devastating fire destroys their apartment and belongings. Written in 1982, this children's book is still very much a relevant read-aloud in the classroom over thirty years later. Williams also won a Caldecott Honor for the book in 1983.
Teaching Uses and Tips
According to the ratings, A Chair for My Mother is appropriate for ages 4-9 years old_._ An appealing book to a young audience, it is written in a personal narrative by a young girl, a character they can identify with. However, I have found in my teaching
experience, some younger students found the book to be frightening when the family comes home to find their house on fire. If reading it to a younger group of students, it is best to inform them about the content of the book before reading it.
The book is useful to read beyond the age of nine as it is also introduces students to jobs, responsibility, community and even the working class. Have 4 ot 5 copies of the book on hand for small group instruction and/or a book talk or literature circle.
Preparing for the Read-Aloud
Prior to beginning the read-aloud, use small Post-it notes on the pages you wish to discuss with the students. It is also useful to write a small note-to-self on the Post-it to jog your memory if need be.
Next, define the purpose of engaging your students with A Chair for My Mother. It is possible to teach this story on so many levels, providing the opportunity for repetitive readings with emergent readers or ESL readers (which students will surely love!):
Economics- counting, banking, saving, purchasing choices, and wants and needs
Perseverance- persevering through tough times; waiting for something you really want or need
Family- working together as a team; sharing burdens; importance of home
Community- being neighborly; helping others; sharing burdens
Working Class- those who work and have to save for needs
Setting- teaching about city life
Fire- teaching how a fire can affect a person's life; loss; introduce the story during National Fire Prevention Month (October)
Jobs- a waitress job; what are tips; responsibility at work
Emotions- fear, sorrow, excitement, empathy and dreams deferred.
Engaging the Students
During the read-aloud, allow time for discussion on the pages tagged with Post-it notes. This is by way of turn-and-talks for the younger group of students or discussion groups for older students.
For example, if teaching about the setting, stop at the page which reads:
"We were walking to our house from the bus."
Ask the students for a few details about the setting from this page. Also, encourage the students to use the illustrations to support their thoughts.
Or, if teaching about jobs and hard work use this text (there are several places to teach about work throughout the story):
"Sometimes my mama is laughing when she comes home from work. Sometimes she's so tired she falls asleep…."
Older students, should find the supporting details without any guidance.
Afterward…
Provide time for reflective responses or comprehension activities after reading the story, such as:
Write an extension to the story - students describe what the family will do next.

Retell - in a whole group activity, retell the story as an interactive writing piece with younger students.

Find a connection with the story or characters and write about it- Ask, "How do you think ___ felt when ____?" Or, "I felt ____ when you read ____." Older students would write, "I felt ___ when I read _____."

Answer a reflective question, such as, "What would you have done when…?"

Create a chair story - use a coloring page to have students create their own stories and design a special chair.

Contact your local fire department about a family who may have lost belongings in a fire and start a classroom savings jar. Take it one step further and make it a school-wide fundraiser. As a daily assignment, have students count the change collected each day and teach them how to keep saving records. When the jar is full, the teacher takes the money to the bank in exchange for "ten dollar bills," just like in the story.
Do each activity separately during different readings of the story with younger students so as not to overwhelm them.
A Chair for My Mother is an enchanting story to use across any grade level and several subject areas, because the story represents a real life situation. Use these ideas as a springboard; it's a delightful children's story to share.
References
Book jacket is courtesy of amazon.com.
This post is part of the series: Thinking Aloud when Reading Aloud
Here are a few lessons on think alouds and read alouds to supplement your teaching by Laurie Patsalides.