A Compendium of Online Games for Preschoolers and Toddlers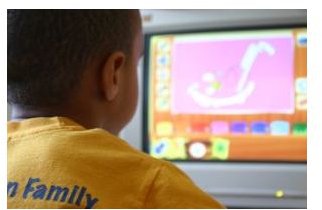 Studies have shown that introducing young children to computers and online educational games is beneficial to their language development, literacy development, social development, and the development of important problem-solving skills. However, computers are most useful when proper guidance is in place and when the games or programs chosen are educational.
When selecting online games for toddlers and preschoolers, choose activities that they can play alone or with little guidance. Children at this age like games that are:
Helping foster hand-eye coordination
Age appropriate
Internet safe
Centered around learning numbers, letters, shapes, patterns, colors and so forth
Fun to play
Just like television isn't used as a babysitter, neither is a computer. Even though your child is able to navigate the website alone, it is always best to offer guidance when you can. It is also fun to play some of these games together as your child will also learn from you about these important subjects.
Help your child adapt to the preschool classroom by introducing him or her to the concept of counting, sorting, matching, patterns, and puzzles as they related to numbers. These math skills extend beyond the computer when you have your child learn to count change at the grocery store and count items around the house.
Practice Makes Perfect When It Comes to Counting
While the first half of this article has some great information on interactive counting games, the second half offers a list of websites to help reinforce these counting skills. Teaching a toddler or preschooler about math is easy through these online games.
Reinforce counting skills with games about shopping. Stores are a great place to learn about numbers! The websites offer matching games, creating patterns and counting groceries.
Since most preschoolers can't read yet, online games about shapes and colors are more appealing. These five online computer games are for youngsters learning their colors. Children can choose colors to "paint" a picture or match colors for points.
Toddler Games for Everyone to Enjoy
While some of the information in this article will be more appropriate for those with infants, much of it can apply to toddlers. These six online games help very young ones identify and recognize their colors, shapes, sizes, patterns, letters and numbers.
PBS Kids Games: Sesame Street and More!
Learn about everything this popular children's website has to offer from shows such as Sesame Street, Barney and Caillou. Many of the games geared toward younger preschoolers are about colors, shapes and sizes, which helps prepare these children for prereading and other literacy skills.
Interactive Reading Games for Preschoolers
Besides identifying and naming the letters and sounds of the alphabet, some preschoolers are ready to read. However, if you aren't sure what reading level your child is at, take a look at these websites for help. Each one is a great resource when teaching your young one to read and identify letters and sounds.
Find out which websites are best for teaching toddlers and preschoolers their ABCs. Skills learned through these games reinforce what children learn at home or in the preschool classroom. We'll point you to at least six great online sources to get you started.
Who Ate the Porridge? Understanding Goldilocks and the Three Bears
Reading comprehension is an important literacy skill learned by preschoolers. This website allows children to hear the story and then be "tested" on whether they understand what took place. We've covered the advantages and disadvantages of the game to help you decide if it is right for your child.
Learn about pitch, rhythm and instrument identification as well as being creative in your teaching so music is fun to learn. Any website that can teach a child about music or art is one you should definitely bookmark. Since some schools are eliminating many of the arts' programs, it's best to give a child early exposure early.
A Little Vivaldi Never Hurt Anyone
Studies have shown that music has many educational benefits. This article shows you how to introduce classical music to your child through a variety of websites. Imagine the fun your child will have learning the classics by Beethoven, Brahms and Vivaldi.
Since children this young aren't able to read yet, these toddler sites offer a chance for them to learn about how a mouse works. They can also learn about coloring or painting pictures and pointing and clicking on objects to make pictures.
Have the Berry Best Fun with Strawberry Shortcake Games
Enhance your child's vocabulary skills and improve communication skills with these activities that include a matching game, cooking dress-up and catching butterflies. Explore many adventures with Strawberry Shortcake and her friends.
So Many Choices in Online Games
This article outlines various kids' websites that offer many learning opportunities for preschoolers and toddlers. Learn more about PBS Kids, Nick Jr., Sesame Street and Starfall. Your children will enjoy learning math and language skills more when they are learning with their favorite characters from these popular shows.
Finding learning games for toddlers is difficult as children that young don't have long attention spans. However, this article gives a great overview of how to find what types of games would work best with your young one. As a plus, if your child does not like one of these games or finds it too difficult, you still have others from which to choose.
What games have you found that toddlers love? Let us know in the comments!
References