Fun Second Grade Lesson Plans for the Entire Year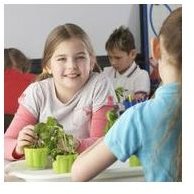 Science
Science study during the elementary years should include observation and discovery using science materials and experiments. The
primary study in science for second grade is about the natural world. The educator's responsibility is to foster the student's curiosity about the world around them. Basic science lessons for second graders include lessons focusing around the ocean, rainforest, solar systems, the use of simple machines and the study of animals, plants and trees. Students may experiment with electricity, learn about the Earth's history including an in-depth look at dinosaurs. Children this age learn the meaning of scientific vocabulary such as extinction, matter, electricity and environment.
Below are lesson plans to cover all the major areas of curricula for second grade science study. Lesson plans on trees, plants, the rainforest, oil spills, electricity, the Earth's rotation and more can be found right here on Bright Hub. So dig in! Kids will love learning about the world around them while participating in these fun, engaging science lesson plans.
Math
Math skills become more complex in second grade and continue to build upon what the student has previously learned. At this age, children are beginning to understand fractions and practice estimating measurements. They learn to compare numerals using graphing and are able to add higher amounts of money including the one and five-dollar bills.
Bright Hub experts have cooked up some exciting, math lesson plans for second grade classrooms. Learn math with Clifford the Big Red Dog, introduce children to geometry through art, and practice fractions in a classroom that looks and smells like a pizzeria. We also have activities and lessons that will make regrouping a breeze, graphing plans and much more. Kids have never had so much fun doing math.
Social Studies and Health
Science and social studies are closely related during the primary years. The majority of study focuses around the body, nutrition, proper hygiene, physical development and the dangers of smoking and other drugs. Students in second grade should learn a variety of safety rules for school and at home.
Here are several different lesson plans on the items listed above and more to include in your social studies and health curriculum this year. Learn about the Wright Brothers, patriotism, the rainforest and Africa. Keep children safe and healthy with lesson plans about nutrition, spreading germs, train safety and crossing the street. It's all right here at Bright Hub Education.
Language: Reading and Writing Lesson Plans
In second grade, the main objective is to instill a love of reading in your students so they will become a lifelong reader. Children should be able to identify all the parts of the book. At this age, children should know the role the illustrator and author play and identify the story elements. Educators should begin to teach students how to use the encyclopedia and dictionary. Reading comprehension continues to grow as children understand what is being read and can relate it to real life.
Reading and writing go hand in hand. Second grade writing should start to become fluent with correct punctuation. Writers start to understand contractions, suffixes, prefixes, verb tenses, synonyms, antonyms and compound words and use them in their writing. "Sylvester and the Magic Pebble," "The Little House," "The Very Busy Spider" and "Slowly, Slowly, Slowly Said the Sloth," are a few of the wonderful, reading and writing lesson plans children will love that we have prepared for you. We also have a variety of lesson plans to teach verb tenses, spelling, prepositions and word sorts. Open the door to reading and writing success with these great language lesson plans found right here at Bright Hub.
Music and Art Lesson Plans
Second grade curriculum wouldn't be complete without adding a few music and art lesson plans to the list compiled here at Bright Hub. Children should gain an appreciation of music and art while creating 3D portraits of themselves, making gorgeous pastel spider webs, and singing fun, songs.
We hope you enjoyed our huge list of lesson plans that stretch clear across the curriculum. For more exciting crafts, activities and thematic units, check out our other guides located here at Bright Hub.
References