Eric Carle Lesson Plans: Elementary Art Project for The Very Busy Spider Book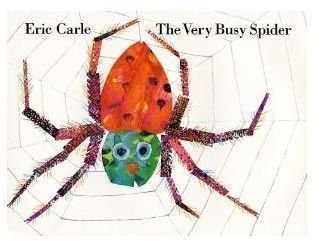 Whether you are a traditional classroom teacher, home educator, or an involved parent, you'll love the convenience of using this art
lesson from a collection of Eric Carle lesson plans. It's designed for elementary students and takes about 30 minutes to present. You'll need a copy of The Very Busy Spider by Eric Carle, and a few supplies. Use this as a stand-alone project or with other lessons in a unit. The lesson goals are:
Learning to follow oral directions
Developing fine motor skills and prewriting skills
Encouraging hand-eye coordination
Understanding the body parts of a spider
Exercising rote counting
This lesson builds on prior learning, and gives kids hands-on experience in linking written words with printed words.
Elementary Lesson Plans Overview
This is a simple but fun art project and requires little pre-class preparation. The students use various foodstuffs to create an edible spider and spider web as a multisensory reinforcement to the story.
The following supplies are needed for this art project:
One bag of large marshmallows
One bag of small pretzel sticks
One box of raisins
3 large bowls
One can pasteurized processed cheese spread
One paper plate per child
The Very Busy Spider by Eric Carle
Before the lesson begins, pour the marshmallows, pretzel sticks, and raisins into separate bowls. Prepare a sample spider and spider web to show the students. Visual learners who may have trouble making the association between verbal directions and the art process benefit from seeing the actual project. Have the students wash their hands before starting their art assignments.
Teaching the Art Lesson Plan
Give the children a paper plate and help them get their materials. Encourage them to count out loud as they get their supplies. Tell them to take two marshmallows, eight pretzel sticks, and five raisins for their activity.
The edible art is assembled as follows:
Break four pretzels in half.
Stick four sticks on one side of a marshmallow and four on the other to form the spider's body.
Stick two raisins on top of the marshmallow for eyes.
Take the remaining pretzels and stick them into the marshmallow in a circle, like the spokes of a wagon wheel.
Help the children spray some cheese on the pretzels to form a web.
Place the raisins randomly on the cheese to represent flies.
Here are some discussion questions you can use while the class assembles their art project.
How many legs does a spider have?
What do we need to do to the four pretzel sticks to make eight sticks?
How can we use the marshmallow and pretzels sticks to make a web?
Where should we put the spider's eyes?
What do spiders like to eat?
How many of you are glad we are not eating flies?
Where should we put the cheese?
Here's the best part of this art project; no clean-up, just let the kids eat their creations. If time permits, the teacher can read the book The Very Busy Spider again to refresh the students' recall of the story.
Lesson Extensions and Book List
Extend this lesson with other lessons on the life cycle of spiders, web spinning facts, or other studies on the lives and habits of spiders.
Try some or all of these books about spiders to extend lesson plans, or give a copy of the book list to parents as a resource tool.
Sign and Sing Along: Itsy Bitsy Spider, Annie Kubler
Fly on the Wall, Jeremy Damisch
On Beyond Bugs: All About Insects, Tish Rabe
For other Eric Carle lesson plans, please read "The Grouchy Lady Bug by Eric Carle" and "A Comprehensive Guide to Teaching With Eric Carle Books."
Image Credit
Wikimedia Commons/Fir0002
This post is part of the series: Lesson Plans for Teachers The Very Busy Spider by Eric Carle
Here is a series of articles supporting teacher lesson plans on the children's book The Very Busy Spider. This collection of articles includes a lesson plan and literacy building activities.