Train Lesson Plans and Railroad Safety: Make a Lifesaver Candy Train

Railroad Safety
As part of a health and safety curriculum. Read the book I Read Signs, by Tana Hoban. Discuss train safety with students. Look at a railroad sign in the book and discuss it's meaning, Railroad Crossing. Tell the students to obey the railroad crossing bars (gates) and lights, by staying back from a train. Tell them to be sure to wait until the bars are up before crossing and to look both ways before crossing the railroad tracks. Never attempt to cross the train tracks when the bars or gates are in motion. For more train lesson plans, please read more here.
Train Safety Signs

Candy Train
In celebration of a train unit, as a gift or craft make these easy, edible trains with students to enjoy.
Materials Needed:
Marshmallow Fluff
Plastic Bowls
Plastic Knives (to spread)
Cardboard cut into 4 x 6" pieces- 1 for each student
Tin foil
Lifesavers- 1 package per student
Packs of stick gum- 1 package per student
Rolo Candy- 1 large bag
Caramels- 1 large bag
Peppermint candies- 1 large bag
Hershey's Kisses- 1 large bag
Assemble the Candy Train
To begin, give each student a piece of cardboard and a piece of tin foil. Have the students cover the cardboard with the tin foil. Demonstrate how to do this. Separate the Marshmallow Fluff into bowls for students to share. Discuss the safety practices needed in using a plastic knife. Demonstrate proper handling of the plastic knife. Also show the students how to use a thick amount of Marshmallow Fluff, and not to overdo it. Marshmallow Fluff will also dry rather quickly.
Using the Marshmallow Fluff as the glue, "glue" Lifesavers pack to the wide, flat side of the gum pack. Set aside to harden.
"Glue" the wide end of 1 piece of Rolo to the left end of the Lifesavers. Set aside to harden.
"Glue" the caramel to the top right of the Lifesaver roll (farthest from the Rolo)
"Glue" 2 peppermint candies to each side of the gum pack to make wheels. Set aside to harden.
"Glue" 1 Hershey's kiss to the top left side of the Lifesaver.
The finished project will resemble the one pictured in the Polar Express.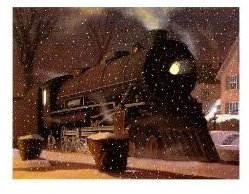 When finished with the project, chart a summary of train safety with the students.
Reference: Recipe modified for a classroom, Heavenly Dishes (1999)
More train lesson plans and crafts can be found here on Bright Hub!
This post is part of the series: Train Lessons
Follow through the series of lesson plans below, to teach about transportation the whole year long.