Lesson Overview and Objectives
Social skills lesson plans are a good way to teach kids life skills like sharing, forgiving and exercising self control. This lesson is designed for elementary students who can read from left to right and write answers to simple questions. It takes about 45 minutes and requires only a copy of Clifford Cookie Crazy and the worksheets included here. Use other lesson plans based on Clifford the Big Red Dog to supplement this lesson. While Clifford the Big Red dog is learning social skills, so is your class.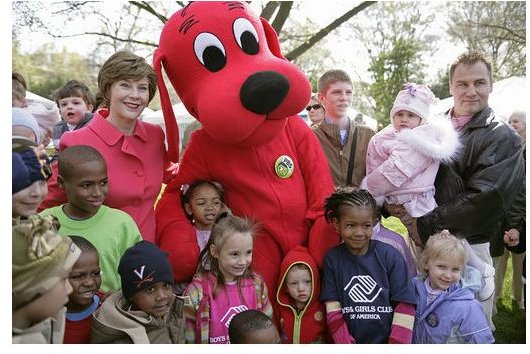 The educational objectives are:
Learning self-control
Respecting other's property
Accepting responsibility for wrong behavior
Respecting authority
Reading and Discussing the Story
Let the class see the cover of the book, make predictions about the story, and then record their guesses. At the end of the story, compare their predictions to the storyline.
Try these discussion questions during the reading or at the end:
What are the names of Clifford's best friends? (T-Bone and Cleo)
What is T-Bone's new toy? (a red ball)
What happens to the ball? (Clifford squashes it accidentally)
How do the friends travel to the fair? (The smaller dogs go in the sheriff's car; Clifford runs beside the car.)
How many of you have ever been to a fair? What did you like best?
What are the people-food rules? ("If it drops on the ground or its headed that way, it belongs to dogs and that's okay.")
Who baked the giant cookie? (Mr. Bleakman)
What does Mr. Bleakman do when Clifford apologizes? (He forgives him)
How does Mr. Howard help Mr. Bleakman show off his prize cookie? (He takes a picture of it)
Clifford the Big Red Dog Learning Vocabulary
Copy and paste the text below to make a simple worksheet for this lesson.
Read the sentence and fill-in the blanks using words from the word bank.
Clifford is a big _______ dog.
His best friends are _______ and _______.
Sheriff Lewis takes the friends to the _______ in his _______.
The dogs obey people _______ _______.
The friends ate _______ _______ and popcorn.
Clifford lost his self-control and ate the _______ cookie.
_______ was sorry about eating the cookie.
Clifford _______ to Mr. Bleakman.
Mr. Bleakman _______ Clifford.
Word blank: T-Bone, forgave, red, Cleo, apologized, fair, Clifford, car, giant, food, hot dogs, rules
Teacher Answer Key: red, [T-Bone, Cleo], [fair,car], [food, rules], hot dogs, giant, Clifford, apologized, forgave
Using social skills lesson plans like this one helps kids learn what happens when they do not exercise self-control. They understand how misbehavior hurts others and why apologizing for wrong doing is important. For other lessons on social skills, read "Clifford's Manners."
Reading List
Here is a reading list of other Clifford the Big Red Dog learning books:
Clifford Four Favorite Stories, Norman Bridwell, [Scholastic Inc., 1972], includes: Clifford the Small Red Puppy, Clifford the Big Red Dog, Clifford's Birthday Part, and Clifford Goes to Hollywood
Clifford's Word Book, Norman Bridwell, [Scholastic Inc., 1990]
Count on Clifford, Norman Bridwell, [Scholastic, Inc., 1985]
Clifford's Good Deeds, Norman Bridwell, [Scholastic Inc., 1975]
Clifford's ABC, Norman Bridwell, [Scholastic Inc., 1983]
References
Image, Wikipedia Commons/Public Domain
This post is part of the series: Teacher Lesson Plans for Clifford the Big Red Dog
Here is a series of lesson plans based on Clifford the Dog books. The subjects covered are math, ABC's, and various aspects of grammar and vocabulary development.