Students' Mural Painting Lesson: Pop Art Park Bench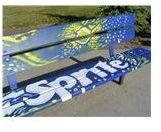 Murals can be painted anywhere. This art lesson on painting a mural on a public park bench shows how pop art can add some life to
otherwise dull brown benches. Students in high school will find it fun to work in groups to design and paint pop art murals on park benches.
Materials:
Exterior paint in basic colors – scarlet red, canary yellow, bright blue, black and white
5 small house paint brushes - 2 inch
large white paper measured to the size of the park bench seat and back rest
pencil, ruler or tape measure
pop cans - (I used Orange Crush, Sprite, 7 Up, Coke, Pepsi)
Procedure:
Step 1: Preparing the Students
Show the students examples of painted murals, wall murals and even sports murals from the internet, local pictures or a local field trip.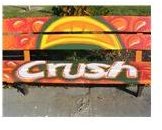 A website that explains the difference between murals, graffiti and cover-ups can be found at: Urban Wall Painting
Explain how mural painting is beneficial in stopping graffiti artists from tagging public places. An article about students in Texas who painted to beautify public places can be found at: Slant 45 Draws Dallas-Area Kids into Super Bowl Projects
If using pop art as the mural design, show examples of pop art found on posters, walls and other objects such as shoes. Andy Warhol's pop art can be found at: The Warhol: Education
Teachers can find lessons, resources and tours of the Warhol Museum in Pittsburgh, PA at this site. Explain how the colors, size or repetition of pop art can make an object stand out. Art found in unexpected places can also grab your attention.
Step 2: Draw the mural design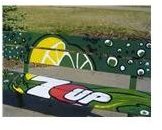 Using the pop can, draw in pencil the design of the main logo on the paper for the bench seat. Then design the main image that will be on the bench back. For example, if using an Orange Crush can, use the fruit to be centered on the seat back, and use the word CRUSH to be on the bench seat. Try to draw the design as close to the pop can as possible.
Step 3: Paint the Main Design
Using the primary colors, mix paint for other colors needed. Teach students for example, how the primary colors blue and yellow make different greens, depending on how much yellow or blue is used. Add black to darken the color and white to lighten it.
Have a group of five students work at each bench. Tape the bench seat design on the bench to refer to it often. While five at a time are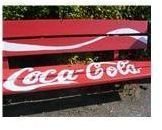 painting, the others can play in the nearby playground. Have one student paint the main letters such as Sprite, Coca Cola, Crush, 7-Up or Pepsi first.
Others should paint in the main color of the background. Supervise the general painting of the bench and adjust for knots in the wood or spaces between the wood. Have younger students work on the background being sure to cover in even strokes in the same direction.
Step 4: Paint the Fine Details
Have the older students paint finer details such as red around the orange droplets of a CRUSH can, outlines of letters, circles, bubbles, silver shadows on letters, and other highlights. Paint the details once the main design has had some time to dry. Have the real pop can on hand to examine the colors used. Use smaller paintbrushes if needed. Use a gray color if you do not have silver. Spray or paint with a clear sealer to protect the wooden park bench.
Hints and Tips on Mural Painting
Be sure to check if permission is needed to paint a mural on a public place such as a wall or bench. If permission is granted, it is a wall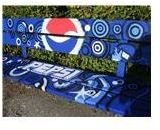 mural. If not, the art can be seen as graffiti.
Choose a theme for the mural. Pop art is a popular genre of art but pop cans may not be acceptable at a nutrition positive school. Andy Warhol's pop art of a tomato soup can might be better for a wall mural in a cafeteria or on a picnic table. Pop art of famous people such as educators, presidents or stars can be used on a library wall, theater billboard or computer station.
Sports wall murals in a gym, jungle wall murals near a play structure, and waterfall murals near a water fountain are popular wall murals for children. Ocean wall murals work well near a splash water park. There are many mural ideas that you can brainstorm with your students.
Tape the design near the bench when working. Keep the actual pop can nearby to refer to it. Making the letters appear as they do on the can is the most important aspect of the project. Other features can be added for extra effects, such as additional bubbles, stars or droplets.
Lessons to Teach
Full wall murals which make a person think a hallway continues in one direction is a concept using perspective. This kind of wall mural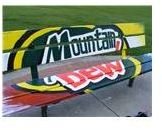 is suitable for older grade art classes.
Painting a wall mural while learning about a certain wall mural artist can aid in the learning of other cultures. See the article on the Mexican artist, Diego Rivera's Murals Lesson Plan.
Use the art lesson to teach about other famous murals, mural artists, or other famous artists. Painted murals can be compared to chalk artists who create non-permanent murals.
Use the art lesson to teach about primary or complementary colors, perspective drawing and painting techniques such as sponging, ragging and airbrushing.
Teach about the influence of media and advertising in art. Do the students identify with a brand or a certain color in advertising? The rivalry between companies such as Coke and Pepsi was used in 2 park benches on opposing baseball diamonds. The Pepsi can had a drawing of a girl in a baseball cap. These designs in advertising influenced the choice of Pepsi can was used in the painting. The Mountain Dew bench was painted on a bench on top of the mini mountain, in the school yard.
Children will take an interest in painting and respecting a public place such as a school wall or park bench if they have a vested interest in the creation of a wall mural on it. Be sure to involve your students in the design and actual painting of the murals. They will find mural painting to be both a fun and easy activity with a lasting effect. Creating murals is a creative art lesson for many ages.
Photo Credits: Lila Kallstrom
Resources: Author's Personal Experience
This post is part of the series: Murals: Wall Murals, Painted Murals and Murals in Unique Places
These articles on murals are art lessons on painted wall murals and murals in other unexpected and public places. Students can paint murals to create beauty, show perspective, and clean up graffiti. Murals are fun and easy to do. Kids' murals and other wall mural ideas are given.