Ocean Wall Mural Painting Lesson for Kids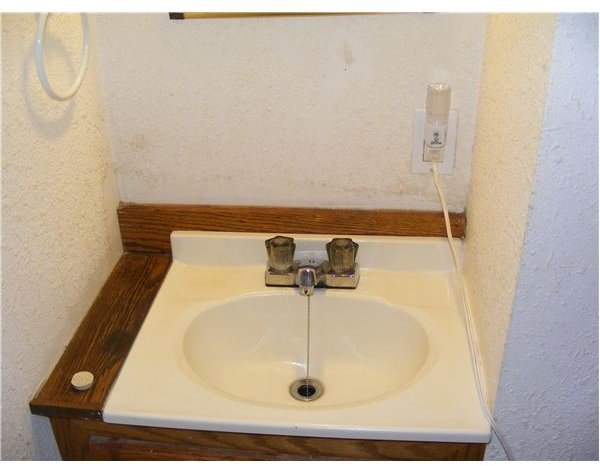 Water World Ocean Mural
Introduction
This article is a simple art lesson on painting an ocean wall mural in a small sink area in a bathroom. Kids can reclaim an uninteresting small space when they add a painted mural to it. It works well on an art room wall near the sink area. Kindergarten rooms that have a sink or bathroom in them would be a great place to apply this wall mural idea.
Materials:
House paint (semi-gloss) or acrylic paint - several different blues, white, green, purple, pink, black and beige or whatever colors desired
Paintbrushes – 1 inch wide
Sponges or cheesecloth
Clear sealer spray or polyurethane
Mural Painting Procedure:
Step 1 – Preparing the Students
Show various examples of wall murals to students from the internet or by walking along a guided field trip in your town of local mural artists. Images from ocean pictures, movies or an aquarium will show the various colors and sea life to paint in a mural. Wyland is a famous environment artist of ocean wall murals. His goal was to paint 100 whaling walls by 2011.
Images of his artwork can be found at: https://seapics.com/feature-subject/photographers/wyland-001.html
Seeing this artist paint all over the world with children will inspire students to believe they can also paint murals.
Step 2 – Paint the Background
Clean and wash the background wall to be painted. For a sink area, scrub away any toothpaste, soap or paint finish on the wall. Paint with strokes in a wavy motion with various blues, greens and whites. Have students paint in the same direction. Show them how to mix the colors on separate trays or as they are painted on the wall.
Step 3 – Paint in the Sand and Plant Life
Have students paint in an upwards motion the green seaweed, red, pink and purple coral, grey rocks and various plant life. Use light strokes and try to spread the colors in different areas. Have one student paint all the plants, then the next student add the color in some of the areas, followed by another student using paint in other areas. Layer the plant life in this way.
Paint the sea bottom in beiges, greys, greens or browns in a swirling motion if on a flat surface. Paint on the counter or at the bottom of the wall. Teach the students to think outside the box by painting outside of the sink area. Think of aquariums where the fish can be seen all around and above the walkway. Paint on a ceiling tile if possible.
Ocean Mural Brings Life to Sink Area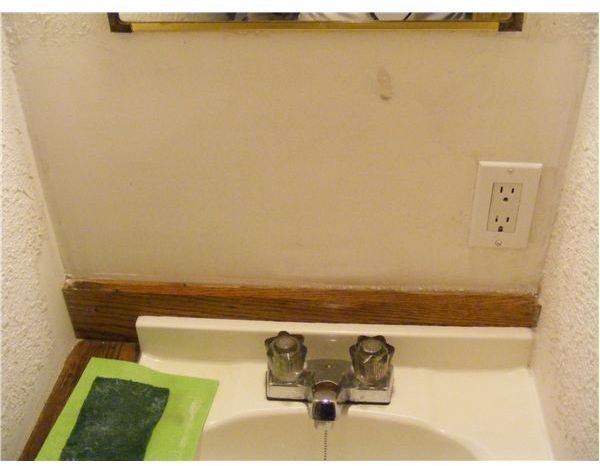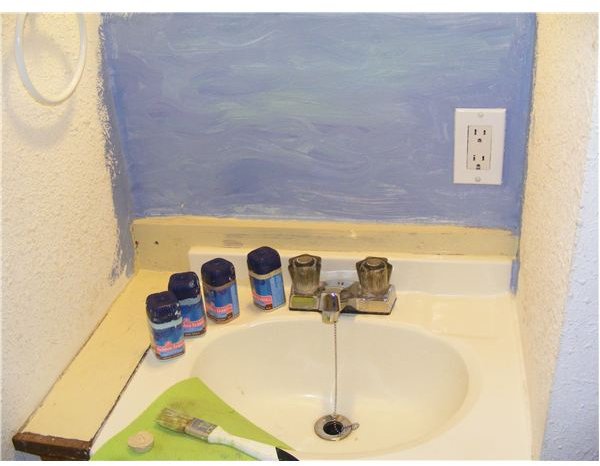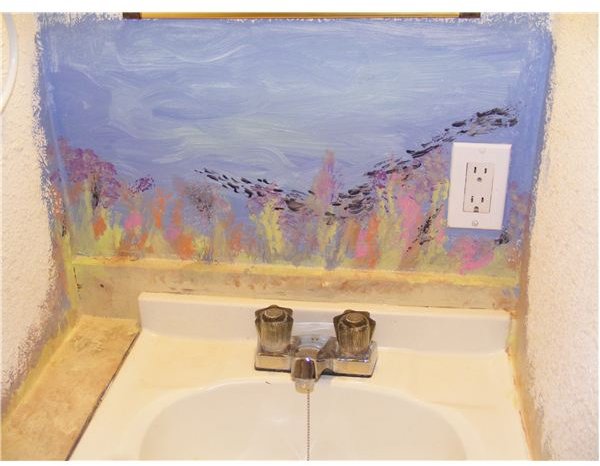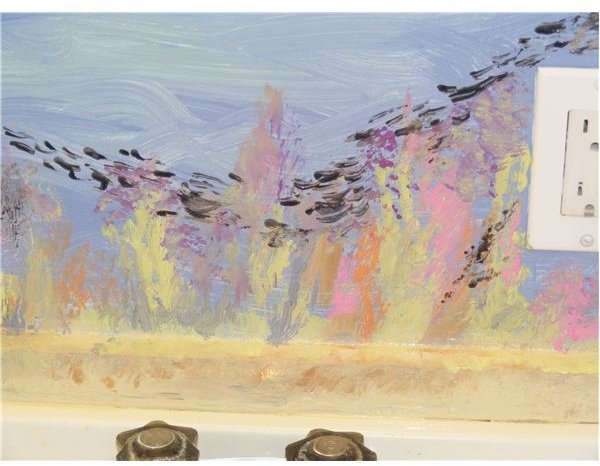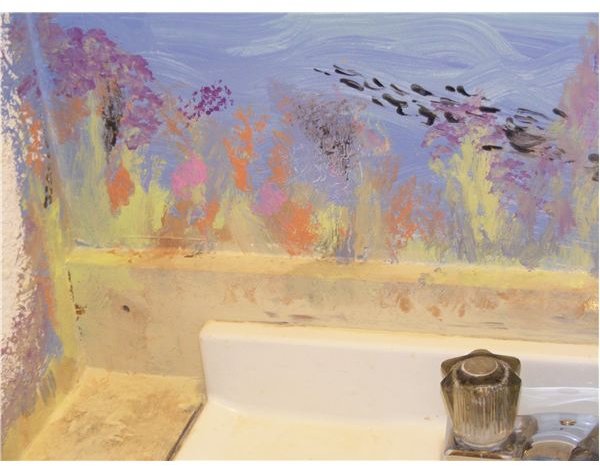 Step 4 – Paint in the Sea Life
Use tiny strokes of black or dark blue to paint in schools of fish. If painting a larger creature such as a large whale, turtle or ray, paint the outline and background of the creature. Try to keep the sea life in proportion to the plant life on the background. Use the mural to teach about perspective and proportion. Younger students may feel more comfortable with painting images of schools of fish rather than detailed larger sea life. Older students should plan and paint fish with more detail. Students should choose what they would like to attempt to paint in the wall mural. Students could create a new sea creature if they like. Paint in a hidden or sunken treasure to add interest.
Ocean Wall Mural Tips
Hints and Tips
Try to paint the mural in steps and layers to show depth and perspective in the painting. Use darker colors to draw attention to different areas of the mural, such as blacks for schools of fish or large rocks.
If trying to create the mural with a realistic effect, try not to paint well defined shapes and objects as things seen through water are blurry and murky. If painting from a very clear photo, use bright acrylic paint to show vibrant colors and shapes if that is the desired effect.
Include students in the design and painting of the mural so that they will respect and have a vested interest in keeping the area around the sink clean and beautiful.
Lessons to Teach:
Use this art lesson on murals to teach about mural artists such as Wyland and his 100 whaling walls. A website giving some of his life history is found at: https://www.kidzworld.com/article/2021-wyland-whaling-wall-murals-ocean-art. A great video of Wyland speaking, showing his ocean murals and telling what he wants to teach the world can be found on youtube at: https://www.youtube.com/watch?v=lGHTxn4L1Fs
Use the mural painting to teach about the primary colors and the different shades and tints that can be created using black and white.
Ocean murals can be used with a science lesson to teach about the kinds of fish and plants that would be found in the ocean. Use the lesson to teach about different types of whales, turtles or endangered species.
Use the lesson to teach that art is found everywhere. There are famous murals on sea walls, bathroom walls, and in mansions. A mural is usually on a wall but can be painted on any surface that is permanent.
Painting an ocean mural near a sink, a waterfall mural near a water fountain or an underwater world in a science room can help children to respect their environment. They can use the mural painting as an art lesson on mural artists, a science lesson on marine life or an ecology lesson on environments. Painting murals on permanent surfaces is fun and easy to do.
Photo Credits: Lila Kallstrom
References: Author's Personal Experience
Images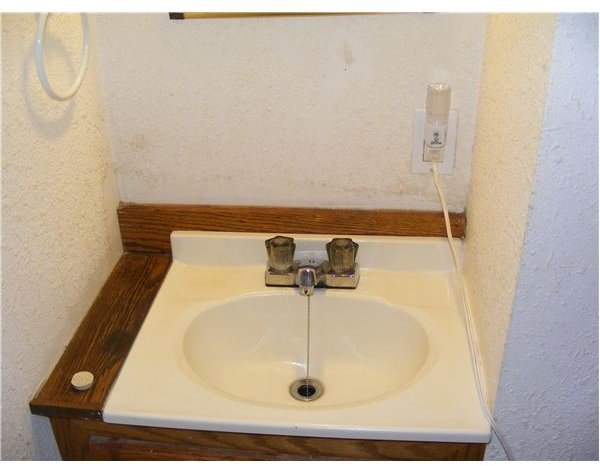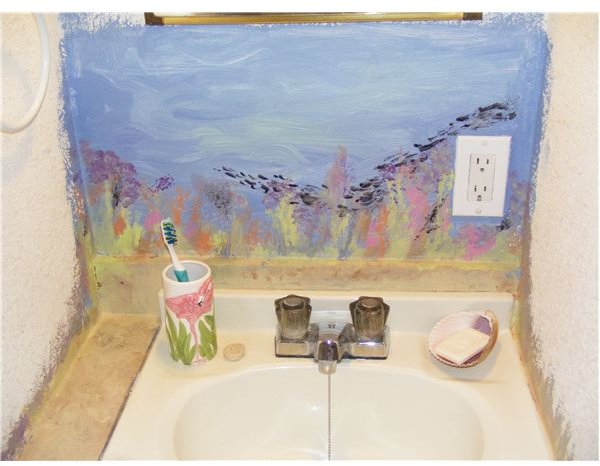 This post is part of the series: Murals: Wall Murals, Painted Murals and Murals in Unique Places
These articles on murals are art lessons on painted wall murals and murals in other unexpected and public places. Students can paint murals to create beauty, show perspective, and clean up graffiti. Murals are fun and easy to do. Kids' murals and other wall mural ideas are given.