How to Paint Wall Murals That Draw You In?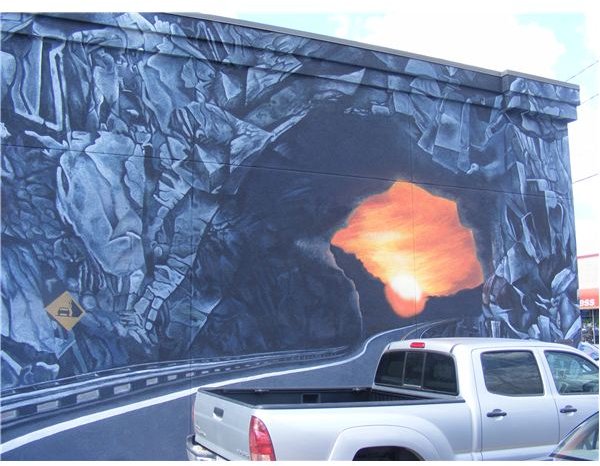 Materials and Procedure
Murals can be painted anywhere. This art lesson on painting a wall mural using perspective shows how you can draw a person into a scene, or capture that person's attention. Art can be found everywhere. Students in grades 5 to 12 will find it fun to work in groups to design and paint on creative spaces such as walls, hallways, stores and postal boxes.
Materials:
exterior paint in basic colors – red, yellow, blue, black and white, or any colors needed (can be spray paint)
5 medium (3 inch) paint brushes, 5 small (1 inch) paint brushes
drop cloth, scaffolding, paintbrush cleaner (if painting a wall)
large sized white bulletin board paper (to plan design), pencil, ruler (or meter stick), eraser
12 x 18 drawing paper, pencil, ruler, eraser (to practice perspective drawing)
Procedure:
Step 1 Preparing the Students
Show the students examples of painted murals, especially wall murals showing perspective. Use pictures from the Internet, local artists or go on a walking field trip around your city. Ask the students what lines draw their eye into the picture. Use a ruler to show them the sight line which leads into the vanishing point.
Murals Showing Perspective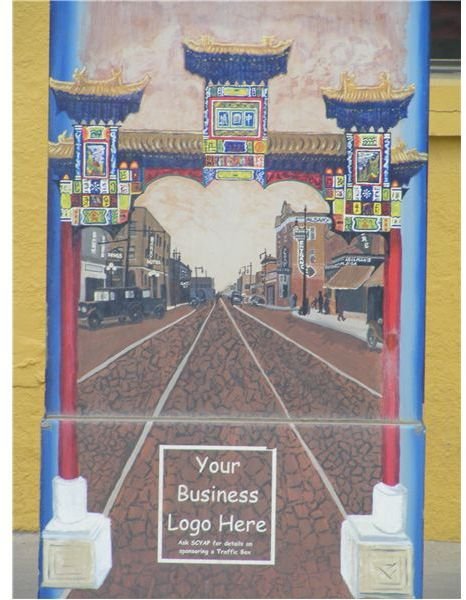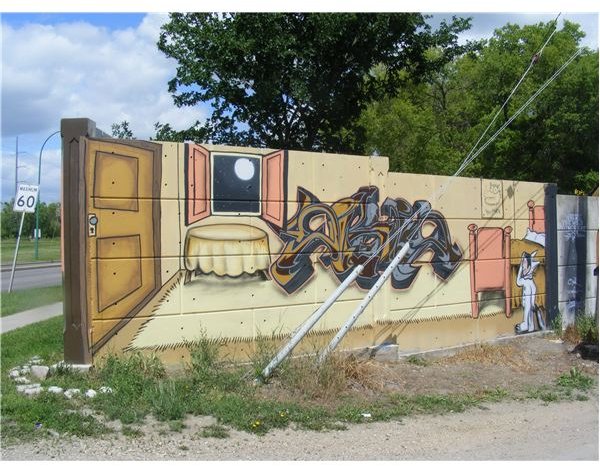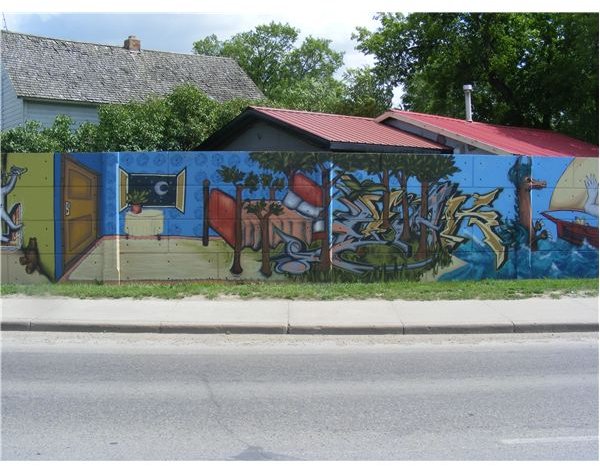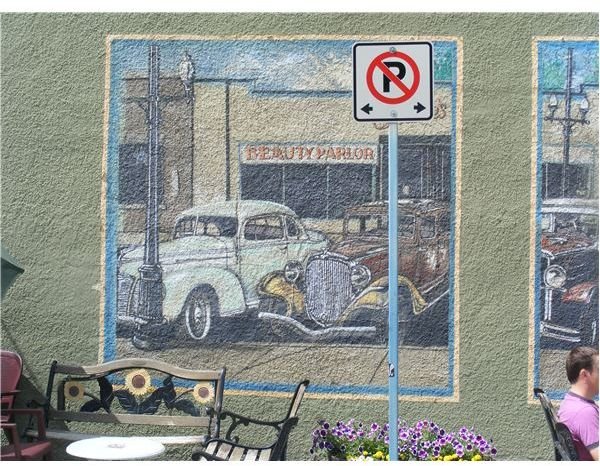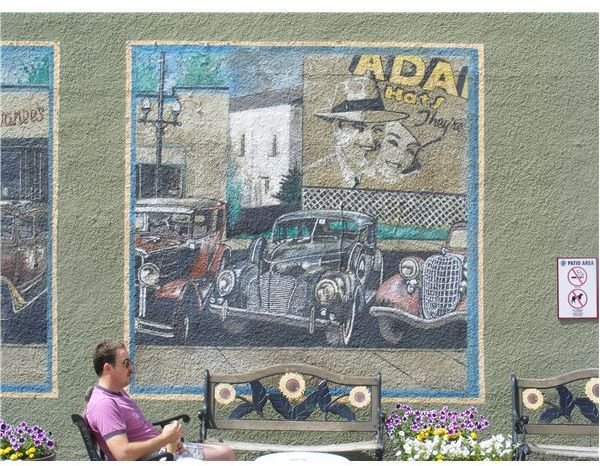 Drawing Perspective
A website which shows the art of muralist Eric Grohe can be found at:
https://www.ericgrohemurals.com
His work is found at malls, car dealerships, museums, hospitals, nursing colleges, stores, and parking lots across America. The website has quotes of what his art has done for the community to inspire and teach people.
Art found in unexpected places such as alleyways and parking lots can also pop out at you, draw you into a scene, bring beauty to a community, teach about history and culture, and pay tribute to people. Eric Grohe's website gives pictures of the wall before the mural and after the mural has been painted. It blends so well into the building and ground that it is hard to believe it is painted on a flat surface.
Step 2 Perspective Drawing with a Vanishing Point
Using the white paper to plan the design, draw a central vanishing point in the exact center of the paper. Fold the paper in quarters to find the exact center. Draw basic shapes such as a rectangle in the foreground, in the bottom left corner. Then draw guidelines from each of the 3 corners of the rectangle closest to the vanishing point.
Draw any horizontal or vertical lines needed to show the sides and top of the rectangle, a short distance away from the rectangle. Show how the lines draw the eye to the vanishing point. Use the horizon to show how objects are smaller as they approach the horizon. Continue by drawing examples in the upper left, upper right, and lower right corners of the paper.
Drawing Objects Using One Vanishing Point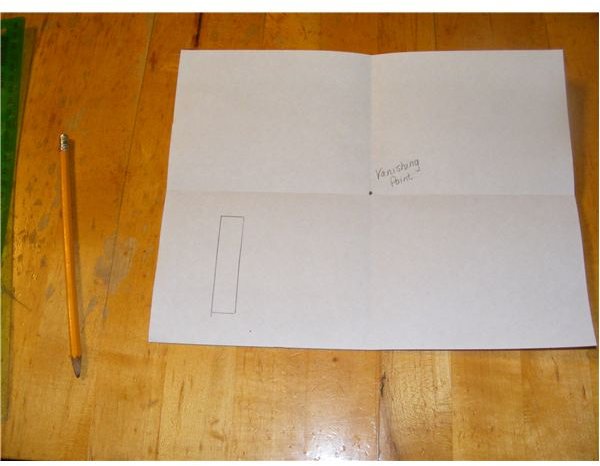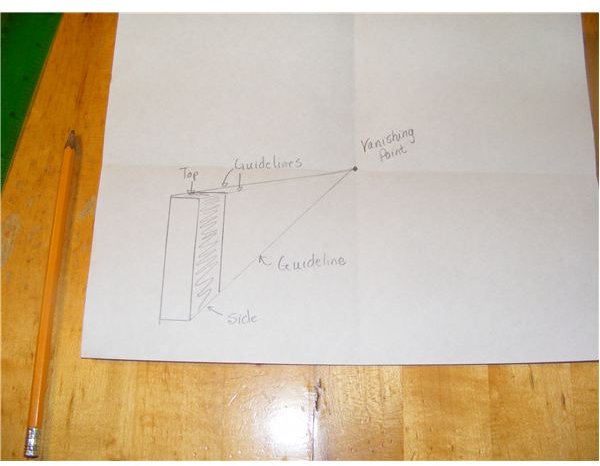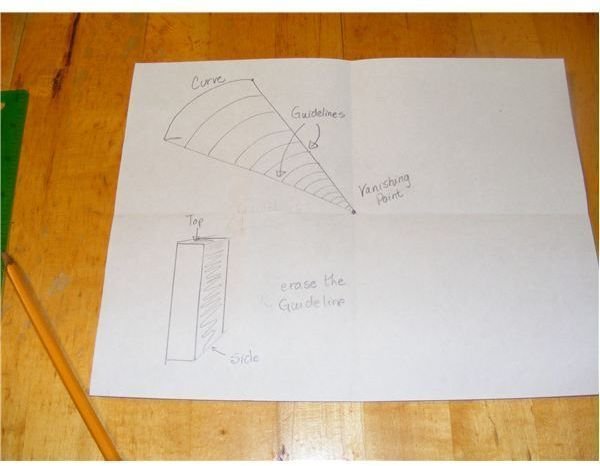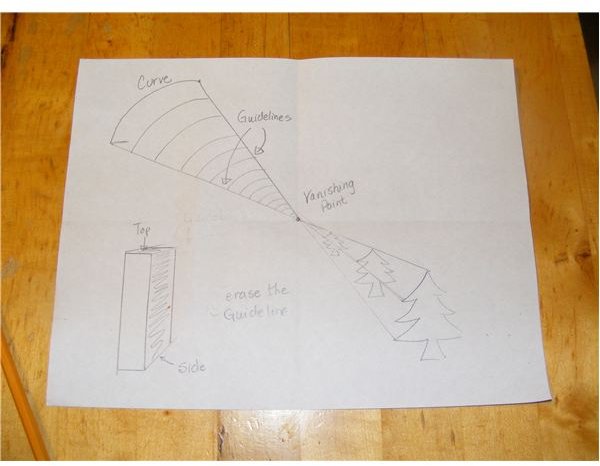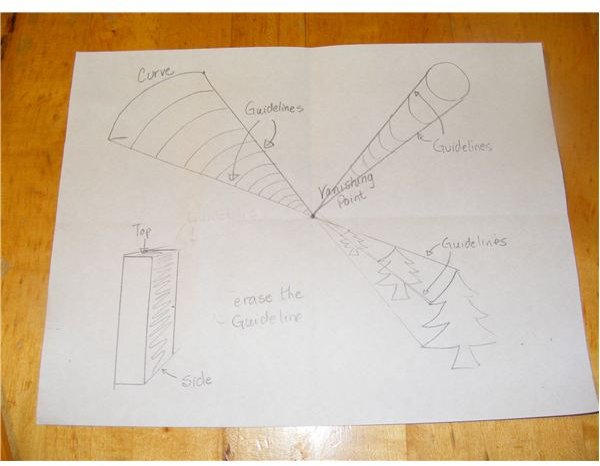 Mural Painting Procedure Continued
Step 3 Paint the Main Design Beginning With the Background
Once the drawing has been designed, use this as a guideline to paint the larger mural on a wall or permanent object. It can be projected onto the wall to make it easier to paint.
Using the primary colors, mix paint for other colors needed. Teach students for example, how the primary colors blue and yellow make different greens, depending on how much yellow or blue is used. Add black to darken the color and white to lighten it.
Have a group of 5 students work at a time. If needed, prepare and prime the object or wall with white paint first so it is a blank canvas. Paint in the main color of the background first. Mark the vanishing point of the scene on the wall and lightly draw the guidelines leading the eye toward it. Paint in the road, sidewalk or floor with the matching color to the ground to help create the illusion that it is a continuation of the actual ground in front of the wall. Supervise the general painting of the wall and adjust for rough spots or holes in the area. Step back and look at the painting from all angles.
Step 4 Paint the Fine Details
Have the older students paint finer details such as trees or people in the scene. Using the smaller brushes, paint the details once the main design has had some time to dry. Use proper scaffolding if a higher area is being painted. Stand away from the wall to make sure the proper perspective is being achieved.
All lines should lead to the vanishing point unless they are a vertical line on the left or right of center, or a horizontal line which can lie above or below the center. Objects closer to the vanishing point should be smaller than objects in the foreground.
Mural on a Postal Box With Perspective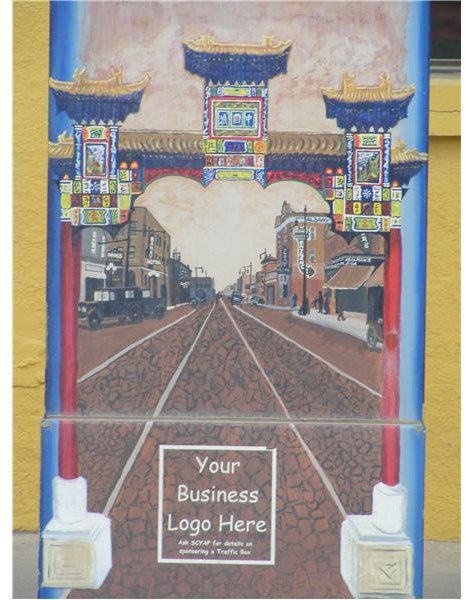 Caution!
Be sure to check if permission is needed to paint on a public place such as a wall or bench. If permission is granted, it is a wall mural. If not, the art can be seen as graffiti. Sometimes murals are painted in order to prevent more graffiti taggers from using the space to display their message. Art is commissioned on some walls to teach history, or even to pay tribute to health workers or others.
Hints and Tips for Painting a Wall Mural
Choose a theme for the mural. Brainstorm ideas with your students. An ocean mural would be a great idea for a bench or wall near a splash park. Mountain, cave or bridge scenes involving a road work great near a parking lot. Sports wall murals, jungle wall murals and garden murals are popular wall murals for children. Murals with square or rectangular objects only, such as a bedroom or hallway are great for perspective with one vanishing point.
Murals where kids have to search for objects, such as an "I Spy" or "Where's Waldo" mural, will add fun and interest to the mural. To make it a mural with perspective, paint the actual size of the object to be found in proportion to real objects.
Full wall murals which make a person think a hallway continues in one direction is a concept using perspective which may be suitable for older grades in art classes. This kind of mural can teach about architectural concepts such as arches and structures. Matching the paint color to the floor helps create the illusion that they can walk right into the scene. Paint lockers down a hallway in the same color as actual lockers. Paint light shining out from the classroom doors.
Use the art lesson to teach about other famous murals, mural artists, or other famous artists. Painted murals can be compared to chalk artists who create non-permanent murals. Artists use perspective to make the flat surface of the sidewalk appear as if it is two dimensional. For example, the chalk artist Julian Beever makes some sidewalks appear as if there is a hole or a waterfall that you can fall into. The art has to be viewed from a certain angle so that the perspective works. The artist often appears in his own chalk painting. To view some of his famous art, go to the official website at: https://users.skynet.be/J.Beever/pave.htm.
Painted Murals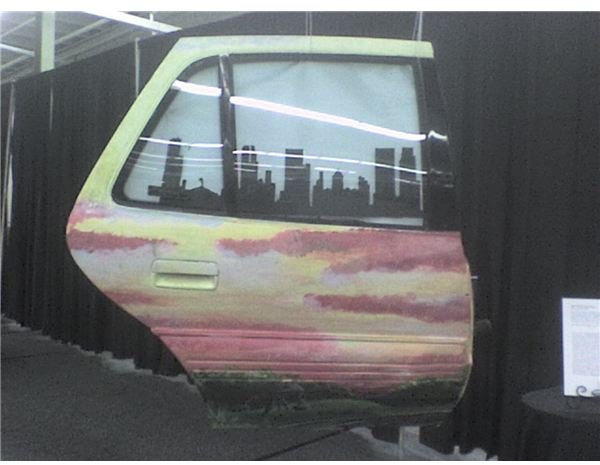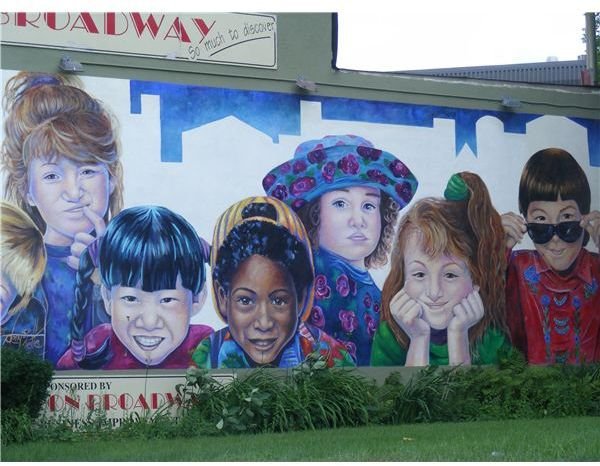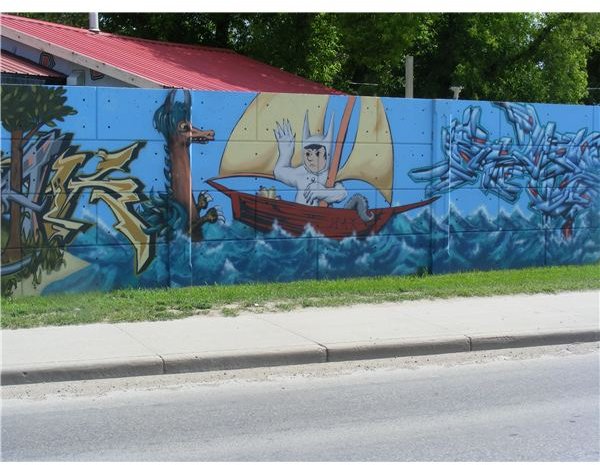 How to Motivate the Muralist
Children will take an interest in painting and respecting a public place such as a school wall or parking lot if they have a vested interest in the creation of a wall mural on it. Be sure to involve your students in the design and actual painting of the mural. Have them try an indoor space before a larger outdoor space to create confidence.
They will learn how to draw the eye into the mural by the use of a vanishing point and guide lines. They will learn how to create beauty from an otherwise bland and unnoticeable space. Students will find murals to be fun and creative once they have tried larger group projects. Learning how to paint a wall mural is a very creative art project that is both lasting and useful for many ages.
This post is part of the series: Murals: Wall Murals, Painted Murals and Murals in Unique Places
These articles on murals are art lessons on painted wall murals and murals in other unexpected and public places. Students can paint murals to create beauty, show perspective, and clean up graffiti. Murals are fun and easy to do. Kids' murals and other wall mural ideas are given.