Civil War Writing Lesson: Character Sketch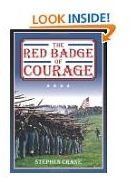 Civil War Novel Character Sketch
Materials needed: novels set during the Civil War
Steps for Civil War Writing Lesson for Themed Character Sketch
**
Step 1 – Give students some suggestions of books with the American Civil War as the setting or a theme. Possible book titles: The Red Badge of Courage, Across Five Aprils, To Be a Slave, Rifles for Watie, or The Killer Angels. There are many other options for middle school and high school students.
Step 2 – Assign students to read the novel. This can be assigned as an independent novel read or even part of an accelerated reader program.
Step 3 – Students need to choose a character from one of the novels in which to write a five-paragraph essay. This character should be one that left the student with a strong image, and the student feels as if he or she knows the character's value system.
After students have chosen their character, they need to make a list of words and phrases that describes the character's physical, emotional and personality traits.
Students Make Outlines to Organize Ideas
Step 4 – Students should write an outline to organize their thoughts about the character.
I. Introduction for Character Sketch
A. Introduce the character, novel and author
B. Write one sentence that tells the reader about the paper. This is called a thesis statement.
II. Describe the character's physical traits
A. List traits
B. Give examples of this from the novel
III. Describe the character's emotional traits
A. List traits
B. Give examples of this from the novel
IV. Describe character's personality traits
A. List traits
B. Give examples of this from the novel
V. Write a conclusion
A. Summarize the paper
B. Tell how the war affected these traits
Writing the Character Sketch
Step 5 – Ask students to write a draft the paper. Students need to follow the outline to have an organized paper.
Step 6 -- Direct students peer-edit each other's papers. Other students need to check that the writer gives enough examples from the novel to show the true traits of the character.
Assessing the Character Sketch
Step 7 – Asses the students' research paper with a rubric. The criteria for the rubric could be the validity of information, details and support, organization, and spelling and grammar.
This is one of five writing activities in the Civil War Writing Lessons series. This character sketch paper will allow students to share their novels with the class and to talk about what it was really like during the Civil War.
This post is part of the series: Civil War Creative Writing Lessons
This five-part series uses the Civil War as a topic for incorporating creative writing lessons in to your classroom.