Civil War Creative Writing Lesson: Writing Poetry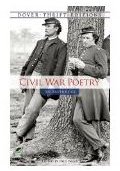 Goals: Students will write a poem that focuses on a Civil War theme, idea or setting.
Materials needed: Civil War poetry.
Step 1
Share poems with students. There are many interesting diaries that could be read as well.
A few great online resources are as follows: Poetry and Music of the War Between the States, Civil War Poetry and The Lost Diaries of the American Civil War (includes songs, poems and short stories). There are many more resources available online and in print. Just search a comprehensive book resource such as Amazon online, or visit your local library.
Step 2
Students need to choose a theme or topic for their poems. They could can come up with ideas on their own or choose an idea from the following list:
battle theme
relationship between a soldier and his girl back home
theme of conflict between North and South
soldiers and his family
a famous person: Grant, Lee, McClellan, Sojourner Truth, Harriet Tubman, Sheridan, Sherman, Stonewall Jackson, Clara Barton, Lincoln, Jefferson Davis, Henry Clay, Louisa May Alcott, John Brown, etc.
Step 3
Direct students to write a poem.
Brainstorm ideas for poem: Instruct students to choose a topic that relates to their short story.
Choose a poem type. This is a basic list of poetry types; however, there are many more that students can use:
Haiku: A three-line poem. Line one has 5 syllables, line two has 7 syllables and line three has 5 syllables
Cinquian: A five line poem. Line one has 2 syllables, line two has 4 syllables, line three has 6 syllables, line four has 8 syllables and line 5 has two syllables
Acrostic: A poem that has the letters in a word to begin each line of the poem
Concrete poem: This poem is the shape of the poem
Free verse poem: No set pattern or rules
Rhyme poem: The middle or end words have a rhyme pattern
Shape poem: The poem is written in a shape that complements the poem
Step 4
Write a final copy of the poem with illustration or decoration. This should be in pen or typed.
Assessing the Poem
The final copy of the poem should be assessed with a rubric. The rubric criteria could include: historical relevance, correct poetry format, spelling and grammar.
This is just the beginning of the Civil War Writing Activities Series. The poems should be shared with the class and become part of a multi-genre writing project
This post is part of the series: Civil War Creative Writing Lessons
This five-part series uses the Civil War as a topic for incorporating creative writing lessons in to your classroom.