Writing Lesson: Completing a Civil War Reseach Paper for Middle or High School Students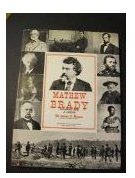 Civil War Research Paper
In this lesson students will learn how to write a proper research paper for the Civil War. The paper will follow a proper format about any
topic related to the American Civil War.
Step 1 – Decide on the length of the research paper – the older the students, the longer the paper. However, short but well written research papers from high school students can be just as an important as a learning experience.
Format & Organization of Research Paper
Step 2 – Share an example of a model research paper. The Write Source or Writer's Inc. books by Great Source have example MLA and APA formatted research papers for students to view as well as the research process, which is explained in detail.
Step 3 – Explain steps for completing a research paper: complete research, take notes on note cards or highlight, make an outline of paper, make a Works Cited or bibliography, write a draft, and then write a final draft.
Tip: For middle school students, note cards are difficult to organize and to write. Allow students to print off sources from the Internet and highlight important information. Make students turn in highlighted notes with rough draft of paper to check for plagiarism.
Choose Civil War Topic
Step 4 – Students need to choose a theme or topic for their poems and short stories. They could can come up with ideas on their own or choose an idea from the following list:
Battles: Antietam, Gettysburg, Chancellorsville, Fredericksburg, The Wilderness, Richmond, Mechanicsburg, Murfreesboro, New Orleans, Vicksburg, Shiloh and Morgan's Raid
People: Grant, Lee, McClellan, Sojourner Truth, Harriet Tubman, Sheridan, Sherman, Stonewall Jackson, Clara Barton, Lincoln, Jefferson Davis, Henry Clay, Louisa May Alcott, John Brown
Other: The Calvary, The Emancipation Proclamation, Weapons, Battlefield Health Care, The Ironclads and Civil War Prison Camps
Pictured above: Mathew Brady, Historian With a Camera
Research and Organizing Notes
Step 5 – Take students to the library or computer lab to complete research. A few great resources are Kennesaw State University's Civil War Links for Students and Education World's article. Of course, there are many more resources available online and in print.
Step 6 – Students need to make note cards or highlight notes. Make sure that students are organized and put important bibliography information on cards. Assign a number of note cards that are due in conjunction with the length of the paper.
Tip: Students tend to write too much on one note card. Remind them that they need one idea per note card. And, they can and should paraphrase many of their note cards.
Step 7 –Direct students to write an outline. It is important that students include a thesis statement (one sentence that tells what the paper is about) in this outline. The outline length will depend on the length of the paper. This will help students to write an organized paper.
Works Cited Page & Write Draft
Step 8 -- Tell students to write a draft of the Works Cited page. The website Son of Citation Machine is a free online resource that is extremely helpful.
Step 9 -- Assign students to write a draft the paper. This can be typed or hand written. If students are required to include parenthetical notation, make sure this is included in the rough draft.
Step 10 -- Asses the students' research paper with a rubric. The criteria for the rubric could be the amount of information, organization, following format (MLA, APA or Chicago), and spelling and grammar.
Step 11 – Type a final copy of paper following the proper format.
This is just the beginning of the Civil War Writing Activities Series. The writing lesson: research paper for the Civil War will make each student an expert on one small part of the war. Students can share what they learned in an informal speech or a formal one.
This post is part of the series: Civil War Creative Writing Lessons
This five-part series uses the Civil War as a topic for incorporating creative writing lessons in to your classroom.