Preschool Learning Center Ideas For Your Classroom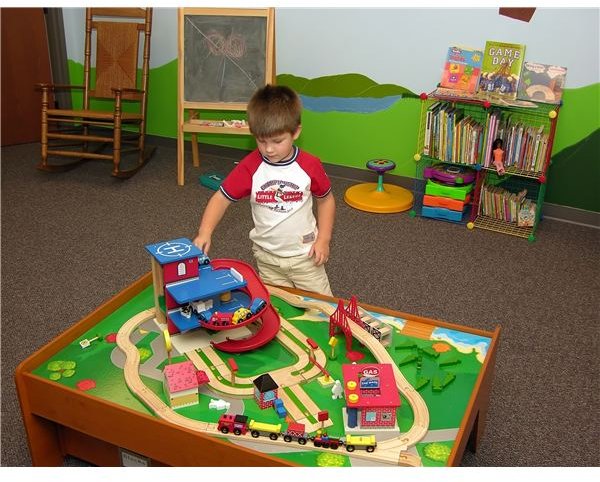 Preschool Learning Center Ideas
Set up learning centers in your classroom to provide preschool students areas to learn and play. This article will give you many preschool learning center ideas so you can set up a colorful, fun and safe learning environment for your students. Many classrooms are divided into centers where children can hone in on skills and themes. Learning centers come in all shapes, but they usually have at least three sides that are created with the use of walls or dividers. The size of the centers depend on the overall classroom space and the theme or type of play. [caption id="attachment_130464" align="aligncenter" width="640"]
Include soft and colorful items for safe play[/caption] The materials in the centers are organized to help children learn a skill. Examples are listening centers, block corners, writing centers, and puppet areas. Centers can also be arranged around a type of play such as dramatic play, small motor play (puzzles, Legos, small manipulatives), cooking, water/sand play, art, music, science, and so on. Some teachers plan their learning centers around a theme such as teddy bears, transportation toys, gardens, grocery store, post office, and more. These centers can be changed periodically for seasonal studies and holidays. Note that these ideas can also be used for Kindergarten learning centers.
Types & Ideas
Learning centers should invite and promote active, independent exploration and discovery, creating an atmosphere in which children can learn. It's an approach of "learning by doing" instead of students waiting for a teacher to tell them "what to do" and "when to do it." Design your centers to reflect your curriculum goals and to support the natural movement and developmental needs of your students. The fun part is the creative process you use to design each space. Here are a few ideas. Reading Center - Create cozy spaces by covering tables with blankets for private, quiet spaces. Try using large cardboard appliance boxes for separate reading nooks. They can be painted with characters and scenes from children's literature. Provide soft pillows, beanbag chairs and rugs. Keep a tape recorder nearby for children to either listen to books or to recite their own stories. Science Center - Try to set up this area near a window to capture light for plants, prism, and shadows. A display table can be made from a sawed-off tree stump. Sand and varnish it for a unique addition to this space. Dramatic Play Center - For a kitchen or home area, apply wallpaper to one wall, put a tablecloth on the table, hang utensils on a pegboard, display plastic food items, put down an area rug, and so on. Make it cozy. Other play areas could be set up to look like a restaurant, post office, stage for acting or puppet shows, and so on. Art Center - Think of displaying reprints of famous works of Art (posters and post cards). Keep a supply of all sorts of materials for many techniques of art (maybe a different project daily) and always leave a stack of paper and crayons for anytime free-form drawing. Manipulative Center - Carpeted areas work well here. Provide lots of puzzles, beads, math counting games, construction blocks, and so on. Keep all these toys in individual bins for easy cleanup and organization. Music Center - Keep this center full of CD's of children's songs. Supply a box of musical instruments and props for children to conduct their playtime band and parades. These are just a few preschool learning center ideas you can dream up and design - I'm sure you can think of others.
Successful Organization
Everyone should feel successful playing in the learning centers so you should choose materials, toys, and games based on the children's abilities and special needs.
Materials should be safe and non-toxic.

[caption id="" align="aligncenter" width="600"] Preschool Beads[/caption]

Provide a variety of choices so children can be creative.

Choose toys, games and activities that encourage hands-on active learning.

Children should be able to work on their own in a center, as well as, in small groups where everyone learns to cooperate.

Make sure toys and activities are easy to understand so children can explore on their own, rather than depending on your guidance.

Materials need to be stored at children's eye level in each center, and arranged attractively so that children want to play there.

Each center should have a system of storage that allows children to start playing without adult help, as well as, accept responsibility for cleaning up after they finish playing.

Learning centers should appeal to the five senses, giving children something to see, touch, smell, hear, and in a cooking center - taste.

If possible, have a variety of materials in each center.

Learning centers should include non-biased materials that respect both males and females, different cultural backgrounds and different kinds of families.

There should be enough materials in each center to avoid fighting or competition over one toy. For example, having several dolls or several trucks keeps the peace.

Certain centers should include soft elements for relaxation.
While you can use these kindergarten and preschool learning center ideas on your own, don't hesitate to ask for help. Think about what collectible resources you can find in family closets, flea markets, and yard sales. Local businesses may become a local asset for your center building, just from a simple inquiry. The more centers you design, the more choices children will have for their learning activities.
Photo Credits