Teddy Bear Rhyme & Theme for Toddlers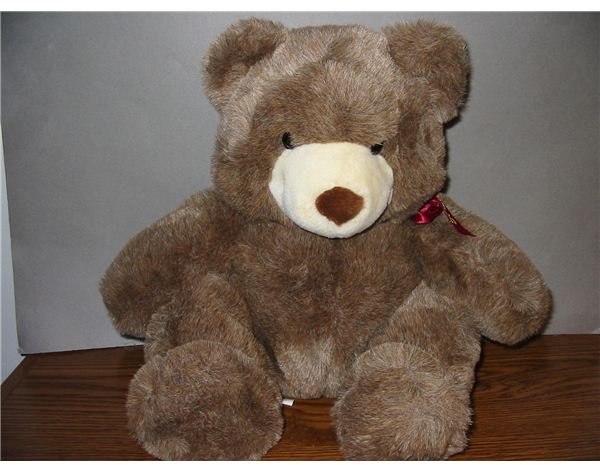 Most toddlers are attached to their favorite teddy bear as they are soft, cuddly, and children love to hug them. Young children love the idea of bringing their own teddy bear from home to the classroom. In this teddy bear theme for toddler, choose a day and alert parents to bring in the child's special bear with them to class. To encourage language development, ask each child to tell the class about his/her bear. They might include the bear's name, where they got it, how they play with the bear, and whether or not they sleep with it.
Talk about the bears that are visiting your class. Count how many bears you have in your group. Sort them by color and size. Discuss with your toddlers about bear bodies - how many legs, arms, ears, is their a tail, and are there claws?
The Teddy Bear Rhyme
This is one of the most famous teddy bear rhymes throughout the generations. It teaches toddlers to follow directions and helps develop body coordination. Think about using this rhyme to wind down before nap time.
Teddy bear, teddy bear, turn around,
Teddy bear, teddy bear, touch the ground.
Teddy bear, teddy bear, shine your shoes,
Teddy bear, teddy bear, that will do.
Teddy bear, teddy bear, climb the stairs,
Teddy bear, teddy bear, say your prayers,
Teddy bear, teddy bear, shut the light,
Teddy bear, teddy bear, say "good night."
Have the toddlers imitate your actions as they learn to act out each line of this verse.
Art Projects
Take Home Sheet
There are many coloring pages and images online to use as a resource. You could have the toddlers decorate the bear in a number of ways. They can color it or glue on tissue paper pieces as a collage. This page has the printed rhyme on it so parents can reinforce this lesson at home.
Paper Plate Bear
Give each child a small lunch size paper plate to represent the bear's head. Cut out construction paper circles for eyes, a red pom-pom as a nose and continue to draw a mouth extending from the nose with a black marker. Help the toddlers to glue these features in the correct place. Provide small pieces of fake fur and invite the children to glue these on the face for texture. For ears, attach two cupcake papers to the top of the plate.
Teddy Bear Game
Here is an easy game for toddlers and will help them practice their throwing skills (although we know children this age may have already mastered this skill).
Place a large laundry basket in the middle of the floor. Line the toddlers up at a close distance from the basket. Invite them to aim and toss their bear into the basket. You may want to count with each child, "one, two, three, throw the bear!"
Teddy Bear Snack
Conclude your teddy bear theme day with a yummy snack. Make peanut butter bear sandwiches.
Use a bear cookie cutter and cut out shapes from whole wheat bread.
Spread with peanut butter.
Place raisins for eyes and mouth.
Add a maraschino cherry for the nose.
Note: If you have a child with a peanut allergy, spread the bread with a cheese spread instead.
Suggested Books
Teddy Bear, Teddy Bear: A Classic Action Rhyme by Public Domain, Michael Hague, Illustrator [HarperFestival, 1997]
The Teddy Bears' Picnic by Jerry Garcia [HarperFestival, 1998]
Where's My Teddy? by Jez Alborough [Candlewick, 1994]
As you present this Teddy Bear rhyme and teddy bear theme for toddlers, make sure to use this verse frequently as toddlers learn by repetition. It is a rhyme that most children take with them as they grow and never forget.
Sources
Author's own experience
Photo by Tania Cowling, all rights reserved