Valentine Mailbox: Making and Delivering Valentine Cards For Preschoolers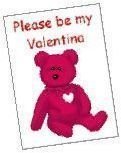 Traditions of Kindness
It's tradition that cards are sent to family and friends on Valentine's Day and it's a good activity to continue as it teaches children about the importance of mail and the postal system. The act of making cards and placing them in a valentine mailbox helps children use their creativity and develops their fine motor skills. However, do stress to the children that love is not only cards, candy, and flowers; it can be expressed by sharing, helping, saying kind words, doing kind deeds, and being considerate of one another. Please keep in mind too, that these things can be stressed and are encouraged all year long as well.
Making Cards
Begin this celebration by making Valentine's Day cards. Encourage the children to think of friends to whom they would like to send these greetings (make sure every child in class receives a card). Help to write a message inside and have the children write their own names. Place the cards into envelopes and address to the recipient. Here are a few card ideas to try:
Collage Heart Cards
Take a sheet of white or pink construction paper and fold this in half.
With safety scissors, show children how to cut different kinds of paper, like tissue paper, wrapping paper, used greeting cards, and construction paper into shapes. Younger children may need assistance.
Draw a large heart on the front with a marker.
Invite the children to glue the paper pieces inside the heart like a collage.
I Love You Cards
Trace around each child's hand onto red construction paper.
Help the children to cut out the hand shape and fold down the middle two fingers. What is left is the sign for "I love you" in American sign language.
Encourage the children to write or scribble their name and/or a message on the 'palm' of the hand.
The person who receives the card must lift the 'fingers' to read the message.
Hearts are Blooming Card
Invite children to sponge paint colorful hearts on a sheet of construction paper. Cut small hearts from a household sponge and dip in poster paints. Let dry.
Encourage the children to use a green crayon to draw stems and leaves from the hearts. Fold the card in half.
Help to write this verse inside the card, "My Love For You Just Grows and Grows."
Playing Post Office
Creating a dramatic play area can be a fun and excellent learning experience for your preschoolers on Valentine's Day or any day of the year. Role-playing the post office teaches children how cards and mail are processed and delivered and also about important community helpers.
To create a pretend post office, make a mail box from a large cardboard box including a mail slot that has been cut into the top. All the cards made above are to be placed inside the mail box. Provide a table for the clerks with a supply of play stamps (the adhesive seals you get in the mail during the holidays work well), postal scale, and wooden stamp and ink stamp pad. The postal clerks can place stamps on the envelopes, weigh the letter, stamp the envelope with a post mark, and put these envelopes in a pile waiting for the mail carriers.
From the post office, other children can pretend to be the mail carriers. A shoulder bag purse and a dark blue jacket can help "dress" this community helper. The mail carrier can put the cards into his/her bag and deliver them to the classmates.
Suggested Books
Delivering Your Mail: A Book About Mail Carriers by Owen and Ann Thomas [Picture Window Books]
The Best Thing About Valentines by Mary Melcher [Cartwheel]
The Biggest Valentine Ever by Steven Kroll [Cartwheel]
Encourage children to partake in making and delivering cards in a valentine mail box as these activities teach children about the real world, and most importantly enjoy the 'love' these activities provide.
This lesson could also be used as a preschool lesson plan on mail carriers or community helpers.
This post is part of the series: Valentine's Day in Preschool
Find all that you need for a preschool valentine theme here at Bright Hub! We have ideas for dramatic play, games, making cards and books, and even activities to teach across the curriculum for Valentine's Day in preschool!