Preschool Valentine Activities That Teach Phonics, Math, Science, and More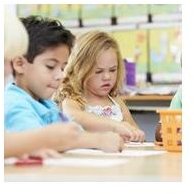 Teaching Across the Curriculum
Preschoolers get very excited during the different holiday seasons. Coordinating activities around the classroom with Valentine's Day will
keep the love of learning aligned with the affection or friendship the students feel for one another. Thematic activities can be introduced in a variety of subject areas as well as to help refine fine motor skills.
For the Love of Reading…
For preschool children to understand the holiday they are celebrating, they need to have some understanding of it. Using Valentine books is a great way to introduce the holiday to young children.
Read the board book The Story of Valentine's Day by Nancy Skarmeas and illustrated by Stacy Pickett-Venturi. As a follow-up,

encourage students to "write" letters to each other. Some children may already have some emergent writing and phonic skills whereas others will simply scribble and draw. Have them deliver their letters to each other's cubbies, or choose one person at a time to play mail carrier.

Many favorite characters have special Valentine's Day books. Look for stories involving Little Critter, Arthur, Franklin, Berenstain Bears, Clifford, Peanuts, and more.

Create your own stories of love and the holiday and allow children to illustrate them.
Phonics and Letter Recognition
Put Valentine's Day into the language area even further by using the theme to teach phonics.
Encourage phonic recognition by having children match Valentine-related objects to beginning sounds. Ideas for objects and pictures include "Valentine," "heart," "card," "gift," "Cupid," and "mail." Play "I Spy" with these objects.

Write out a Valentine-related word such as "love" and have the children brainstorm words that begin with each beginning sound. Write them out like an acrostic poem.

Print out thematic words for the children to copy using a moveable alphabet. They can also copy them by writing them. Booklets are available on sites such as ABCTeach and Enchanted Learning.
Science Activities
Science activities for Valentine's Day in the preschool classroom can include studies of color and the heart.
Talk about primary and secondary colors.

Demonstrate how white means all colors together by using a prism to differentiate them.

Introduce color mixing activities by allowing children to create Valentine's Day colors such as pink and purple. Mix with paint, crayon or colored pencil overlays, gluing bleeding tissue paper, or mixing chunks of playdoh.

Teach about the human body including the most important muscle: the heart. Explain its function, and methods of keeping it healthy such as frequent exercise, not smoking, and heart-healthy eating.

This is a good time to emphasize good nutrition and food groups for heart health.
Math Activities
Incorporate a theme of hearts and Valentine colors into the math area.
Create hearts with numerals on them for labeling quantities.

Count objects that are shaped like hearts or cupids. Try counting Valentine cards.

Make patterning activities with objects. Use different colors of hearts. For more of a challenge, incorporate other traits such as size and direction. Also include other objects such as cupids.

Create parquetry patterns that have a Valentine theme.
Activities For Fine Motor Skills
Numerous activities can develop fine motor skills in young children around Valentine's Day.
Put out heart-shaped cookie cutters with a rolling pin and play-doh. Even better for finger muscles is red modeling clay.

Practice stringing heart-shaped rings or beads. Children can make their own by punching holes either in pre-cut hearts or ones they have cut out themselves.

Purchase or create a heart-shaped lacing card.

Provide a variety of colors and sizes of hearts to cut out. Have children cut out pre-printed hearts, or a half heart drawn on a folded piece of paper.

Use fingers, tongs, or tweezers to transfer small hearts from one container to another.

Use a baster or a small pink sponge to transfer water from one bowl to another.

Use an eyedropper to transfer red or pink water onto a soap dish with little suction cups.
Preschool Valentine Activities
Every area of the preschool classroom is conducive to Valentine activities. Simply incorporate hearts and related colors to get started. Then use the language of the holiday to add even more fun.
References
Source: Based on author's teaching experience.
This post is part of the series: Valentine's Day in Preschool
Find all that you need for a preschool valentine theme here at Bright Hub! We have ideas for dramatic play, games, making cards and books, and even activities to teach across the curriculum for Valentine's Day in preschool!