Ideas on Setting up a Supermarket Learning Center for the Preschool Teacher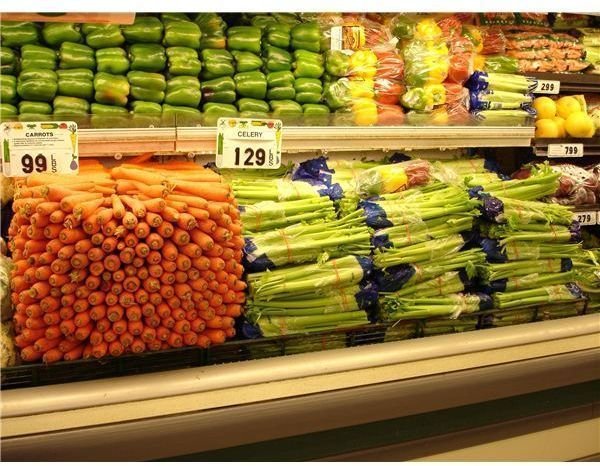 Dramatic play helps children learn about the world around them. Increase interest about shopping for groceries by setting up your own pretend market in the classroom. Below are fun ideas on you can use for your own center.
Setting Up a Supermarket Center
Begin by asking the children if they have been to the supermarket with their parents or caregivers. Help them to think about what a supermarket is and what they do there. Read them books about the grocery store, ask if an employee can visit to speak with the class, and bring in ads from the newspaper for the children to explore.
To set up your own center, find an area where you can place shelves like rows in the grocery store. A couple small bookcases would work well. Ask parents to send in empty boxes and food containers to place on the shelves. Make sure they are clean, with no sharp edges. Bring in plastic play food to represent produce and meats. Invite the children to line the shelves with the play food. Let them sort the empty containers according to categories, such as fruits, vegetables, cereals, dairy, pasta, etc.
Think up a name for your market and together make a sign to post in this dramatic play area. Use newspaper ads to cut pictures of food products and have the children glue these pictures to squares of construction paper. You can even put a price on each product if you wish. Attach these signs at each type product on the shelves.
Child-size grocery carts are excellent toys to use in this learning center or wicker baskets with handles could be used as an alternative. On a table, place a toy cash register or even an old adding machine or calculator will do. Preschool children cannot truly absorb the concept of money exchange, but the pretend play is the important learning skill. Speaking of money, you can use play money or make your own from cut index cards or construction paper. Coins can be made from cardboard circles covered in aluminum foil. In today's world, a child may mention credit cards, see if you can obtain expired business cards to use (of course nothing with personal information).
Grocery stores will probably donate some paper bags for you to use, but why not go 'green' and bring in some cloth bags to use. It's never too early to teach the children to become eco-friendly.
Divide the class into workers and shoppers. Aprons from home could be used for the workers.
Before you begin to play, decide who will be workers and who will become shoppers. Use the play money accordingly where the shoppers pay for the food to the check out person with the register. Workers will stock the shelves again and help the shoppers find the food. Make sure to change roles throughout the play period so all children have a chance to play each role.
Teach with Signs and Labels
You can brush up on language skills by pointing out a few signs in your market. See if the children can understand the store ads in the newspaper. Make match games for the children to play. Use can and box labels to make a "match" shopping list. Mount the labels and descriptive pictures on cardboard. Use the same picture on each side of the page in random order and invite the children to match the products. If you laminate these sheets, they can be marked with erasable crayons and used over and over again.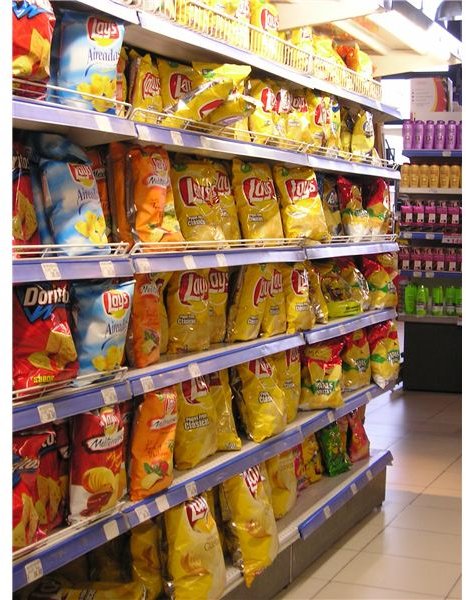 Discuss and show the children how there can be different forms of the same food. For example, corn can be found fresh on the cob, in cans or frozen, in bags of cornmeal, as cornbread muffins in the bakery section, even in bags as corn chips.
Look at the colors of the packaging. Point out the fact that each company has its own special colors and/or symbol. Ask children what colors they see most often on packages at their own home or when shopping at the market with parents or caregivers.
Children learn by doing so use pretend play often to teach young children about the world around them. These are only a few ideas for a supermarket learning center in early childhood - you and the children can dream up more games to play with food. Use the suggested books below for ideas as well.
Supermarket by Kathleen Krull
What's in Grandma's Grocery Bag by Hui-Mei Pan
Maisy Goes Shopping by Lucy Cousins
Supermarket (Who Works Here) by Lola M. Schaefer
Photo credits: