Creative and Fun Art Projects for Students with Special Needs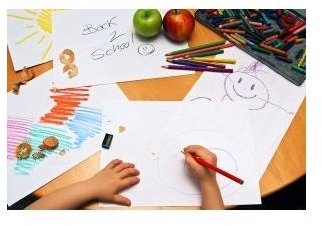 Art Projects for Students with Special Needs
Using art activities in a special needs classroom can help the students learn how to better communicate their emotions. It also is a way for them to have control over their environment. Creating art projects gives them the chance to explore their wants, needs and feelings in a unique and creative way. Art allows children to truly express how they are feeling in a safe and imaginative way. Using art projects for students with special needs is a way for them to feel less frustrated. Students that have problems with speech struggle to communicate how they feel. For autistic students, it is a way to develop their social skills and for the visually impaired, it provides a way to express themselves with their hands. To assist your learners with special needs in expressing themselves through art, utilize this collection of articles as inspiration or to help you create an art curriculum that suits your classroom's needs. [caption id="attachment_130481" align="aligncenter" width="640"]
A multitude of art projects are listed below[/caption]
Projects & Activities
Whether you are looking for some creative art ideas to adapt for your special needs students or you are just looking for some simple ideas to help you gain some inspiration we are here to help. Here are some simple steps to help you adapt art projects for students with special needs:
Modify art supplies.
Engage students in group activities.
Accommodate each individual special needs student.
Allow more time to finish an activity.
Students with special needs face many challenges. Using art projects to inspire their artistic expression provides a place for them to interpret their emotions and it can be a very therapeutic process. Use the following articles to gain knowledge on ideas and projects that will be both creative and intellectual for your special needs students. Some of the activities showcased in the following articles include a butterfly project, hand painting activity, digital art project, self-portrait mirror and sand tray creation.
Lessons
Providing art lessons is a form of expressive therapy for special needs students. Using art therapy with autistic children has been shown to provide positive results in developing their social skills. Developing art projects for students with special needs gives them an outlet to explore their emotions. It also benefits their cognitive and physical development as well. It is crucial to construct art lessons based upon and tailored to each individual's needs. Here are a few ideas to help you create lessons. Tips for creating art lessons for special needs students:
Be flexible.
Gear lessons towards students' abilities.
Use supplies that stimulate the students' senses.
Build a step-by-step plan.
Use the following lessons below as they are or modify them as you wish:
Additional Ideas
In addition to the traditional art supplies, teachers become accustomed to incorporating tactile materials as well. Use items such as modeling clay, beads, yarn and dough. These items are very therapeutic for children with special needs and they enhance their hand-eye coordination and motor skills. To aid you in the planning of activities and lessons for your students use the following tips:
Provide examples of what you want them to do.
List the steps to show how the project should be completed.
Discuss how to appreciate their work no matter how it turns out.
Here are a few additional ideas, activities and lessons to help your special needs students succeed in expressing their emotions through art:
Experience and Suggestions
Use these ideas and art projects for students with special needs as a guide to help inspire you or gain information to use in your classroom. Are you a special education teacher and have any experiences or suggestions you would like to share? Please feel free to comment on any of the above articles or this one in the comment section at the bottom of the page. We would love to hear from you.
References