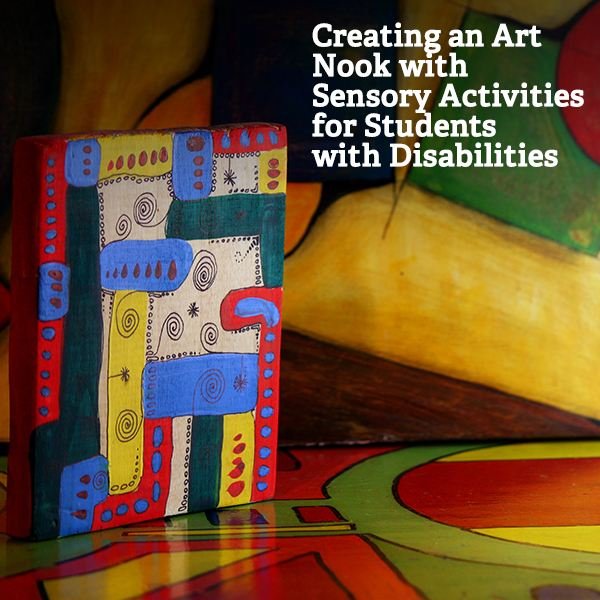 Art lessons for children with special needs can be the same as those used for children without disabilities; however, the adaptations may be quite different.
Below are some ideas so you can create an inviting art nook with some different types of materials that may help children with special needs participate in the process.
Nature Materials for the Seasons
Developing an art nook that engages the five senses can help draw children into the area. Sometimes children who are autistic may shy away from art. If the art area has crayons in a basket and some paper the child may just keep moving, ignoring it all together. Some children with special needs will also have strong reactions to the feel of certain art materials. Some children may not like the feel of gooey or sticky materials, so it is good to allow them to feel the materials, watching their reactions before using them.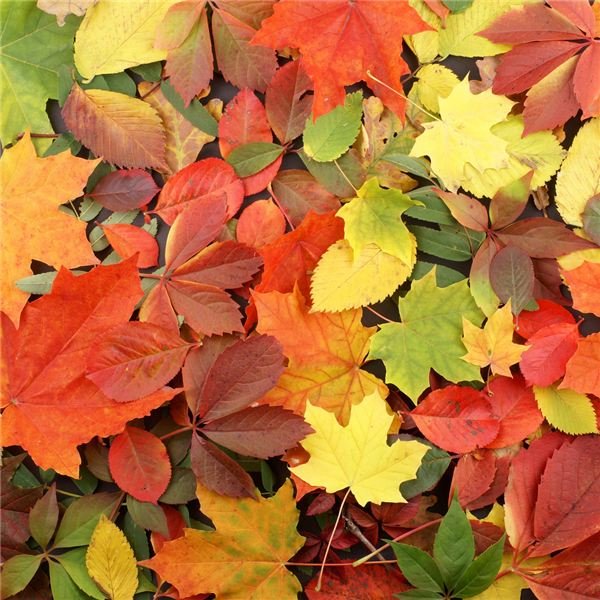 Many natural items are available in your own backyard. Small different shaped baskets to hold the items can make the area look inviting.
Nature, according to Howard Gardner's theory of Multiple Intelligences, is one of children's first gifted abilities. Gardner believes that children have many different abilities and talents. One that they develop early in life is the ability to learn about their natural world. Some children may show more interest than others may but by incorporating natural items into your art nook, you can gain children's curiosity about the world we live in.
For the autumn, you may want to add:
leaves,
acorns,
strips of corn husks,
seeds to allow the children to create their own collages
For winter, you some ideas to include could be:
Pine needles,
Sprigs of evergreen (Caution: some evergreens such as holly, mistletoe and juniper have berries or plant parts that are poisonous.)
Pinecones could be used to make Christmas trees
Pine cones could also be used as bird feeders. You can hang your birdseed and peanut butter pinecones right outside the classroom so the children can observe different birds.
Snow could be used for an art sensory experience.
Adding snow to a sensory table and then spraying it with watercolors is always a fun time for the children. Children often need assistance as they spray with the bottles.
Discount School Supply sells small bottles with handles that are just the right distance apart for children's little hands to be able to spray. In addition, children can use bottles that hold only a small amount of watercolors, and then the child can grip the bottle, spraying to dot the snow with colors. This is a nice adaptation for children, who have difficulty gripping items.
For spring:
Cattails,
Drawing real flowers such as a sunflower or tulip displayed in a vase
Create collages with real tulip petals
For summer items could include:
Colored sand,
Real shells,
Collage materials are always a neat way to make art open-ended. When students have the ability to control what they want to put on their paper, it will be original. Containers filled with large eyeballs, alphabet cutouts from cardstock large and small, large foam shapes with animals or shapes work nice also. Pompoms, sequins, and shredded colored paper are always a hit, also.
Some children may not have the ability to move their arms. In that case, the person working one-on-one with them can ask them whether they would like to use animal shapes or large eyeballs! Often, they can move their eyes in the direction of the item they want. Some children may touch the item with their hand or nose to communicate. Others may be able to hit a prompt button if you ask them how many they want. You may have an iPad in your classroom with a numbers program on which the child can push the button to share that they want eight eyeballs for their project.
Art tools stored in clear plastic bins or baskets are helpful. Not only you can label the containers,but also, you will know where to find items when you need them. As you are preparing the activity, you can organize the items in baskets and they are ready for children to use. Some items you may want to have are paint rollers with shapes on them such as hearts and zigzags. Stamps with grip handles make it more convenient for children to grip. Other tools you may want to have out are tongs so children can grab pompoms and add them into a cup to bring over to the art table.
Modeling the Correct Way to Use Art Tools
You may have to model the correct way to use tools. Children are very creative and will use the tools differently than you would have expected. As you model the correct way to use the brushes, you could say, "Let's see if we can figure out the correct way to use our brushes to paint." You can pretend to paint on the easel. Then, pretend to lean over and paint your assistant, or another child! The children will quickly tell you which way is the correct way to paint. Next, you can explain why it is important to keep the paint on the paper.
It is also important to model clean up, such as rinsing the brushes and placing them in a certain spot. This is often the most frustrating part of art lessons. Unfortunately, when children are done with art, they are just DONE, leaving the teacher with the MESS. This experience will occur several times until the children have learned to make clean up a priority.
Sensory Art Ideas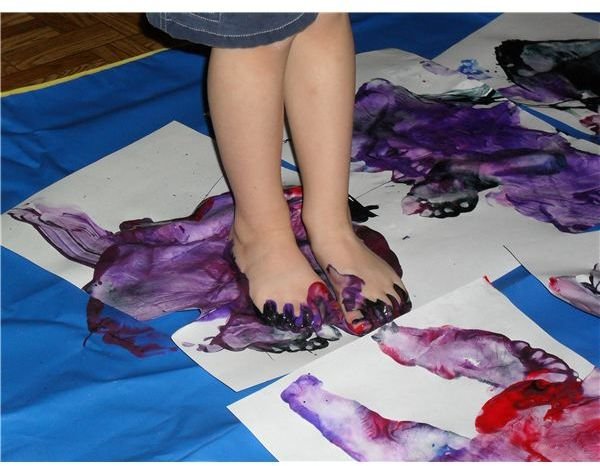 For children who may have a visual impairment or are autistic, sensory materials often work well.
Kneading clay can be calming.
Whipped Cream on a tray is fun and safe, even if they put it in their mouths!
Fly Swatter Painting on Large Bulletin Board sized paper appeals to many children.
Toe Painting – Children in wheel chairs can experience the cold paint squishing between their toes. You will need a large tray that is held so the student can move their feet about in order to paint. Large bulletin board paper works best if it is available.
Butterfly Art – Coffee filters of various sizes can be used. Watercolor or tempera paint slightly watered down and placed in small water droppers, work well for this.
Straw Art – The child can blow through a straw to move the paint around the paper.
Golf Ball Art – Place a golf ball in a box and have the child move the box around. If a child is in a wheelchair lacking mobility, the teacher could move the wheelchair back and forth allowing the child to see the ball roll in the paint. On the other hand, if the child is able to operate the wheelchair safely, they could start and quickly stop to make the ball roll around the box.
Project-based Art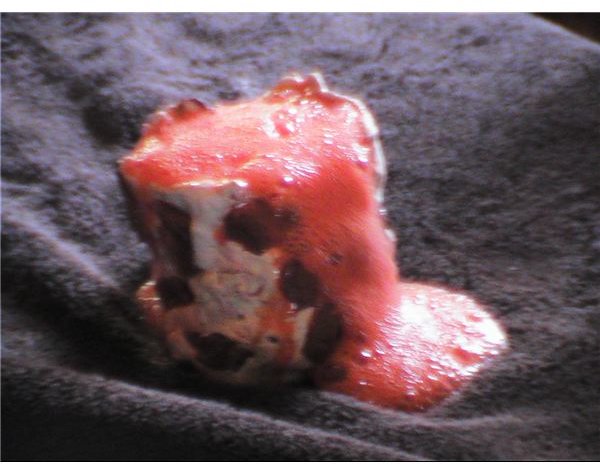 Project-based work often lends itself to some type of art experience to enhance learning. For example, after studying Volcanoes, children can have the opportunity to create one of their own. They actually make the volcano explode!
Perhaps, if you were studying the Ocean, an opportunity to visit an aquarium would allow the children could see real sharks and different types of fish.
To display the different types of animals in the ocean, you may want to make a large bulletin board in your room and have the children paint "water." You can make "water" by using blue food coloring and corn syrup. This is a bit sticky, but it will dry well if it is not added too thickly. This technique gives a nice two-dimensional effect. Children can add sand to the ocean floor and green shredded paper for the seaweed. As they learn about a shark or a starfish, they can add it to the board.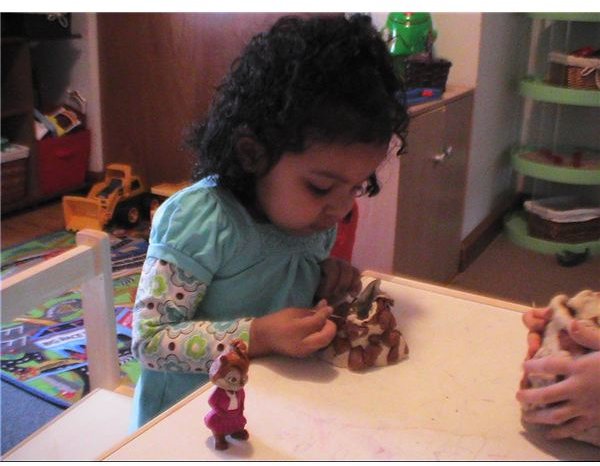 For starfish children could
use stamps
make starfish from cardstock
Children may drizzle glue on their cutout, sprinkling it with oatmeal. Dump off the excess oatmeal and it will give the starfish cutout a nice effect. Sequins work well for fish. Bits of shiny square paper can also be added. Aluminum foil and eyes can be used for the shark. You could roll up small balls of foil and have children place them on their shark.
Ways to Extend Art Time
After searching for an art experience, you may find that children may whip right through, quickly saying, "I'm done!" By using art as a time to build language, you may be able to extend your art time by a little bit. At times, you may be able to extend at the beginning of the activity.
For instance, as you display the materials you can have each child feel the mixture of corn syrup and food coloring before they start to paint the ocean.
Other times, you may have enough material to have the children make two of whatever they are working on at the time. Perhaps the children enjoyed making a starfish with oatmeal for the bulletin board but would now like to make one to go home.
Near the end of an art project, the teacher can extend art time by asking the child to describe what they see in their picture. Writing down children's words is very powerful to children, because it shows that you respect their thoughts and creative works. You may ask the child to describe how the picture makes them feel when they look at it.
Be creative when coming up with adaptions. Sometimes just trying new tools, such as a rolling paint brush or tongs to pick up items, can help children with fine motor disabilities. By using open-ended materials, children with disabilities can communicate their choices and really feel a part of the process.
References
Images from Mandy Hindall
Source: Author's own experience from teaching Head Start children and Woodlane School for Children with Disabilities
Howard Gardner: Multiple Intelligences