The High School Resource Room and Special Education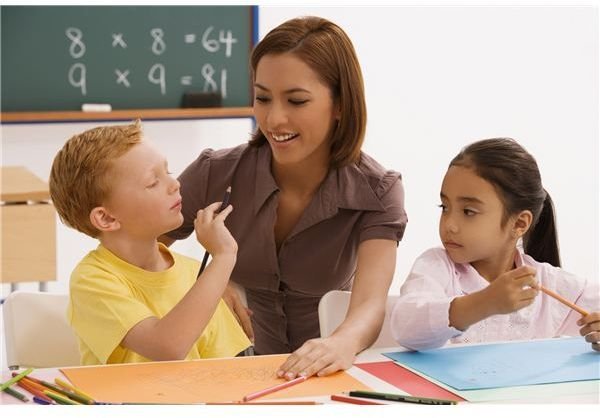 General Guidance
What is a resource room? How much time will students spend there? Do they have opportunities to attend regular classes and
classrooms? Targeted towards parents, this article gives a rundown of what the high school resource room is, as well as dispelling some stereotypes associated with special education.
A Guide to Setting Up a High School Resource Room
Taking into account the diversity of students and learning styles, the author makes some basic recommendations for how to set up the resource room to minimize distractions, allow students and teachers to move around freely, and organize learning materials effectively.
Special Education Classroom Designs: How Important Are They?
How important is the classroom design of a resource room, anyway? In fact, everything in the classroom should contribute to the learning of the students, and a good classroom design will take all the students' needs into account. This article gives some tips on how to do so.
A relatively recent development, the autism support room caters directly to the needs of autistic children while striving to gradually mainstream their education. This article defines, describes and gives advantages of the autism support room compared to regular resource rooms and mainstream education.
What Is the Difference Between a Self-Contained Class and a Resource Room?
Self-contained classes and resource rooms educate the students outside of a traditional classroom setting, but there are important differences between the two. In a self-contained classroom, the students are grouped according to learning level and/or disability, and have the same teacher for all subjects. Resource rooms have a variety of teachers, classes and students of different learning levels and special needs. This article explains the differences.
Mainstreaming and inclusion are other options besides the resource room. With inclusion, the special education student will still spend some time in the resource room. Both strategies involve educating special needs students as a part of the larger school system, rather than in a specialized setting. This article is useful for comparing different education methods. What are the benefits to mainstreaming and inclusion vs. the resource room?
Holistic Learning in the High School Resource Room
The principle of the high school resource room lies in the idea of holistic learning. Generally these teaching methods are more interactive and individualized. This article explains the principles of holistic learning in the resource room, as well as some strategies to incorporate it in classroom structure and in your teaching methods.
Making Reading Interventions in the Resource Room
This article focuses on techniques to develop students' reading skills, including evidence-based reading instruction, phonemic awareness activities, decoding activities and comprehension activities. The author gives examples of formal and informal teaching activities, such as rhyming to work on phonemic awareness. Several helpful reading programs are also identified as resources for the special education teacher.
Creating Centers in the Special Education Classroom
In your resource room, you might want to create centers within one classroom that each focus on a particular skill set or lesson. This article discusses the challenges posed by creating such centers and gives examples of different classroom setups and situations. Clear instructions are given about how to prepare for and teach in a resource room structured this way.
Strategies for Helping Physically Disabled Students
This article discusses IDEA's policies and regulations on accommodating students with physical disabilities. Although this article suggests several ideas for integrating physically disabled students into a standard classroom, many of its suggestions and ideas apply to the resource room. Strategies include having resource staff conferences with parents, organizing resource rooms around student needs and using technology to help students with disabilities.
English Language Learners and Special Education
If you are a special education teacher, at some point in your career you may have to deal with English language learners and ESL students who are misassigned to the resource room. The question of how to teach these students is a growing problem. The easy solution — to shunt them off into special education — is a mistake, and something special education teachers are not trained to work with. This article should prepare you for the issues and problems arising from being assigned a student classified as "disabled" because s/he does not speak English.
Using Exercise Balls for ADD/ADHD Students in the Resource Room
This article proposes a creative solution for ADD/ADHD students who can't seem to focus. In the resource room, a special education teacher can provide them with exercise balls instead of desks. Using exercise balls as desks may seem odd, but this article makes a strong case for it: they promote upright posture, allow the student to move around during learning and help them with body/sensory awareness problems.
With these articles as a guide to the high school resource room, teachers and parents alike should feel more comfortable and informed about the education of their children.
References