Spanish Travel Phrases for the Hotel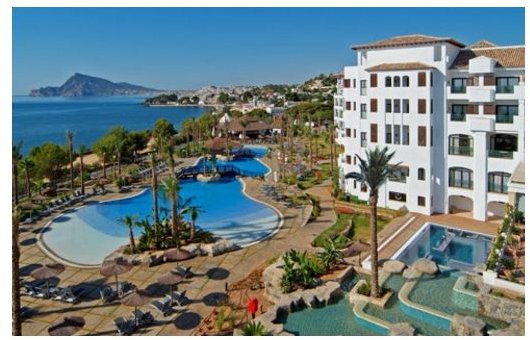 Spanish Phrases for Your Stay in the Hotel
Are you traveling to a Spanish speaking country? The specialized Spanish phrase list below is in four parts: (1) making reservations, (2) at the reception desk, (3) in the hotel room, and (4) more vocabulary for common items found in the hotel. The list is adaptable to classroom vocabulary and recitation practice as well as a matching quiz.
List 1 - Making Reservations
How much does one night cost? -- ¿Cuánto cuesta la noche?
Do you have any rooms available for tonight? -- ¿Le queda alguna habitación por la noche?
Does it have a private bathroom? -- ¿Tiene baño privado?
Does it have hot water? – ¿Tiene agua caliente?
How much is a single/double room per night? – ¿Cúanto cuesta un habitación individual/doble por noche?
I need a room for two. – Necesito una habitación para dos.
I want to stay three nights. Me gustaría quedarme tres noches
I would like a double room. -- Quiero una habitación doble también.
I would like a room with a shower. -- Quiero una habitación con ducha.
We will be staying for seven nights. -- Pensamos quedarnos siete noches.
What is the price? -- ¿Cúanto cuesta?
I'm sorry, but we are full. -- Estoy arrepentido pero estamos completos.
List 2 - At the Reception Desk
I made a reservation for Smith. – Hice una reservación a nombre de Smith
Here is my credit card. – Aquí está mi tarjeta de crédito.
Where is the restaurant? – ¿Dónde es el restaurante?
At what time is breakfast served? – ¿A qué hora se sirve el desayuno?
Can somebody please bring my suitcases up. – ¿Podría preguntar a alguien a llevar mis maletas a mi habitación?
Here is the key for room number five.– Aquí está la llave, es número cinco.
Is breakfast included? -- ¿Incluye desayuno?
Is there a lift/elevator? – ¿Hay ascensor en el hotel?
Is there a restaurant in the hotel? – ¿Hay restaurante en el hotel?
Is there another hotel near here? -- ¿Hay otro hotel cerca de aquí?
Are there any messages for me? – ¿Hay algún mensaje para mí?
What time does the hotel close in the evenings? – ¿A qué hora cierran la puerta de entrada?
When is dinner served? – ¿A qué hora es la cena?
Where is the game room_?– ¿Dónde está la habitación de juegos?_
Where is reception, please? – ¿Dónde está la recepción por favor?
Where is the swimming pool? – ¿ Me podría decir dónde se encuentra la piscina del hotel?
Where is the television room? -- ¿Dónde está la habitación de televisor?
Please wake me up at 7:00 o'clock! – ¿Me podría despertar a las siete de la mañana, por favor?
At what time do I need to check out of the room? -- ¿A qué hora necesito desocupar la habitación?
List 3 - In the Hotel Room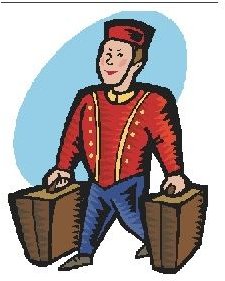 There is no toilet paper in my room. – No hay papel higiénico en mi habitación.
I need a towel, please. – ¿Me podría enviar una toalla por favor?
May I have towels for room five please? –Quiero las toallas para la habitación número cinco, por favor.
The TV is not working. -- El televisor no está funcionando.
The air conditioner isn't working. – El aire acondicionado no funciona.
The faucet is dripping. – El grifo gotea.
Could you send someone to collect my bags? -- ¿Podría Ud. mandar a alguien para bajar mi equipaje.
My key, please! – ¿Me podría dar mi llave, por favor?
Can you call a cab for me? – ¿Puede usted llamar un taxi para mi?
List 4 - More Vocabulary for the Hotel
bed -- la cama
bellboy -- el botones
blanket – la manta
first floor (above ground level) – el primer piso
free breakfast -- el desayuno gratis
ground floor -- la planta baja
guest – el huésped
gymnasium -- el gimnasio
heat -- la calefacción
hot water -- el agua caliente
maid, employee -- la empleada
pillow – la almohada
room service -- el servicio en cuarto
safe – la caja de seguridad
sheets -- las sábanas
soap -- el jabón
washcloth -- el paño para lavarse
Suggested Classroom Activities
Making Hotel Reservations over the Phone
The foregoing Spanish phrases provide a good opportunity for conversational practice in making an imaginary telephone call to reserve a hotel room. Have students (either individually or in groups) cull phrases from lists 1 and 2 and compose a short telephone conversation to reserve a room for a visit to Mexico.
Matching Quiz
Consider adding a phrase matching quiz to a regularly scheduled quiz. See the suggested matching quiz below.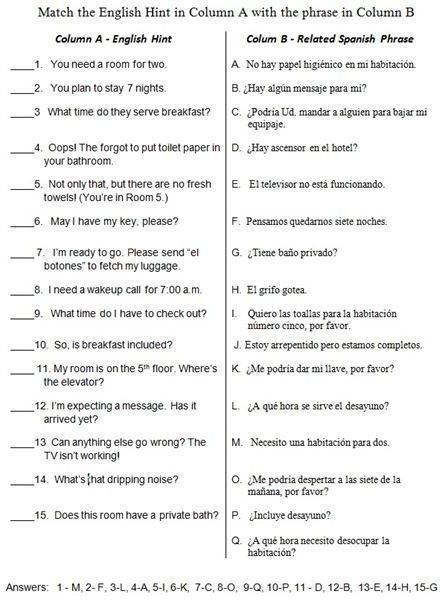 Downloadable Vocabulary List and Matching Quiz
Download the phrase and vocabulary list and the matching quiz of the words and phrases in this article at Spanish Phrases for the Hotel.
This post is part of the series: Teaching Spanish: Spanish Travelers' Phrases for Conversational Practice
Spanish phrases offer an excellent opportunity for student conversational practice using questions and answers, etc. This series features situational conversational practice in various travel environments (at the airport, etc.). Vocabulary handouts and suggested matching quizzes are included.