Spanish Travel Phrases for Emergencies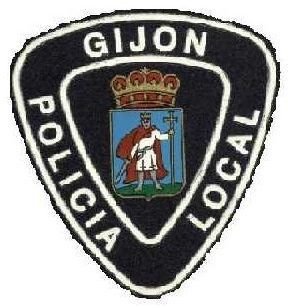 Spanish Phrases for Travel Emergencies
The specialized Spanish phrase list below is for travel emergencies that travelers and tourists can encounter. It includes four situations: (1) getting help from the police, (2) getting assistance in general emergencies, (3) medical emergencies, and (4) what the doctor might ask the traveler. The list is adaptable to classroom vocabulary and recitation practice as well as a matching quiz.
List 1 - You've Been Ripped Off.
I want to report a robbery. – Quiero denunciar un robo
My passport has been stolen. – Me han robado mi pasaporte.
My car has been stolen. – Me han robado el carro.
Where is the police station? -- ¿Dónde está la estación de policía?
Here is my driver's license. -- Aquí está mi licencia de conducia.
Please call the police. – Por favor, llame a la policía.
Stop thief! – ¡Al ladron!
Go away! -- ¡Vayase!
List 2 - Disaster Strikes!
I am lost. -- Me he perdido.
I have lost my wallet – He perdido mi portamonedas.
I have lost my passport. -- He perdido mi pasaporte.
Can you help me? – ¿Podría Ud. ayudarme?
Is there a lost and found office here? -- ¿Hay un oficina de objetos perdidos aquí?
I need help. -- Necesito ayuda.
Help! – ¡Socorro!
Fire! -- ¡Fuego!
Where are the bathrooms? – ¿Dónde están los servicios?
Where is the U.S. Consulate/ Embassy? -- ¿Dónde está el consulado / la embajada estadounidense?
List 3 - Was It Something You Ate? (Medical Emergency)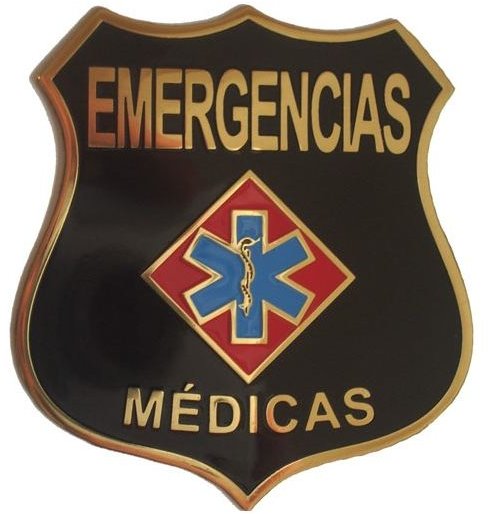 I don't feel well. – Me siento mal.
I am Ill. – Estoy enfermo.
I have a fever – Tengo fiebre.
I've got a pain here. -- Me duele aquí.
I've got a stomach ache. -- Me duele el estómago.
I've got a headache. – Me duele la cabeza.
I've got a sore throat. – Me duele la garganta.
I' e got a toothache. – Me duele la muela / el diente.
I am allergic to penicillin – Soy alérgico a penicilina.
Could you call a doctor, please? – ¿Podría Ud. llamar a un medico, por favor?
I need an ambulance. – Necesito una ambulancia.
Is there a pharmacy near here? -- ¿Hay una botica cerca?
I have a bad cold. – Tengo un fuerte resfriado.
Thank you, I feel better. -- Muchas gracias, me siento mejor.
I have an earache. -- Me duele el oído.
My mother has diabetes. -- Mi madre tiene diabetes.
I have a bad cough. – Tengo una fuerte tos.
My blood type is ___. – Mi tipo de sangre es ____.
He has angina (heart trouble). – Se duele el pecho.
He had a heart attack 4 years ago. – Tuvo un infarto hace cuatro años.
Can you give me a prescription? -- ¿Puede Ud. darme una receta?
Thank you, I feel better. – Muchas gracias, me siento mejor.
List 4 - What "El Medico" Might Ask
Is this the first time this has happened? – ¿Es la primera vez que le pasa?
How long have you suffered from this? – ¿Cuánto tiempo hace que lo tiene?
I'm going to take your temperature and blood pressure. – Le voy a tomar la temperatura y la presión de la sangre.
Could you strip to the waist, please? – Quitese la ropa hasta la cintura, por favor.
Open your mouth, please. – Abra la boca, por favor.
Breathe deeply. – Respire profundamente.
Hold your breath. – No respire.
We need to analyze a blood / stool / urine sample. – Tenemos que hacer un análisis de sangre / de heces / de orina.
What medicine are you taking? – ¿Qué medicación está tomando Ud?
How do you feel? – ¿Cómo se siente?
Are you better now? – ¿Está Ud.mejor?
Suggested Classroom Activities
Conversational Practice - A Classroom Poll
The foregoing Spanish phrases provide a good opportunity for classroom skits and situational practice. Distribute the phrase handout (see below) and ask the students to pick the top ten phrases (at least two from lists 1 through 3) that they believe are the most useful to travelers. This can be done by student group consensus (divide the class into groups) or individually. The goal is to select the top ten most popular emergency phrases.
Matching Quiz
Consider adding a phrase matching quiz (based on the above) to a regularly scheduled quiz. (See the suggested matching quiz below.)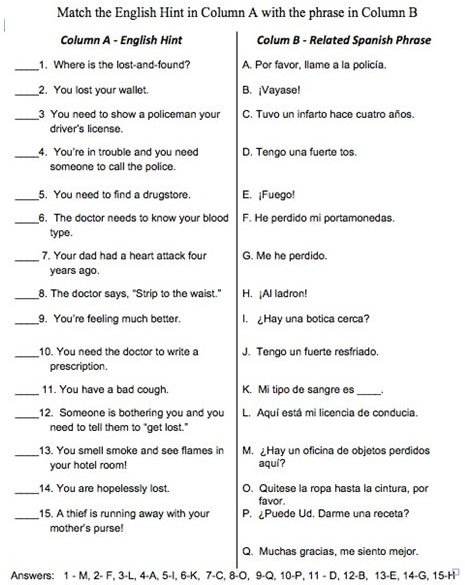 Downloadable Phrase List and Matching Quiz
Download the phrase list and matching quiz from the public media gallery at Emergency Phrases in Spanish.
This post is part of the series: Teaching Spanish: Spanish Travelers' Phrases for Conversational Practice
Spanish phrases offer an excellent opportunity for student conversational practice using questions and answers, etc. This series features situational conversational practice in various travel environments (at the airport, etc.). Vocabulary handouts and suggested matching quizzes are included.