Spanish Phrases for the Restaurant & Eating Out: Lesson Plan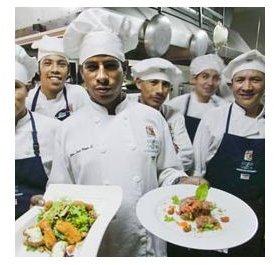 The specialized Spanish phrase list that follows will get the student started in the task of ordering a meal in a restaurant.
1. Ordering Your Food: ¡Camarero! (Oh, Waiter!)
Do you have a table for two people? – ¿Tienes una mesa para dos (2) personas?
Can I see the wine list, please? – Traiga la carta de vinos, por favor.
A glass of mineral water, please. – Un vaso de agua mineral, por favor.
Could you bring a glass of ice water, please. – Puedes traer un vaso de agua de hielo, por favor.
Can we see the menu, please? – ¿Podríamos ver el menú?
What do you recommend? – ¿Que nos recomienda?
What are you going to drink? – ¿Qué va a beber?
I wish to order breakfast/dinner now. -- Quiero pedir un desayuno/una cena ahora.
What shall I order for you? – ¿Qué pido para Usted?
Do you prefer meat or fish? – ¿Ud. prefiere carne o pescado?
What would you recommend? – ¿Qué me recomendaría Ud.?
I'd recommend the local specialty. – Yo le recomendaría la especialidad regional.
I'd like today's special. – Me gustaría el plato del día.
Do you do vegetarian meals? – ¿Tiene comida vegetariania?
I'd like a beer. – Yo quisiera tomar una cerveza.
A cup of coffee with milk, please. – Una taza de café con leche, por favor.
2. The Meal has Arrived: ¡Buen Provecho! (Enjoy!)
Would you like anything else? -- _¿Desean algo más?_

This isn't what I ordered. – Esto no es lo que he pedido.
I ordered the fish/meat. – He pedido el pescado/la carne.
Could you pass the salt/mustard/pepper? – Páseme la sal/la mostaza/la pimienta por favor.
We haven't got enough plates/glasses/forks/knives. -- Aquí falta un plato/un vaso/un tenedor/un cuchillo.
Thank you. Everything was delicious. – Muchas gracias. Toda estaba muy rico.
3. Check, Please!: La Cuenta, Por Favor.
Do you want to pay together or separately? – ¿Van Uds. a pagar juntos o por separado?
Can I have the check, please? – Deme la cuenta, por favor.
How much do we owe you? – ¿Cuánto le debemos?
I think the bill is incorrect. – Me parece que en la cuenta hay un error.
Can I pay by credit card? – ¿Puedo pagar con tarjeta de crédito?
Suggested Classroom Activities
Conversational Practice
Spanish phrases provide a good opportunity for conversational practice, especially when there are questions that can be answered either by rephrasing the question in the affirmative or simply answering the question. Ask the students to cull out unanswered questions from the phrase list and then write and say their responses. For example:
Q: ¿Desean algo mas? A: No deseamos nada mas.
Q. ¿Van Uds. a pagar juntos or por separado? A: Vamas a pagar juntos, gracias.
Matching Quiz
Consider adding a phrase matching quiz (based on the above) to a regularly scheduled quiz. (See the suggested matching quiz below.)
In the Restaurant: Matching Quiz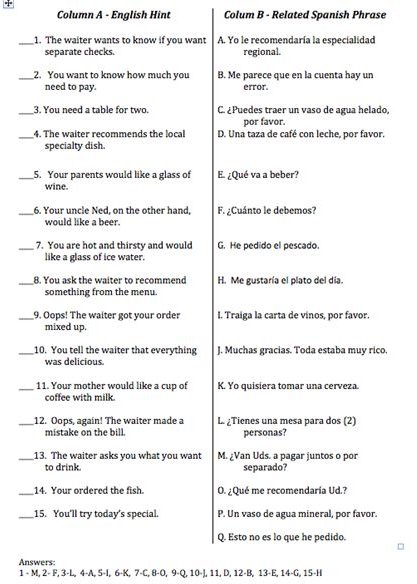 Also download the phrase list and matching quiz from the public media gallery at Spanish Phrases for the Restaurant.
This post is part of the series: Teaching Spanish: Spanish Travelers' Phrases for Conversational Practice
Spanish phrases offer an excellent opportunity for student conversational practice using questions and answers, etc. This series features situational conversational practice in various travel environments (at the airport, etc.). Vocabulary handouts and suggested matching quizzes are included.