A Dozen Mitten Preschool Ideas: Rhymes, Activities, and Books for Keeping It Warm!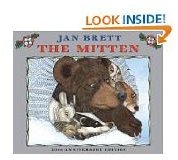 Preschool Mitten Rhymes
Here are couple of traditional mitten rhymes and one that I made up to sing and read with preschool children.
Warm Mittens
I wiggle my left hand,
I wiggle my right,
inside of my mittens,
so warm and so tight.
I wiggle my pinkie.
I wiggle my thumb,
so when I make snowballs,
my hands don't get numb.
-Author Unknown
Mittens
Mittens are warm,
Mittens are grand,
Mittens are like shoes for my hands
-Author unknown
Put Your Mittens on Your Hands
(Sing to the tune of "Do You Know the Muffin Man?")
Put your mittens on your hands, on your hands, on your hands.
Put your mittens on your hands.
They'll keep your fingers warm.
-Tracey Bleakley
You can also pick from several books to read to your class, with my favorites listed below.
Mitten Learning Activities
Here are few fun preschool activities to go with mitten rhymes and poems:
Use Warm Mittens as a finger play during circle time. Have the children wiggle their left hands and then right hands and then hold them together like they are keeping them warm. For the second verse they can wiggle their pinkies and then thumbs and then pretend to make a snowball.

Make a class shared reading chart. Write "Mittens are _____________." on a piece of chart paper. Let each child complete the sentence with a word: soft, red, cozy, etc. Then on your chart write each child's sentence. You can extend this activity by cutting the sentences apart and giving each child his sentence to glue onto a piece of large paper and illustrate. Combine all of the finished pages into a mitten big book that your preschool students will love to read.

Introduce your preschoolers to comparing using a Venn diagram. Draw a two circle Venn diagram on a piece of chart paper, label one circle "Gloves" and the other "Mittens." Work together to list the ways that mittens and gloves are the same and different. You can also divide the paper into two columns and label one "Same" and the other "Different" and make a chart that way.

For a math activity ask children whether they prefer mittens or gloves and then make a picture graph of the results. This is a great follow-up to the comparing activity.

Make a list of activities that would be best to do while wearing gloves, mittens or either.

Add verses to the song about putting on mittens using other types of winter clothing. "Put a hat on your head," or "Tie a scarf around your neck."

Use one of the mitten rhymes to teach your preschoolers about left and right.

Give each child a large mitten shape to decorate. Provide markers, crayons, buttons and ribbon and yarn scraps for the children to use. Make a cute display by hanging a string of clothesline across a bulletin board and hanging the mittens on the clothesline with clothespins.
Mitten Books
Don't forget to pair up your mitten poems and activities with some fun books about mittens too.
The Mitten Tree by Candace Christiansen
A Mountain of Mittens by Lynn Plourde
Missing Mittens by Stuart J Murphy
The Mitten by Jan Brett
These fun preschool mitten rhymes and the activities that go with them will leave young children feeling warm and cozy on a cold, winter day.
This post is part of the series: All About Winter: Ideas for Preschool Students
Here is everything you need for a preschool winter theme. You'll find ideas for winter crafts, centers and literacy activities.